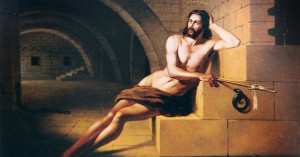 I think God is trying to tell me something! Once again, in Luke 7, we find people going out to meet Jesus and see who He is. In this case, it is the messengers of John the Baptist, and once again we find people diligently searching for Jesus Christ and investigating who He is and what He has done. This shouldn't be surprising, since Luke himself was one who took in hand to set in order a narrative of the things which had been fulfilled and the things in which Theophilus had been instructed.
By the grace and inspiration of the Holy Spirit, Luke was a genius! What God is doing, through the pen of Luke, is coming to us and presenting His Son before us so that we might respond with faith. Every time you pick up your Bible and open to the Gospel according to St. Luke (or any other passage of the Bible), God the Father is trying to draw you to Himself through the Son.
"Are you the Coming One?" John asked through His messengers. What did John the Baptist discover when he sent messengers to find out who Jesus was? He discovered the things that witnesses had seen and heard: the blind saw; the lame walked; the lepers were cleansed; the deaf heard; the dead were raised; and the poor had the gospel preached to them. He discovered that the Coming One had now come, for the Kingdom of heaven was at hand.
When people in the Bible find Jesus and discover Who He Is, they respond in one of two ways: either they respond like the Pharisees and the lawyers, rejecting the will of God for themselves; or they respond like John and his followers, justifying God, confessing their sins, repenting, and turning to God.
All week long, and ever since last week, and ever since you were born, God has been coming to you to see how you will respond to His presence. Here we are again, and God is still present with you and still waiting to see how you will respond, for He is the Coming One.
I don't like repeating myself. I hate to be repetitive. I really shouldn't have to reiterate this, but God has called you and is waiting for your response.
God has called the birds this morning, and they responded with a song. He called the sun, and the sun rose again, in a pale imitation of the Son of God.
The first thing you should do is to go out and find the Father through Jesus today. If you are reading this (and you must be, or else you wouldn't have just read "If you are reading this"), then God has already come to you, offering Himself once again. But hearing His Word is not the only way He comes. I hope that as you're reading His Word with me, with us, that you are taking the time to meditate on it and listen for what God is telling you specifically today. And I hope you are spending time in prayer, because prayer and worship are our primary responses to the presence of God. Of course, there are many kinds of prayer and many ways to worship, but these are essential parts of your response to God.
Take time to respond to God today, for He is the Coming One.
One of the other ways you should respond, which is just a specific kind of worship, is to remember what God has done in your life and the lives of others – and to tell others. This is exactly what we find people doing when they have met Jesus and accept who He is. In Luke 7:22 Jesus tells the messengers of John to tell John "the things you have seen and heard," and this is Luke's (God's) advice to you as well. This is the same Luke who in Acts 4:20 records the faithful response of the apostles to God's presence in their lives. When Peter and John were explicitly commanded by the rulers of the Jews not to speak or teach in the name of Jesus, Peter and John responded by saying, "Whether it is right in the sight of God to listen to you more than to God, you judge. For we cannot but speak the things which we have seen and heard."
This is Your Life. You are the one to whom God has revealed Himself: you are the one to whom the Coming One has come. You are the one who has gone out and met Jesus. And you are the one who is to faithfully respond by remembering and speaking about the things that you have seen and heard.
"But I haven't seen any miracles in my life. I haven't seen any blind people given back their sight, or lepers cleansed, or the dead raised."
Oh, really? Weren't you blind once, but now you see? Weren't you covered with the uncleanness of your sins, but now you are clean? Weren't you dead in your sins and before God, but now you live? These are the things you are to remember and rehearse. These are the marvelous things you are to tell to your children and shout from the rooftops!
Jesus is passing by you today. The Coming One has come to you. Go and meet Him. Go, respond in faith. And go and tell others!
Prayer: Father, I thank You for coming to me today by sending Your Son, through Your Holy Spirit. I ask that when You come to me, You would heal my eyes and help me to see You and heal my ears to help me to hear You. Thank You for healing me from my leprosy and raising me from the dead. Please give me a heart so filled with wonder and thanksgiving that I will go and tell others Who You Are and what You have done. Amen.
Point for Meditation:
Meditate on what you've seen God do in your life and the lives of others: answered prayer; the times He's preserved you; your salvation or that of others; the people in your life; how He's directed your paths; etc.
Sing "Amazing Grace," "O for a Thousand Tongues," or some other appropriate hymn.
Resolution: I resolve to find one way to specifically remember and speak about the things God has done in my life.