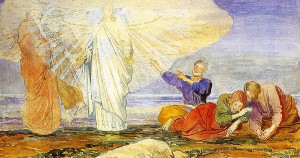 One of the most striking transfigurations in literature is the moment when Gandalf the Grey, who had disappeared into the bowels of the Earth with a Balrog, reappears. This is Gandalf's death and resurrection, and when he reappears, he is revealed to be the now glorious Gandalf the White. Our stories, including not only literature but film, are filled with such visible transfigurations.
While we are not privileged to see the Transfiguration of the physical body of Jesus Christ, we do have an opportunity to see the glory of our Lord every day.
In Luke 9, we see Jesus Christ transfigured in His earthly life. He was born in humble circumstances and looked like a normal baby. But all of the angelic activity and song-singing by humans suggest the truly glorious state of His birth – even if few could see them. When He was baptized, the Holy Spirit descended on Him like a dove, and a voice came down from heaven. But only a few saw, and He didn't look any different.
But here, on Mount of Transfiguration, His disciples saw Him in all His glory. But only 3 of the 12 of the 70 of the multitudes actually saw Him transfigured. Even these 3 saw Him transfigured for only a short time.
But they did see Him transfigured. His clothes were white and radiant, His face was changed, and He looked as He is portrayed in Revelation 1:13-15. Here, on the mount of Transfiguration, He was revealed to be a glorious, burning fire of holiness that exceeded any vision of any other thing on earth. You can bet that from that point on those three disciples never forgot what they had seen, even if they didn't always understand it.
But I can't help but feel left out of such a great event. What does the Transfiguration of Jesus Christ mean for us today, and how can we see it for ourselves? The key verse in the whole story is verse 32: "They saw His glory." Where can we see His glory today? I can think of at least a few ways.
First, I think we can begin to see Christ transfigured on the earth today through His Creation. Just as Jesus' birth looked like a normal birth, our world looks like a normal world. It doesn't seem like anything special. Oh, but you're wrong! It's full of God's glory, but a glory hidden in the ordinary. Gerard Manley Hopkins wrote: "The world is charged with the grandeur of God. It will flame out, like shining from shook foil."
I see the glory of God in the enormous beetle the kids gave me for Father's Day. And I see the glory of God in the giant, beautiful crystals my son Charlie and I found at Coleman's Mine in Arkansas. It's there in the rainbow that God makes out of nothing more than light and water and air; and it's there in a single drop of dew on a single blade of grass. I am reminded of His glory by the glory of the sun, which I only see indirectly, even though I sense it there. The glory of the Lord, veiled in His Creation, is all over, once you begin looking for it.
His glory is also in the Bible, which seems like an ordinary book. It's bound like any other book and has pages like other books. But the glory of God is in these pages, and not just in places like Luke 9 and Revelation 1. The glory of God is found throughout the whole book, especially if the whole Book is read and lived out. Whenever I meditate on the Bible, whenever I treat it like the Word of God and not just another book or not just something to be studied, the glory of God streams into my soul.
But there is still a more excellent way to see the Glory of God – and that is in the people of God, the Church. Some of our individual lives are transfigured quickly. These are the easiest ones to see. Most of us are transfigured slowly. But if we were able to speed up our lives, over time, they might be like watching the explosion of a supernova! Just as our lives are to be an exorcism of self in slow motion, our proceeding from glory to glory is to be a transfiguration in slow motion. In fact, these things must go together: mortification and sanctification, taking off the Old Man and putting on the New; dying to self and being raised with Christ.
At my beloved parish of St. Chrysostom's, Arkansas I saw the Transfiguration of Jesus Christ in our red stained glass window. St. Chrysostom's used to be a whetstone factory but was transfigured into a church in 1984. The glorious stained glass window (humble and plain by most churches' standards) has been transfigured from an exhaust fan to a glorious window that reminds us of the light of the glory of God. Depending on the time of year and day, the light from this window used to stream across my face and reminded me of how God has commanded light to shine out of darkness and has shone in our hearts to give the light of the knowledge of the glory of God in the face of Jesus Christ (2 Corinthians 4:6).
And whenever I administer and take the Holy Communion, I see the ordinary bread and wine of the earth transfigured into the Body and Blood of Jesus Christ.
I've see the Transfiguration of Jesus Christ most clearly in the people of the churches where I've served and worshiped. I see ordinary people who have been brought into the glorious presence of God and come back to the world with shining faces. I see ordinary human bodies transfigured into the Body of Jesus Christ, His real presence here on earth. I see lives being delivered from the demon of Self and learning to serve their Lord.
Do you want to see the glory of God? It is all around you – in the Creation, the Bible, Christians, and the Church. But don't gaze at the transfigured glory of Jesus Christ as an idle spectator. God expects you to be transfigured by what you have seen. He expects your life to be transformed as were the lives of Jesus' disciples.
You won't write a book of the Bible like Peter did. But every day you have the opportunity to be a personal Transfiguration of Jesus Christ to all whom you meet. Out of all the ways in which people may see Jesus Christ in His glory, you are one of the most glorious ones they will ever see.
Prayer: O God, who on the mount didst reveal to chosen witnesses thine only-begotten Son wonderfully transfigured in raiment white and glistering; Mercifully grant that we, being delivered from the disquietude of this world, may be permitted to behold the King in his beauty, who with thee, O Father, O Holy Ghost, liveth and reigneth, one God, world without end. Amen. (Collect for the Transfiguration of Christ, from The Book of Common Prayer)
Resolution and Point for Meditation: I resolve to look for the transfigured Jesus Christ in one place in my life today. However I see Him, I resolve to meditate on His glory and to allow Him to transfigure me in the way that He desires today.
Transfiguration of Christ – U.S. Public Domain