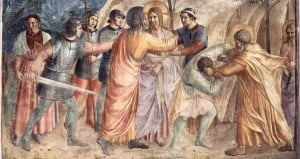 How many words must have been wasted on Judas in the past 20 centuries. But how many have met the young man in Mark 14? Most commentators agree that the young man is most likely Mark himself. Who else would have known and dared to report these details?
At first blush, it might seem as if this naked young man is only a Bible trivia curiosity. His story occupies only two small verses, and his story isn't repeated by any other Gospel writer.
But on closer inspection and introspection, I see all too clearly that I am that young man. Thank God I am not Judas, but I think I may be Mark.
All around You tonight, Lord, is the commotion of betrayal. There is Judas, the Son of Perdition, the most obvious betrayer. And there is Peter, the denier. But here also, betraying and denying You in a way is Mark. And here, as well, sad to say, betraying and denying You is me.
You know, Lord, that I usually begin with the best of intentions. I follow You.  Even when things get difficult, I choose to follow You. If I follow You too much in haste, I know You will forgive me. Sometimes I begin the day with a rush of activity. There are things to do and things to see, and so I throw the linen cloth around my naked body and begin my day.
And I begin each day as a Christian, as a follower of You: that is my intention. Sometimes I think it, and sometimes I vocalize it, but it's never far from me.
But somewhere along the day the "young man" of the day lays hold of me. It may be that I am too tired today, or that I've gotten off on the wrong foot with my children. Maybe I stayed up too late to be ready for You in the morning, or maybe I didn't remember to put on Your armor today.
However it happens, It Happens. Your enemies lay hold of me, and I flee. I don't choose to flee: it's just that I haven't prepared to stay with You. I know that you'll forgive me if I repent, but sometimes I fall into the temptation of the world that tells me that this is not even a sin. After all, I didn't actively choose to be unprepared; I didn't choose to flee. It was just a reflex, born from fear. Who wouldn't flee when things get tough?
Maybe, Master, it's a measure of how weak and unprepared I am that the things that make me flee from You are not the physical men that lay hold of my body, as it was with Mark. No, it doesn't take that much to get me off track, to forget You and begin to live a life apart from You. Sometimes it takes nothing, because I haven't prepared to follow You. I've got my morning routine down. I know how to eat and get dressed and go to work with a minimum amount of time. I even know how to pray and listen to Your Word sometimes.
But how quickly I forget.
And when the "young men" of my life lay hold of me, I flee. I leave my linen cloth behind and am naked. Why is it that when men are fleeing from You they become naked?
So here I am, naked before You, for I have not put You on today. But man will have clothes, and so I find something else. I call it "The Day," or "Life," or "Work," or "Play." But in truth I am naked because I have not continued to follow You today.
And so I am like John Mark before You. He was the one who had the habit of running away. He ran away not only from You but from St. Paul as well.
And yet You are the One who was born and lived and died and now lives for nude betrayers and deniers like me. You are the God of second and third chances, for Your property is always to have mercy. You are the one who invited Mark back to the apostolic ministry with Barnabas and provided him with reconciliation with Paul. And You are the one who inspired him to write a Gospel. And in that Gospel You had him write this very embarrassing story so that I might be revealed in my nakedness and be properly clothed when I meet You face to face.
Thank You that to me, the betrayer and denier, You are faithful and  ever merciful.
And so, having spent two verses naked with Mark, I am once again clothed and in my right mind, ready to follow You once again.
Pray for me, Jesus, that tomorrow I will not so easily flee and not be so easily fooled.
The rest of today and tomorrow (for that is enough manna for one man), may You grant me strength to watch and pray with You before the Sanhedrin, even as Peter betrays You.
Prayer: Almighty God, our Light in darkness, our Strength in weakness, our Hope in sinfulness, and our Eternal Home, be unto us merciful, long-suffering, and patient; that we, who be slow of growth, may hope to come at last to Thy likeness; and being upheld by Thee, may by Thy mercy go from strength to strength, until, through the waste and dreariness, through the joy and duty of this earthly life having safely passed, we through the fullness of Thy mercy may come into the land of the eternal peace.  Amen.  (George Dawson)
Points for Meditation:
In what ways could you better prepare to be and remain in the presence of the Lord throughout the day?
2. What things distract you from the Lord each day?
Resolution: I resolve to prepare adequately today to meet my Lord and remain in His presence.
Capture of Christ by Fra Angelico – U. S. Public Domain