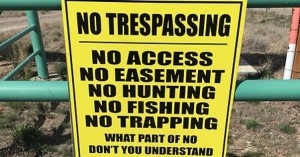 What are we to do with the Sabbath?  Jesus actually has some things to say about the Sabbath, although mostly He teaches about it indirectly.
This is a question that has vexed Christians for 2000 years.  At one extreme, Christians have insisted that there is just about nothing we can do on the Sabbath, except go to church services.  No work, no card games, no dancing, no reading of novels, no temporal pleasures, no parish gatherings called "church-ales," no sports!  It reminds me of a sign I saw once on a piece of property near Tyler, Texas meant, presumably, to chase away trespassers.  On a white board in crude red letters was written:
"No hunting
No fishing
No nothing!"
At the other extreme we have contemporary attitudes toward the Sabbath.  There's still a consensus that Christians should go to church on Sunday, but even that is eroding to some degree.  Business as usual, get out of church as quickly as possible to go to the greener outdoor temple of 18 holes, and spend as much leisure time as possible because today is mine.
The idea of the Lord's Day, or the Christian Sabbath, is just one of many Christian doctrines that's overdue for a re-examination.
I want to begin with two basic assumptions, and then work from there.  My first assumption is that God has hallowed time and set apart special or holy times.  He is the one who created in six days and rested on the seventh day, a principle upon which He established the Sabbath in the Mosaic Law and a principle which He has never revoked.  God has hallowed the Sabbath, although for the Christian the Sabbath is no longer the 7th day but is now the 8th day or the day of the new creation, the Lord's Day.
This is because Sunday, the Lord's Day, is the Day of the Resurrection.  The first Christians worshiped together as the Church on Sunday for this reason, something they've been doing for 2000 years.  So there is, in fact, something special about Sunday.
My second assumption is that the primary thing that Christians have done on Sunday that makes it special is to celebrate the Resurrection.  A corollary to my second assumption is that the primary way Christians have celebrated the Lord's Day from the beginning was to celebrate the Eucharist or Lord's Supper.  (This is well-established by church history: it is not my invention or that of the Roman Catholic Church.)  In fact, this coming together as the Body of Christ to receive the Body and Blood of Christ and be fed by Him and made into Him is the most important thing we do each week.
Even for churches where weekly communion is not the norm, the weekly coming together as the Body of Christ to worship Him and celebrate the Resurrection is the most important thing you will do this week.
But what happens before the 10:30 service, and what happens after 11:45?  These are questions that few Christians ever think about.  I'd like to suggest a few things, based on my prior two assumptions.
Traditionally, since the Lord's Supper was weekly, Christians spent part of Saturday evening and Sunday morning preparing themselves to meet with God and partake of the Body and Blood of Jesus Christ.  There would be a time of examination and a quieting of the soul.  Often, no food would be taken on Sunday morning until after the Body and Blood of Christ were consumed.  A confession of sin would be made, as well as a reconciliation of any broken relationships and a preparation of the body and soul to meet God with fear and reverence.
How do we traditionally prepare for our worship services?  Get up at the last possible moment, throw the kids in the car, and pile into the pew the way the Simpsons pile into their couch at the beginning of every episode.
How do we leave the service?  We may spend a few moments making a few social connections, but then it's time for lunch and getting onto the real business of our many hours of Sunday leisure (let's not forget the Cowboys game or tee time!)
I've often wondered how long the half-life of the average sermon is, as one marker of our approach to worship.  When I was at St. Andrew's in Fort Worth, the priests were expected to spend many hours each work preparing the sermon for the main Sunday morning service.  What's the half-life of the sermon in the soul of the average parishioner?  In science, the half-life is the time it takes for half of a radioactive substance to decay into its non-radioactive relative.  Colloquially, the "half-life" of something is used to mean how long that thing effectively exists.
For most Christians, I'll wager that the sermon is effectively forgotten by the time the church service is over.  A few hardier Christians may have a few pieces of sermon confetti drifting through their minds by the time the service is ended.  How many of us actually do something with the sermon once we've left the church building and gotten into our cars?
Does what we have heard and experienced on Sunday morning, and not just the sermon, have a lasting effect on us?  Will it, if we rush immediately from it and treat the final "Amen" as a punctuation mark that ends our participation with the Lord that week?
If we are really fed by Jesus Christ in our worship service, why has He fed us?  Aren't we supposed to do something with that divine energy and life that He so graciously gives us?  Since Sunday is a feast day, even during the fasting season of Lent, I take it that Sunday is a good day to feast.  But are we feasting because Jesus has risen from the dead and raised us with Him into heaven, or because now the remainder of the sacred weekend is ours to do with what we will?
The Son of Man is Lord of the Sabbath, and that means something.
Jesus Christ rose from the dead on Sunday, the Lord's Day, and that means something, too.
When we partake of the Holy Communion, we feed upon Jesus Christ, and that means something.
The Lord made the Sabbath for man and created it good.  Let's use it in a way that would be very good for both our bodies and our souls.
Prayer:  (A Prayer Before Entering a Church)  As for me, I will come into Thy house, even upon the multitude of Thy mercy; and in Thy fear will I worship towards Thy holy Temple.  
O Lord, hear the voice of my humble petitions, when I cry unto Thee; when I hold up my hands toward the mercy-seat of Thy holy Temple.  We wait for Thy loving-kindness, O God, in the midst of Thy Temple. 
Be mindful of the brethren who are present, and join together in prayer with us now:  Remember their devotion and their zeal.  Be mindful of them also who upon good cause are absent: And have mercy upon them and us, according to the multitude of Thy mercies, O Lord.
We bless Thee for our Godly Princes, ordained ministers, and for the founders of this Thy holy habitation.
Glory be to Thee, O Lord, glory be to Thee; glory be to Thee, because Thou hast glorified them; for and with whom we also glorify Thee.
Let Thine eyes be open, and Thine ears graciously attend, to hear the prayer which Thy servant prayeth in this place, wherein Thy Name is called upon. 
Woe is me, I have sinned against Thee, O Lord, I have sinned against Thee:
O how evilly have I done; And yet Thou hast not requited me, according to my sins.
But I am ashamed, And turn from my wicked ways, And return to my own heart, And with all my heart I return to Thee, And seek Thy face; And pray unto Thee: saying, I have sinned, I have done perversely, I have committed wickedness;
Lord, I know the plague of my own heart, and, behold, I return unto Thee with all my heart, and with all my might.
And now, O Lord, in Thy dwelling place, the glorious throne of Thy kingdom in heaven, hear the prayer and supplication of Thy servant.  And be merciful unto Thy servant, and heal his soul.  I dare not so much as lift up mine eyes unto heaven, But standing afar off, I smite upon my breast, And say with the publican,
God be merciful to me a sinner.  To me, a greater sinner than the publican, be merciful as to the publican.  The earnest desire of man shall be to Thy praise, and the continuance of that desire shall hold a festival to Thee.   Amen.  (Lancelot Andrewes) 
Points for Meditation:
What are some ways in which you could better prepare for the Sunday worship service?
What are some ways you could use the Lord's Day (after worship) more profitably?
Resolution:  I resolve to prepare more adequately for the Sunday worship service this week. 
No Trespassing Sign Creative Commons Attribution-Share Alike 4.0 International