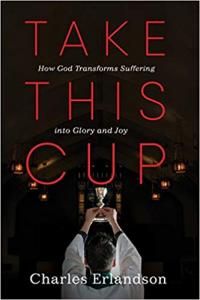 Take This Cup is available here: https://amzn.to/3Ee0TMX

At the heart of the Christian understanding of suffering is the Suffering Servant, Jesus, and His Cross. There is no way to tell the Gospel story, the Good News of God's great deliverance, without suffering. The Bible, you could say, is a book about suffering, as long as we understand that it is also about God's promise of deliverance from suffering.
We, including, Christians, naturally shy away from suffering. And often, non-Christians wield the fact of suffering as a bludgeon with which to beat down Christians and their faith. But Christians, of all people, know the meaning of suffering, for we know our God who suffered for us. For this reason, it is very sad when church leaders, teacher, and Christian artists avoid any mention of suffering.
Hear, then, the Gospel of Suffering, which is at the heart of my book, Take This Cup: How God Transforms Suffering into Glory and Joy. It is a story told in 3 parts:
1. Far from being a sign of God's non-existence, apathy, or impotence, human suffering is transformed by Christ into a sign of God's presence, love, and power.
2. Because Christ has become man and suffered to redeem man, suffering is a primary means of participating in God's nature and being united to Him.
3. As Christians partake of Christ and His suffering, their own suffering is transformed by God into glory and joy.