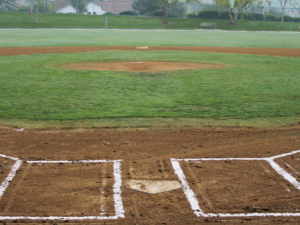 Last Friday night, a freak microburst descended on our neighborhood with eighty mile an hour winds scattering tree limbs like matchsticks and knocking out the power on a steamy summer evening. My husband decamped to sleep at the office (he had to work on Saturday), and I spent an exhausted night on the living room sofa huddled next to my two sweaty children.
Twenty-four hours later, power still off, we checked into a Fairfield Inn two miles from our house, cranked on the air conditioner, ordered a large pizza, and sat in our slick cool hotel beds watching the Washington Nationals play the Baltimore Orioles.
For it has been the season of baseball in our house. Way back in March, my eight-year-old son signed up for a machine pitch team coached by a friend's father, among others.
We didn't know what to expect. I'd heard the horror stories about maniac parents, the escalating pace of "traveling teams," the everybody-gets-a-trophy leveling that seems to get lampooned in The Atlantic every few months or so, the upshot of which is always: Lazy. Spoiled. American. Kids.
I can say this: Whoever is writing for The Atlantic has not met Coach Don.
A nightclub manager by profession, Coach Don has a thundering voice and the kind of temperament you might assume had disappeared from the repertoire of child management. You throw that bat again; you are out of this game. And when the boy didn't heed the warning, the Voice of God came cracking across the diamond. You get out of here and go sit down until I say you can come back!
But at the same time, I can't say I have ever seen the same kind of exquisite gentleness and compassion, in tandem with all that authority: Stand right there. Just a little closer. Next time, lean into it a little more. All right!
It was a performance mastered by Coach Don, and by Coaches R.J., Tim, Alan, and Stefano. As March passed into April and then May, the boys began to stand up straighter, and to check their complaining. My previous ineffective exhortations to "just concentrate" were replaced by my son's growing ability to focus, to anticipate where the pitches and throws might be going, and to train his body to respond accordingly.
Alex learned to hit, and not to get frustrated when he didn't. (He's still working on his defensive game.) There was a magnificent hitter among the group, and it was gratifying to see the other players cheer him on. It was even more gratifying to see the ways they learned to support each other when their playing wasn't so good. And when our boys' sensitivities and attitudes failed, they were recognized and met with a measured response.
Somewhere in the middle of this season with two practices and then two games per week, I started not only to understand the game of baseball, but to enjoy it as well. I'd spent my entire youth almost completely ignoring sports, except for learning to engage in the smattering of football talk ("Y'all think Ole Miss is going to weee-iii-n?") that is requisite for a southerner.
Baseball, in particular, had always seemed both twee and annoying—especially given the baseball lore in the literary, MFA circles I was drifting among—the most intellectual of sports. Those Roger Angell essays. John Updike writing of Ted Williams:
Gods do not answer letters.
Washington D.C. lawyers in late middle age who can be seen walking down K Street of a spring afternoon, wearing Boston Red Sox caps with their natty business suits and Harvard ties.
But gradually, all of these aspects came to seem not merely stylistic poses, but endearing. Not least of all, the seductive panoply of nature overlaying the fields: the fragrance of mown grass and honeysuckle on the air, the electricity you can actually smell in the air of an approaching storm.
These things began to matter to me, too.
What struck me more than anything, perhaps, was the approximation baseball makes of a simple but highly functional morality, like a pre-Abrahamic moral code: its structure, its order, the need to play the game observantly in order to play the game at all. The inability to just phone it in.  The need to subordinate individual impulse for the good of the group.
And rather than dulling the ethical sensibilities of our young players, the game seemed to sharpen them. We'd heard of parent and team problems—the kind of stuff you see on YouTube—taking place in games and teams around us, but it took something completely unrelated to baseball to see our boys wounded at close range.
It was a Saturday afternoon game, in a suburban field on an increasingly hot day. Suddenly the players grew distracted from the game, and were crowding around a stand of trees.
The adults went to look. It was a black rat snake, slithering across the grass, its tiny pointed tongue darting from its mouth. Our players looked closely to inspect, not so much from fear, but from surprise at how beautiful it was—an odd inversion of the Genesis story, the snake was intruding Eden back upon us.
One of the eco-minded dads moved to lift it up and throw it back into the forest, to its home. But before he could do so, an adult from the opposing team picked up the snake, took it away from the field, and crushed its head.
I know there are many ways to read this story—as an urban/rural conflict, or, perhaps, the sentimentality of the relatively privileged. I also know that this one violent act in middle of a brilliant afternoon served to puncture my son's dignity, and all the conscientiousness he and his teammates had worked so hard in cultivating.
Alex barked, "I would send my soul to HELL to get that snake back!"
A native of Yazoo City, Mississippi, Caroline Langston is a convert to the Eastern Orthodox Church. She is a widely published writer and essayist, a winner of the Pushcart Prize, and a commentator for NPR's "All Things Considered."