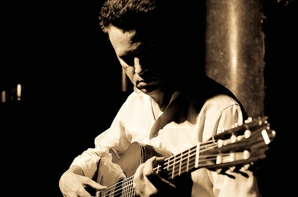 Upon hearing Sun Kil Moon's newest record, Among the Leaves, I pictured Mark Kozelek as a musical Moses—hoisting his guitar aloft like a staff and parting his loyal listeners down the middle like the Red Sea.
Advance press for Among the Leaves described the album as playful, which frankly frightened his fan base a little (me included). While I can think of a few playful songs in Kozelek's catalog, the other 303 songs in my Koz playlist on my iPod—including assorted solo recordings and the complete works of the Red House Painters and Sun Kil Moon—are decidedly somber. His melodies and maladies are often indistinguishable from one another.
"Playful" songs from Kozelek's past include "Three-Legged Cat," the penultimate track on the Red House Painter's Shock Me EP, and "Wop-a-Din-Din," which opens the band's final album, Old Ramon. I recall these songs because they are both about cats, and my wife and I own a frightening five felines.
We each had cats before we married, and we could not part with them when we joined our lives together. Our two calicoes, Charlotte and Sophie, were my confidants in my seemingly endless single days. They witnessed me at my best and worst, and I rested easier knowing they knew and loved me.
I cannot help but wonder if Kozelek feels the same way about the strays that show up on his stoop in the song "Track Number 8" (which happens to be track number eleven on Among the Leaves). He feeds them and names them "Monster Fluff, Half Fluff, No Fluff, and Samhain."
The cats are supporting characters on Among the Leaves. The album is ultimately Kozelek's show, and he commemorates, complains, confesses, and cracks wise throughout. With regard to song selection, he follows the Beatles' lead on The White Album, offering the listener the runts of the litter along with their stronger siblings. While reviews have been mixed, I would argue that the sprawling seventeen-song, seventy-three-minute album ranks among the singer-songwriter's best.
For anyone who has not been baptized into the tar waters of Kozelek's musical church, his story begins with the Red House Painters, who released a series of acclaimed albums on 4AD records in the '90s. The band played a narcotized brand of slow-core à la Low, but decidedly sadder. In 2003, Kozelek shed his Red House Painters skin and released his first album as Sun Kil Moon. The name change was a mysterious move, as his new band sounded like the Red House Painters, and featured members of his former band.
Among the Leaves, compared with Kozelek's previous releases, is a snapshot of the singer-songwriter with bed-head, dressed in a bathrobe like Harry Nilsson on the cover Nilsson Schmilsson. He exchanges the poetry of the past for more colloquial language, and the vocals are grittier and worn, sounding as though recorded in one or two takes.
Most of all, the album paints a picture of an artist who no longer cares if anyone is looking. Kozelek is long into his love relationship with his audience, and it is as if he now feels comfortable leaving the bathroom door open and talking to us while heeding nature's call. Fans who never wanted to know the man behind the myth may retreat for this reason. I, on the other hand, welcome a more complete portrait of one of my favorite singer-songwriters.
Throughout the album, Kozelek offers himself as a living visible man—the kind that might be found in classrooms dedicated to songwriting instead of science. His see-through skin allows us to see all of his innards, including his funny bone and his heart, which pumps blood that is still darker than everyone else's.
We also see the strain of years on his joints and bones. In rock 'n' roll years, which are a bit like dog years, Kozelek is almost as old as Moses. It is easy to forget he began painting houses red in 1989. In this sense, Among the Leaves is a playful and poignant portrait of youth past its expiration date.
On Among the Leaves, Kozelek is a card and a bit of a cad: In one particularly revealing song, "That Bird Has a Broken Wing," Kozelek admits to cheating on the woman he loves with "a girl who didn't mean anything." Instead of apologizing, he attributes his actions to his nature. "You know I love you more than that," he sings, "but I'm half man, other half alley cat."
For me, the line recalls the Apostle Paul's admission about his own nature in Romans 7:18: "I have the desire to do what is good, but I cannot carry it out. For I do not do the good I want to do, but the evil I do not want to do—this I keep on doing." Like Paul, Kozelek confesses—he cannot allow his beloved or his listener to believe he is anything other than what he really is.
Among the Leaves is not a religious record. It is, however, a picture of a man who wants to be known more fully, and not by any individual, but by the very sea of listeners he risks parting down the middle with this album. Might a longing to be known by the masses be comparable to a longing to be known by One who looms larger than any record-buying public?
At the end of the day, in our working and playing, in our following and straying, we all sleep a little easier knowing we are known—whether by man, beast, or God. We hope that he who is making a home for us happens to be in the business of taking in and taming alley cats. We hope that God, like Mark Kozelek, will feed us when we are the strays who show up on his stoop.
Chad Thomas Johnston is a writer, blogger, artist, singer-songwriter, and publicist who resides in Lawrence, Kansas with his wife Rebekah, their daughter Evangeline, and five felines. He is represented by Seattle-based literary agent Jenée Arthur, who is currently shopping his manuscript, "The Stained-Glass Kaleidoscope: Essays at Play in the Churchyard of the Mind," to publishing houses. Visit himwww.chadthomasjohnston.com and his Twitter @Saint_Upid.