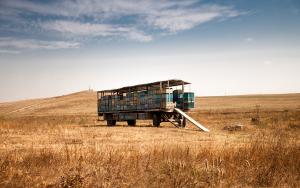 After years of holding intimate hymn-singing gatherings in their living room, Reverend Vito and Monique Aiuto released Welcome to the Welcome Wagon in 2008; the homespun album was produced by Sufjan Stevens and put out by Stevens's own Asthmatic Kitty records.
The Aiutos, accompanied by Stevens and other friends, called themselves The Welcome Wagon—and their first album was lauded by outlets as diverse as Pitchfork Magazine (the ultimate indie bible) and Christianity Today.
Their music was and is endearing, lush, and earnest—a combination of indie-folk hymns, low-fi pop covers, and often revealing original songs. The Aiutos sing of the glorious ruins of humanity and the cleansing blood of Jesus, treating both with beauty, grace, and inescapable authenticity.
The Welcome Wagon's second album, Precious Remedies Against Satan's Devices (2012), also released on Asthmatic Kitty, was met with equal acclaim to their first album. The band's third effort, Light Up the Stairs, was released in 2017 via a Kickstarter campaign that raised over $33,000 in order to produce it.
Not long after the album's release, I met with Vito Aiuto—poet, musician and the pastor of Resurrection Presbyterian—at a Polish café in New York City's Greenwich Village where we chatted about words, music, preaching, and human nature.
Our conversation was a long and rich one, so much so that it will be shared in three separate posts.
Mary McCampbell for Image: Which came first—a desire to write poetry or a desire to preach? How are they related?
Vito Aiuto: I think that I became a preacher for lots of reasons, and one of them is that I really love God. Another one is that I want other people to know how much God loves them. Another reason is that I like communicating. And another reason is, apparently, I must like standing on one side of the room and having a bunch of people listen to me. If you are not dealing with or acknowledging those desires, I can't help you.
I love words. I love communication, and I love reading. And I wanted to be in that world. That's the currency I use for my life.
On the flip side, it's a little more questionable when it comes to motivation: I've always wanted to be heard. And I have always wanted to make connections with people, and again, for good and bad reasons probably.
Writing poetry and being a preacher, they're not the same obviously, but there is a similarity. I want to make a connection, and God wants to make a connection with us and he speaks, and he sends his son with the word.
The message that I want to convey is God's love for people. But it's also something primal in me because I want to be heard. If you are not curious or aware about that and you are a preacher, then I think it is dangerous.
Image: "Dangerous" because you're not being honest with yourself?
VA: Yes, you won't be as likely to catch yourself. You'll be more likely to damage other people, hurt other people. We all know artists and musicians and preachers who are rolling over people because they don't realize that their own needs have gotten in the way somehow.
Image: How old were you when you started writing poetry?
VA: My mom saved a poem I wrote in the fourth grade about Abraham Lincoln. It was these rhyming couplets about his life, culminating in his assassination. Dramatic stuff for fourth grade.
Image: Getting back to the relationship between creating art and preaching, I heard you speak at the Calvin College Festival of Faith and Music, and you said:
The sermons I write are for God's glory and they are for the good of the people of my church, Resurrection Presbyterian Church in Brooklyn, NY.  My goal and my responsibility are not to please the people there, but it is to feed them.  If they do not get fed, then I am not doing my job and I have failed as a preacher, as a writer of sermons.
VA: Oh man, that sounds a little too good, doesn't it?
Image: I know it can be a bit tough to hear your words read back to you, but I do wonder if there is a similar goal for the music that you write.
VA: The first songs that I wrote were all retuned hymns. It was a good way to learn how to write songs. And I love those old hymns; I like singing about blood and the Spirit and the cross and the resurrection.
It's so heartening to hear people say, "Oh man, that song was really helpful to me." So I am really glad when that happens. But it's also, "I want to be heard," and "I want others to know this about me," and "I want you to feel this like I feel it".
Image: Of course, no one has a pure motive for anything.
VA: No way, no way. I'm a Calvinist for sure. Or an Augustinian.
Image: That is somewhat obvious in your interpretations on human nature and human motives. How did you actually come to my faith?
VA: I was an undergrad and partying a lot; I had no desire or objective but my own pleasure. And one night, I ended up being really scared about that. I actually ended up being really scared for about six months.
I'd heard Charles Stanley on the radio saying that if I prayed that would save me from my sins.
I did not grow up in the church. I was baptized twice as a baby. My mom and my uncle, who were Catholic, baptized me in the sink because they were afraid I would go to Purgatory.
I got to the point [in college] that I was so afflicted with a sense of dread and sense of meaninglessness in my life that I started to pray and go to church to see if it would fix it.
To be continued tomorrow.

Mary McCampbell is associate professor of humanities at Lee University and Winter/Spring 2018 scholar-in-residence at Regent College. She writes on literature, film, and music, and is currently working on a book titled Postmodern Prophetic: The Religious Impulse in Contemporary Fiction.