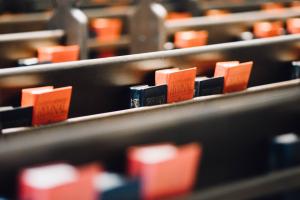 The Welcome Wagon's Vito and Monique Auito are known for their endearing, lush, and earnest combination of indie-folk hymns, low-fi pop covers, and often revealing original songs. They sing of the glorious ruins of humanity and the cleansing blood of Jesus, treating both with beauty, grace, and inescapable authenticity.
I met with Vito Aiuto—poet, musician and the pastor of Resurrection Presbyterian Church— at a Polish café in New York City's Greenwich Village not long after the band's third album, Light Up the Stairs, was released in 2017. We chatted about words, music, preaching, and human nature.
Our conversation began with yesterday's post and continues today and Monday.
Mary McCampbell for Image: What was the origin of the band title, The Welcome Wagon?
Vito Aiuto: My wife, Monique, came up with that. It was from a time in our life when we were having a lot of people coming over to our house. So we used it that way—as if we were a "welcome wagon" when we gathered together.
But also, Sufjan Stevens put a song of ours on the first Asthmatic Kitty Compilation and needed a title for our band. At that point, we did not even consider ourselves a band: Sufjan just came over to our apartment, and we recorded some songs. We actually did not consider ourselves a band until we were holding the first CD. And we thought, okay, I guess this is really happening.
And another thing we do now is that whenever we play live, we buy something from around the venue's neighborhood like pastries or cookies or ham, and we take it to the show and give it away because the Welcome Wagons of the old West worked like that, enticing travelers into the town by bringing out the best things that they had.
Image: Could you talk about your relationship with Sufjan Stevens as artists and friends? How did you first come to know each other?
VA: We worked together on a Christian Arts Festival that he organized in 1999 called Christ à gogo.
Image: What? Really?
VA: Yeah. That is the first thing we ever worked on together. And I want this in print. The Village Voice reviewed it, and the only positive thing that they had to say was about the food. We had caramel apples and popcorn balls, and I made those! I want that in the interview!
Image: Okay. Absolutely. I'll put it in!
VA: Sufjan and a friend from Hope College had just moved to the city, and I met him at a club called The Knitting Factory. Someone said they were doing this thing, and they asked me to do the food. I made like 150 caramel apples and 150 popcorn balls and drove them all from 73rd and Madison downtown to PS41.
Image: How was the festival?
VA: It was okay. That's how we also met the Danielson Famile. Dan [Daniel Smith] headlined it. Sufjan didn't even play music. But there were paintings and sculptures and video installations and the culminating thing was a concert.
Image: On a note related to the collaborative work you have done: I have heard you speak before on the importance of imitation, and how that is part of the artistic process of creating something beautiful and true. You seem to really live that out in your music.
VA: Yep, yep.
Image: On your three albums, you have many covers (of multiple hymns, of The Velvet Underground's "Jesus," of The Smiths' "Half a Person")—but you have also taken familiar written texts and put them to music (a John Donne Sonnet, the first question of the Heidelberg Catechism, Galatians 20:20).
It's especially fascinating with the Donne poem because he was, of course, both a poet and the pastor, like yourself. Can you elaborate a bit on the process of taking a familiar text and transforming it into a song?
VA: It's fun.
Jeff Tweedy of Wilco said that one of the ways their band writes songs is that they just play together for an hour. And one of the reasons he likes to do that is because it reminds him that writing songs is just making stuff up. You're just being playful, like a kid sitting there with the Legos and stacking them on top.
And you can do that with existing texts that you really like.  You can ask how will I make this into a song? How can I have this come out in a different way? If you like to read, like words, like to write, then that is the fodder for your work.
I'm lucky. I get to play with that stuff. And some of it works; some of it doesn't work.
Image: Which one(s) do you find particularly successful?
VA: The Heidelberg Catechism song is my favorite thing I have written in a long while, and part of it is because it does not have any meter or rhyming words. So it's a good challenge, kind of like a constraint.
How am I going to make a little song that children can sing out of a confessional document written in the 1500s by a Lutheran and Reformed theologian that has been translated into English and none of the words rhyme?
Image: It's quite a challenge.
VA: I super love that Catechism, and I really love that question: "What is your only comfort in life and death?" We sing it and the response every week at our church, so I have it memorized now. I tried to memorize the first question of the Heidelberg Catechism for five years and couldn't do it. And then I wrote that song and now everybody at our church has it memorized. Everybody.
To be continued Monday. Read yesterday's installment here.

Mary McCampbell is associate professor of humanities at Lee University and winter/spring 2018 scholar-in-residence at Regent College. She writes on literature, film, and music and is currently working on a book titled Postmodern Prophetic: The Religious Impulse in Contemporary Fiction.