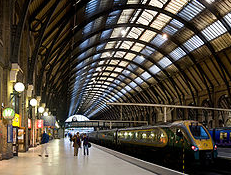 Hot town, summer in the city / Back of my neck getting burnt and gritty… goes the ode by The Lovin' Spoonful, a radio staple at this time of year, its fevered melody symptomatic of the swelter it evokes: All around, people looking half dead / Walking on the sidewalk, hotter than a match head…
And that's just the state of things above ground.
Go below it, though, in New York City no less, and only a dirge will do: the grit reaches body parts far less exposed than the neck, the people look fully dead, and the hot putrid wind of every passing train fans the flames of an urban inferno that should, but doesn't, constitute punishment enough for one's many sins.
To commute by subway in our seasonal Hades-on-the-Hudson is to test twice a day just how much of a First World brat you are in the eyes of God. Your test results are positive on your morning trip: a gaseous wave washes over you once you're through the turnstile—car exhaust trapped from the streets above, body odor, ammonia, and various trace elements from perfume to cream cheese. You test doubly so on the evening trip home with cattle-car crowds in both directions.
If ever you need a reminder of just how carnal you truly are—just how prone to the gamut of judgment, lust, pride, envy, violence, and the like that you can experience in a span of twenty minutes—come ride the New York City subway system in summertime.
Happily, a reader's response to my Good Friday post made mention of a winsome project by a British artist that could not have come to my attention with better timing in advance of summer: a paper-cut booklet titled Stations of the King's Cross. It maps the fourteen devotions that commemorate Christ's Passion along the fourteen stops of the Circle Line on the London Underground—a circuit that fittingly ends at the King's Cross stop.
Though I instantly recalled the same notion from the U2 song, "Moment of Surrender" (I was speeding on the subway / Through the stations of the cross), the revelatory sense provided by that verse never led to any real change of regard for my subterranean commute. Except for the chance to read when not squeezed too tight, it remained a drag.
A month after following the link to the project's website, I received an e-mail from the artist herself, Claire Louise Barrie, who had designed and distributed the booklets for free on the London tube.
She was writing in the hopes that I and/or any readers might be interested in learning more about the project and an auction in which proceeds from the sale of the original paper-cuts would benefit three British charities. She asked if I might make mention of the auction in an upcoming blog,
I would, or would have, the only problem being that I had just delivered a post to mark my father's seventy-fifth birthday and my next post (this one) wasn't scheduled to appear until a week after auction. I suggested other thoughts as to how she might advertise to the Image community and that was that.
Then came last week's mini-heat-wave in New York, the month of May not even past yet. Surely it was a taste of larger ones to come in the next few months.
My own free copy of Stations of the King's Cross, which Ms. Barrie kindly offered to mail from England, has made a fine companion to my weaker moments underground in Hades-on-the-Hudson—moments in which the burden of a bag upon my sweaty back in a crowded train throws the burden of a cross on a crowded dirt road into stark relief.
As the handwritten postscript at the end of the booklet states: "Just a little idea for those circle line passengers who believe that pondering on the enormous mystery of Christ's death (and mysterious enormity of His love) could be a good thing."
Speaking for myself, I'll substitute "is" for "could be" and "great" for "good."
For the true Via Dolorosa that Jesus traveled shines a very bright light on the false one that at times I tend to make not only of certain trials in life, but worse, certain blessings. Woe is me that all these years later I'm still riding the subway to work in an economy such as this!
It just so happens that the fourteen stations of the cross correspond to the fourteen stops I travel round-trip in a day's commute on the A train between Brooklyn and Manhattan. (With a slight but sound cheat at the end to match the dual sequence.)
What if I applied the same intentionality here in New York City that Ms. Barrie invites riders to apply in London? My geo-spiritual itinerary would look like this:
I. Jay Street-MetroTech: Jesus is Condemned to Death
II. High Street: Jesus Receives the Cross
III. Fulton Street: Jesus Falls for the First Time
IV. Chambers Street: Jesus Meets His Mother
V. Canal Street: Simon Helps Jesus to Carry His Cross
VI. West 4th Street: Veronica Wipes the Face of Jesus
VII. West 14th Street: Jesus Falls a Second Time
VIII. West 4th Street: The Women of Jerusalem Mourn for Our Lord
IX. Canal Street: Jesus Falls for the Third Time
X. Chambers Street: Jesus is Stripped of His Garments
XI. Fulton Street: Jesus is Nailed to the Cross
XII. High Street: Jesus Dies
XIII. Jay Street-Metro Tech: Jesus is Taken Down from the Cross
XIV. Home: Jesus is Laid in the Sepulchre
All aboard for part two when I post next in early July. Surely it will only have gotten hotter between now and then.
Hot enough to smell blood, though? We'll have to wait and see.
Read Part 2 of this piece here.
Bradford Winters is a screenwriter and poet, and works for The Levinson/Fontana Company as a producer and writer in television. He lives in Brooklyn with his wife and three children.