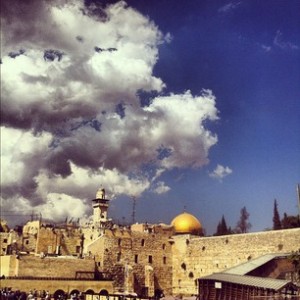 Israel surprised me.
It met me in Boston where I had traveled to attend a conference.
I hadn't planned on its being there. Laurie was going to join me later in the week. I was looking forward to her visit, looking forward to her seeing her enjoy the rather luxurious conference hotel—tenth floor corner room, windows facing north and east, the east facing window delivering up a stunning view of the spires of Trinity Church—and the luxury of time to see the city while I attended conference sessions.
But a day before Laurie arrived, Israel showed up.
Rejuvenated from a swim in the fifth floor salt-water pool, as I dressed for dinner, I clicked on the flat-screen news. CNN. BREAKING NEWS: "Israel Strike Kills Hamas Leader".
I was hungry. I'd ask the concierge for a recommendation. Some place close, casual.
But first, Israel demanded my attention.
CNN aired a ten second black-and-white clip, taken from YouTube where it was posted by the Israel Defense Forces shortly after the strike.  "IDF Pinpoint Strike on Ahmed Jabari, Head of Hamas Military Wing."
The aerial camera tracks the vehicle, enclosed within a yellow bull's-eye for viewers to follow as it moves down a city street, passing another vehicle, until it enters an intersection where it is struck and turned, in an instant, into a ball of flames on wheels rolling through the intersection for another second or two until the clip ends.
Pinpoint strike. Precise, neat, clean. Posted on YouTube for the world to see. Smart public relations, I thought.
What comes next, I worried.
A beautiful site, a joy to all the earth. Psalm 48. It's speaking specifically of Mount Zion, the Temple mount: Jerusalem.
Synecdoche: a part to represent the whole. The whole Promised Land. Is this it, this Gaza, this Israel, from the heart of which Jerusalem rises, rises and spreads? Is this the Promised Land here in my room outside of which Boston has turned dark and cold?
Over the coming days: hundreds of rockets fired from Gaza, including long-range rockets targeting Tel Aviv; airstrikes on tunnels, rocket launching sites, and Gaza's Prime Minister's office; tens of thousands of reservists called up to amass on the Israeli side of the Gaza Border; a bus blown up in Tel Aviv; an Iron Dome; "cutting the grass," Israel's metaphor for the task that "must be performed regularly and has no end" writes Ethan Broner in the New York Times; cease-fire negotiations brokered by Egypt's new president.
Royal city, shrine of our King,
arise and depart from your ruin;
you've dwelled in the valley of weeping too long . . .
Those who sought your ruin will be ruined
and they who'd destroy you be driven away . . .
Thus writes Shelomoh Alkabetz (translated by Peter Cole), a member of the sixteenth century Safed circle of Kabbalists, in "Lekhah Dodi," "a hymn to the Sabbath sung to this day on Friday evening by Jews of every stripe—Reform, Reconstructionist, Renewal, Modern Orthodox, Ultra-Orthodox.
Hasn't Jerusalem risen from ruins? What about those luxury apartments overlooking the Old City's Jaffa Gate, those trendy Emek Refaim boutiques in Jerusalem's German Colony, the magnificent Israel Museum and its Shrine of the Book, which displays remnants of the Dead Sea Scrolls, and the subtle and complex architecture—according to Paul Goldberger writing, in the New York Times—of Israel's Supreme Court?
In the same 1995 article, Goldberger laments: "how sad it is that public architecture in the United States is rarely as thoughtful, and rarely as skillful in combining a sense of monumentality with a sense of easy, inviting accessibility."
"We will free Jerusalem inch by inch, stone by stone. Israel has no right to be in Jerusalem."  That's Khaled Meshal, political leader of Hamas, addressing a cheering crowd of tens of thousands in Gaza City on the occasion of his first visit to Gaza.
With his family, Meshal, eleven years old at the time, fled the West Bank during the 1967 war. He has been living in exile since then. The occasion: The twenty-fifth anniversary of the founding of Hamas. When: In the afterglow of Hamas's "victory" over Israel.
I lived in Israel from July 1976 to September 1979, about one year in Safed, two in Jerusalem. Three defining years. In Israel, for the first time in my life, at the age of twenty-two, I stepped into history, my history, my personal/my people's history.
In "Jerusalem, 1967," Israel's late, great poet Yehuda Amichai writes:
the numbers are not of bus routes
but: 70 After, 1917, 500
B. C., Forty-eight. These are the lines
you really travel on.
Before Israel, those dates meant nothing to me. In Israel, I occupied history, or should I say history—of Israel as nation, Israel as people—occupied me?
Back in the States, Israel, for decades, provided my credentials as writer (for a Jewish non-profit), as poet, educator, administrator, community leader . . .
Sooner or later, passion diminishes.
On November 14, Barak Ravid, diplomatic correspondent for Israel's Haaretz newspaper, tweeted this: "Ahmed Jabari is Netanyahu's Osama bin Laden."
And then the UN vote on Palestine. And then the Netanyahu government announces it will pursue "preliminary planning and zoning preparations" for a development in an area known as E1. Development in this area would virtually ensure that there could be no contiguous Palestinian state in the West Bank.
Little that took place after Wednesday, November 14 surprised me. But there, alone in the liberating, intimate space of a hotel room, a room where I was preparing to receive, the next day, my beloved wife, I was surprised. By relief, pride, fear . . . for Israel.
Jerusalem, risen and in ruins. Jerusalem, sprawling out, within range.