An Encore Post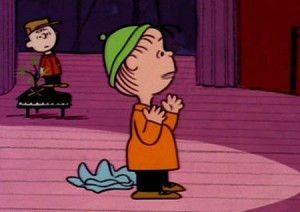 ABC recently ran its annual showing of A Charlie Brown Christmas, one of the defining Christmas rituals of my childhood. After the cartoon aired this year, my Facebook feed overflowed with love for Charlie Brown, and for Charles Schulz: "Thank you, Charles Schulz," wrote one friend, "for telling me the truth."
I knew exactly what she meant, and feel the same way. I have a special attachment to Charlie Brown, and more specifically, to Linus—he was the first person to tell me the truth. He was the first person to tell me about the Gospel.
In the cartoon, Charlie Brown has a problem, one that can only be defined as spiritual: the materialism in Sally's Christmas list, the obnoxious lights on Snoopy's doghouse, and Schroeder's incessant piano boogie sink Charlie Brown beyond his usual, block-headed depression.
"I like getting presents," he says, "and sending Christmas cards, and decorating trees and all that, but I'm still not happy. I don't feel the way I'm supposed to feel."
Growing up, my family did not attend church, and Christmas was really just about the lists and lights. It was also the time for my parents' inner demons to show themselves more fully.
One Christmas, when I was eight, my mother took off her wedding ring and left it on my father's bed stand. "I won't wear it if he doesn't want to be with me," she told me, her eyes dark and resigned as she sat on her bed.
I tried rewriting A Christmas Carol with my father as Scrooge; I drew pictures of us around Christmas trees, my parents holding hands and smiling. I can't remember if I left those pictures on my father's bed stand, but they didn't make a difference. Six Christmases later, my parents were divorced.
My parents simply didn't care about Christmas, or at least, they couldn't care, their personal problems too pervasive for them to pay attention. But my brothers and sister and I cared, and we did everything we could to keep up some semblance of festivity. We made Christmas cookies by ourselves; we slipped and squealed in the snow. After my mother's abusive boyfriend moved in, we decorated the tree by ourselves, listening for the sounds of struggle behind their bedroom door while we sorted ornaments.
It was an impulse we could not shake. Even if we never said it aloud, we hoped for something beyond the lists we made, the rituals we gave ourselves. We didn't feel the way we were supposed to feel—about family, about Christmas, about anything. And I knew that we were supposed to feel something, even if we were in such despair, and even if what I was supposed to feel was unnamable.
Our copy of A Charlie Brown Christmas was on VHS, and over the years, it turned into a reel of snowy static. It was almost impossible to watch, but I watched it anyway. It was comforting in a way I could not explain: I loved the gentle animation, the dotted snowflakes, Snoopy's goofy yelp after he kisses Lucy on the lips.
But the part that I loved the most was the Gospel, and Linus's perfect recitation of it:
For behold, I bring you good tidings of a great joy, 
Which shall be for all people. 
For unto you is born this day in the city of David, 
A savior, which is Christ the Lord.
And I always cried at this, because, in some way, I felt like I was being heard: my heartache, my despair, my family's pathetic and absolute brokenness. I knew that what Linus said was true. It spoke to that unnamable yearning, that hope for things to be made right; it was the promise of God come true, the recognition of my longsuffering, the bringing of real hope. It was rescue. It was Jesus.
I understand that this might sound corny, or sentimental. Even commercial. But isn't this what the cartoon, and Christmas, really is all about? The Gospel given through the most ordinary of means: tinseled lights, pink aluminum Christmas trees, singing cartoon characters, straw and stable?
The longsuffering continues. Every year, my family slips more uneasily into its despair: my siblings and I wait for my father to break his depressed silence, for my mother to regain clarity. Every year, I'm reminded that I don't feel the way that I'm supposed to feel.
The first time that I saw A Charlie Brown Christmas, I was four. It is a blurry memory, but the intensity of it remains: I stood on our vacuum cleaner, grabbed the handle for a microphone, and began imitating Linus, who had just stood in front of his own microphone, the lights dimmed. I didn't know what I was saying. I just babbled.
But I remember my parents standing in the living room watching me, my father's arm wrapped round my mother's waist, both of them smiling, together.
It is a glimmer of what was intended; it was the way things were supposed to feel.
This is the ache of Advent, the ache of our expectation, and each one of us knows it. And each one of us waits for Linus' words to be fulfilled in our time. For Jesus to come back fully. For longsuffering to end. For yearning to be set free.
And until then, I will pop in that snowy tape, and laugh at Snoopy, and keep up the rituals, waiting. It is an impulse I cannot shake.
This Good Letters post originally appeared on December 14, 2009.