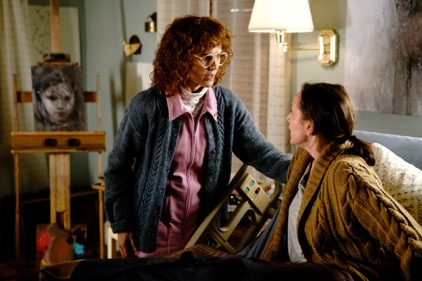 The Americans, FX's drama about Russian spies living in Washington, D.C., ended its six-season run on May 30. After season five, I wrote in "An American Body Politic" about how deception corrupts various kinds of bodies (national, personal, marital) because intimacy cannot abide it.
In one plotline during this final season, spy Elizabeth Jennings goes undercover as Stephanie, a private nurse for an artist, Erica, who suffers from terminal cancer. Elizabeth wants information from Erica's husband, Glenn—a U.S. weapons negotiator she wants to remain close to through an upcoming summit between Reagan and Gorbachev.
Early in this particular mission, Elizabeth mentions to her husband Philip that she doesn't understand "people doing that with their lives"—by which she means devoting one's time to art. For Elizabeth, if we're not "doing something," then we're wasting our lives.
Over the course of several episodes, Erica vents her own frustration regarding our limited time. Her last desire is to make Stephanie her student, teaching her how to draw.
During one visit, Erica points to one of her paintings and asks Stephanie what she sees. Stephanie replies quickly that she sees "a woman who's upset."
"That's it?" Erica asks. "Well you're never really going to see until you try." Erica demands that Stephanie draw a nearby vase. When Stephanie says that she can't draw, Erica replies, "That's not your problem."
As this brilliant drama concludes, a question sneaks up on us: Can Elizabeth and her family still see their lives with clarity, or have they lost themselves? Maybe there is an adversarial relationship between time spent seeing well and time spent avoiding being seen.
If good vision derives from genuine intimacy, then Philip and Elizabeth have played this role for each other. As each day closed, they would shed their disguises, enter the privacy of their kitchen or bedroom, and divulge the day's secrets. They would inform one another of each other's blind spots—things they might not see about how the mission, or life at home, is going.
But this last season opens with a montage that emphasizes a split between the wedded spies. Philip has mostly quit spy work while Elizabeth continues alone. Soon Philip and Elizabeth are asked by superiors to withhold secrets from one another (spoilers ahead!).
During the series FBI agent Stan Beeman hasn't known that the Russians he's tracking at work are his best friends who live across the street. Now he and his associates come closer than ever to unmasking Philip and Elizabeth when they bring in Russian Orthodox priest Father Andrei for questioning after he was spotted meeting with a Russian spy (Philip in disguise). Stan's partner, Dennis, interrogates Father Andrei, imploring him to reveal the spy's true identity.
They enter a back-and-forth about their obligations to others. Dennis convinces Father Andrei that he should betray the spies before he betrays the Church. If we are defined by how we prioritize our obligations, then The Americans has consistently asked if anything is on a higher order than the state.
"I would have done anything for you," Stan says in the parking garage where he finally discovers and corners Philip, Elizabeth, and their daughter Paige.
Philip does what he always does when his true identity's revealed. He tries to confess while lying about the extent of the damage and asking for his victim's understanding. Philip cannot take back his betrayal of friendship. He can only hope to convince Stan that their friendship still mattered in a way that transcended the betrayal. Philip has seen his dehumanizing situation for what it is. He hasn't lost himself completely.
Before Stan discovered the family's true identity, Elizabeth recalled the words of a mentor early in her training: The most important thing is that you can't lose who you are.
It's notable that when Father Andrei finally tells Dennis what he knows, he begins by saying he'd once seen the two Russian spies "without disguise." It's a reference to the memorable episode from season 5 when Philip and Elizabeth made their marriage "official" with a Russian Orthodox ceremony.
Father Andrei wasn't the only one to recall the ceremony. Near the end of this season when Philip knows that his marriage is jeopardized, he daydreams about the wedding ceremony, and we return to it with him in a flashback. We recall the rituals and vows and wonder if this identity can preserve them, if it's true.
Their son Henry is at boarding school when Philip and Elizabeth call one last time. They've made the agonizing decision to leave their son in America (one way to lose yourself as a parent). With Paige they huddle disguised in a phone booth and Philip says, "I just want you to be yourself—because you're great."
After Elizabeth as nurse Stephanie assists in Erica's death, Glenn lets her choose one of his wife's paintings. What follows is one of the most significant sequences of the entire series.
Accustomed to sneaking things away, Elizabeth tries to fit the large canvas into her car in broad daylight. Then we cut to a shot of Elizabeth in her basement staring at the painting of the woman with the agonized soul. She removes the painting from the canvas and holds a lighter to it, knowing she has to burn it. She hesitates. She rolls the canvas and hides it away. A moment later she pulls it back out and sets it ablaze.
She may have burned after seeing, but we know in that instant of hesitation that the painting has—like all vital knowledge—become burned into her memory.
In her encounter with Erica, Elizabeth discovers something more important than America's weapons secrets. She sees herself for who she's become and begins to see her superiors (remaining at a distance) for who they are.
By the end of the last episode, it's clear that The Americans is the sort of art that refines; that burns for its audience long after seeing.
In the week leading up to the 2018 Emmy Awards on September 17, Good Letters profiles some of the major nominees. The Americans has been nominated for 4 Emmys including: Outstanding Drama Series, Outstanding Lead Actor and Lead Actress in a Drama Series, and Outstanding Writing for a Drama Series.
This post originally appeared at Good Letters on June 11, 2018 with the title "Burn After Seeing: On the End of the Americans."