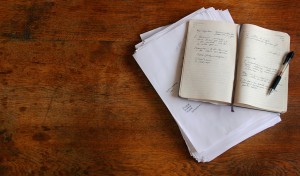 A few weeks ago, early planning started for this summer's Fiction Intensive at UC Berkeley Extension, a week-long fiction program with workshops and craft talks, readings and lectures.
I'll be giving a talk: What Is Fiction? Yes, it's a question both daunting and exhausted. Nothing I can say here that's particularly new. And I'm wary of definitions that suggest fiction is any one thing. Escapism? Moral duty? Truer than truth? Totally amoral? A pack of lies? All of the above.
But the more I keep thinking about it, the more excited I get. Examples tumble out like toys from a cupboard, begging my attention—and they surprise me. I've taught fiction long enough to have the anthologized standards at the ready.
You know, those classics with clear, dramatized change manifested in action or image: "Barn Burning," "Araby," "Roman Fever," and, for a more contemporary example, a terrific Dagoberto Gilb story called "Uncle Rock." Great examples, all. But the stories clamoring for my attention right now fall into another category.
Denis Johnson's "Work" and Grace Paley's "The Little Girl"; Flannery O'Connor's "Everything that Rises Must Converge" and Tobias Wolff's "Bullet in the Brain" feature liars and pimps and junkies and addicts, bigots and fools and snobs—not to mention a creep on a killing spree.  People you'd want nothing to do with, in situations you'd pray to avoid.
That's exactly what makes the stories particularly useful, I think, in looking at love. Love, not like.
Many students who take the Summer Intensive are new to fiction writing, and to workshops. Because of this, their reactions often touch on how much they like, or relate to, the characters and situations. And it's not just students: "We just didn't love Ed," an editor told a friend of mine, by way of passing on my friend's novel.
Ed is a key character in the book, but not the main protagonist. He's a bit of a jerk—self-absorbed, haughty, manipulative, flawed. He's human, in other words.
Who among us isn't human and flawed? Who among us doesn't love others who are? If love allows us to see the whole person, to glimpse the humanity in even the most despicable behavior, I can think of fewer better venues to explore love than fiction.
Yes, the insufferable book critic Anders, in "Bullet in the Brain," and the tiresome Grandmother from "Everything That Rises Must Converge" do undergo change. Or, in the word used by Aristotle, metanoia—the same Greek word used by the writers of the Christian gospels to signal repentance, turnaround. The book critic and the grandmother pay an enormous price, but their completion brings grace.
As a fiction writer, I struggle with the tension between narratively earned resolution (to borrow from workshop-speak) and credibility. Hearing a reader say, "I just don't believe this would happen," tells me something different than if she'd said, "I just don't believe he would do this."
The second sends me back into the words, back into craft. The first sends me to a place beyond words, a place I don't like visiting, as much as I need to.
A few months ago, a writer friend spoke of spending a week in her office thinking. Not writing, not even making notes—just thinking. I shuddered. I couldn't imagine doing that. I need to feel productive, to feel constructive—and what better way than to keep tapping words on the keyboard? Stuck? Write some more! You'll write your way out of it!
And often, I do. But other times I just create more words. My friend's experience got me thinking. What if I did just what she'd spoken of?
What if I sat in my office—okay, maybe not all week, but for a few hours—and didn't write a word? It would be like sitting with someone in silence—not my favorite thing, either (unless I know the person very well). It would be like prayer, when I stop thinking and asking and worrying and start listening. It would be difficult and perhaps a bust. Or perhaps completely transformative. Or maybe something in the middle.
I might consider an ugly act, or a tawdry thought. I would need to stay open to such possibility, suspend my oh-so-eager judgment, and take a risk, the kind that takes my breath away. The kind of love that earns the word.
This week, as I work on an unlikeable character in my fiction, as I try to make her a full person if not a commendable one, as I move into Lent, I decide to try.