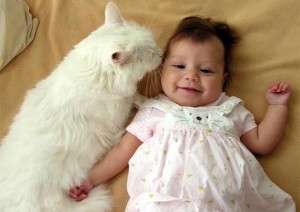 In my Father's house are many mansions: if it were not so, I would have told you. I go to prepare a place for you. —John 14:2
When Charlotte moved in with me in January of 2005, my Obsessive-Compulsive Disorder surged with such searing intensity that I had to schedule an emergency session with my therapist. I sought treatment in the first place because every time I tried to date someone, electric anxiety coursed through my central nervous system, threatening to trip all the breakers in my body.
"I don't get it, Troy," I said to my therapist, who diagnosed me with OCD in August of 2004.
"It's not like I'm dating Charlotte—she's a cat, for crying out loud! Why am I freaking out?"
One of my housemate's coworkers needed to find a home for Charlotte, and I agreed to adopt her. I always wanted a cat to call my own, so I was shocked when my body betrayed me after I took her home.
"How will I ever love this cat if I'm so anxious about her?" I asked Troy. "If all I feel is fear, how will there ever be room in my heart for affection?"
I use the phrase "room in my heart" because I have long thought of the human heart as a physical space. I asked Jesus to live in my heart when I was nine, after all, and I figured that meant my heart had to be a home of some sort.
"Do you really feel like you're incapable of loving that cat, Chad?" Troy asked. "Just because you feel that way doesn't mean it's true."
The idea that feelings are not necessarily facts—especially for someone with OCD—challenged what I thought I knew about my situation with Charlotte. Sure, my heart was filled to capacity with anxiety, and then some. But did that mean I couldn't add a wing to the home in my heart?
"What if you give yourself permission to keep your kitty for awhile, and just see what happens?" Troy asked.
This seemed like a reasonable idea to me. Maybe—just maybe—my anxious heart could make room for such a small creature.
I imagined a crew of construction workers toiling tirelessly in my heart to add an annex for Charlotte. In a matter of days, my heart became a cat's home.
The same sorts of obsessive thoughts and feelings that interfered with adopting Charlotte had derailed all of my dating experiences, as strange as that may sound. With time, Troy helped me understand how to transfer what I learned from my experience with Charlotte to dating.
As I made progress in therapy, more room opened up in my heart. Four months after I brought Charlotte home, I adopted a second cat.
When my wife Becki and I married, she brought her three cats into my life, too. Just like that, my heart became a cattery.
Eighteen months into our marriage, Becki and I decided the spare bedroom in our house should belong to a baby. During her pregnancy with our daughter Evie, however, Becki worried she might not have room in her heart for a child.
"What if I don't love her enough?" she asked. "I want to be a good mom, but I don't know if I'm capable of being one."
While I wondered how anxiety and affection could coexist in my heart, Becki wondered if her heart was too impoverished to ever lavish Evie with love. If Becki imagined a construction crew building a place for Evie, she probably pictured them cobbling together the shoddiest of sheds in her heart's backyard.
I had seen how my own heart had expanded to accommodate Charlotte, so I told Becki I believed her heart would do the same for Evie—regardless of what she thought. Becki, who has always adored Dr. Seuss's How the Grinch Stole Christmas!, knew the Grinch's heart grew three sizes by the end of Seuss's story. She hoped hers would enlarge for our little Cindy Lou Who, too.
During the second half of Evie's first six months out of the womb, we hired construction crews to repair the foundation in our living room. The water table beneath our property had shifted, causing the floor to bow up, and ceramic tiles to crack underfoot.
The first crew jackhammered our old foundation, coating everything in our home in concrete dust, and leaving us with a dirt floor in our living room for a weekend. Our cats, who never leave our house, rolled on the bare ground, rejoicing that the outdoors had come indoors—just for them. After the workers installed new rebar and poured concrete, we scheduled a second group of contractors to install our laminate flooring.
The floorers had no openings until a month after the first crew finished its work. This meant we waited a month for them to visit and tell us that, while the floor was level by construction standards, it was not level enough for laminate installation.
We hired a third contractor to fix a few especially problematic places with a concrete grinder. He coated everything in our home with another complementary layer of concrete dust.
By the time the laminate company succeeded in installing our floor, Becki realized her heart had undergone renovations of its own, unbeknownst to her. None of the renovations involved building a shed either.
"I can't believe how much I love Evie," she said to me. "I love her more than I ever imagined I could."
We knew parenthood would bring with it a wrecking ball that would demolish certain selfish parts of our hearts whether we liked it or not—we knew it would be difficult, too. But when the dust settled after the destruction, Becki found that her heart had become a mansion with infinite rooms for Evie to enjoy.
 This post is excerpted from Chad Thomas Johnston's forthcoming e-book, Nightmarriage. Pre-order here [http://chadthomasjohnston.com/2012/10/pre-order-ctjs-nightmarriage-ebook-now/] for 20% off and receive a free audio version of the book when it becomes available.