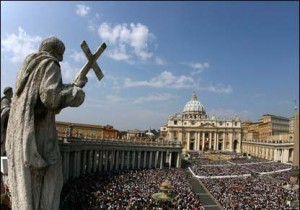 "He blessed us."
Craig's eyes twinkle, his mouth twitches. I recognize the man I fell for, the man whose face still stuns me with love. He's a gentle tease, and for the past few weeks, these three words have formed a refrain: He blessed us.
The former pope, that is—Benedict XVI, whose general audience at St. Peter's Square we attended back in October 2011 and who, after his homily on the Twenty-third Psalm, offered a blessing to "the young people, the sick, and the newlyweds."
"The newlyweds, Craig and Lindsey," my husband insists.
I smile. "Right. Craig and Lindsey and thousands of other people there that morning."
"Us," my husband insists. "Craig and Lindsey, of San Francisco."
He's not really teasing. What's with this insistence on his part and the oh-so-literal resistance on mine?
As a practicing Episcopalian, I have no emotional connection to the papacy. Say the word to me, and I think of corruption, power, wealth, institutional excess. And then my husband started following the retirement of Benedict XVI, the gathering of the cardinals in Rome for the conclave, and the election of Pope Francis with the focus usually given to MLB playoffs.
As with keeping track of which teams lead the NL and the AL and might take that wild-card position, I followed along good-humoredly but hardly with the attention of someone having much at stake.
But here's the curious thing. I fell in love with a man equally protestant at core, every bit as (if not more) indignant about egregious moments in church history, recent and not; a man who, when we planned our honeymoon to Italy, warned me that seeing the Vatican might bring out his inner Luther.
I half-expected a rant against church excesses, against the glorious baldacchino and the museum-housed loot. I anticipated standing in front of all that bronze, supposedly filched from the roof of the Pantheon, and listening to my new husband ask (in an embarrassingly loud voice) what became of the camel and the eye of a needle.
Instead, on the day after our general audience during which Benedict blessed the newlyweds, we entered the basilica from below. We'd been lucky enough to get tickets to tour the excavations beneath St. Peter's, and when the tour ended, we emerged from a dank, low-ceilinged chapel with its envelope-sized window in on the bones allegedly belonging to Peter. We climbed steps up to air and light, to soaring space right beneath the dome. We stared, like awestruck children, and we spoke of Ezekiel.
All this helps explain to me why my husband took the news of Benedict XVI's retirement so seriously. "It's really affecting me," he said, and when I asked why, turned that face to me—open, transparent, not teasing but shining with something deeper.
"He's a serious scholar." And, "He blessed us." He saw the deep significance of an institution, however flawed, and the man behind it. And he saw our small place in it. I wasn't quite there yet.
And then I recalled that October morning in 2011, showing our tickets to the Swiss Guard and being pointed to a section of roped-off chairs. It was hot enough by 10 a.m. that I draped my thin sweater over my head to shade my face, and we joked about my resemblance to a Sicilian matriarch after only five days of marriage.
As Benedict glided past us—his wave a bit robotic, yes, but his face and smile pure human—I saw the living, breathing person, a man no more than twenty feet away. The institution, for a moment, faded away.
Last Wednesday, as I sat in my office and watched the live New York Times video feed from the Vatican on my computer, I remembered that October morning. I took in the expectant faces and the tears. I surprised myself, clicking the refresh button over and over, until Francis I emerged, a little dazed, and told the crowd "Buona sera." He seemed humble and sincere, and looked uncertain of what to do with the microphone.
As a practicing Episcopalian, I've been made to feel unwelcome (and worse) by Catholics who tell me theirs is the one true church. I've read, in the words of the program at a young friend's confirmation, that I am not welcome at the altar. I am not, technically, one of Francis' flock.
Or am I?
The Episcopal Church claims apostolic succession. Peter's bones, visible through that tiny window and reflected in a mirror (to prevent the corrosive quality of direct light), made me weep. The fisherman who walked and talked and prayed with and denied Jesus belongs to all of us.
Every Sunday, I profess belief in one holy catholic and apostolic church. How can I not see the truth of what Craig keeps reminding me? Yes, there were thousands of us in St Peter's Square that October morning. Benedict blessed us, among the others, or, better put, alongside them.
I take to heart the words Francis I said to the journalists with whom he met on March 16, acknowledging, "that many of you do not belong to the Catholic Church, and others are not believers." He continued, "I give this blessing from my heart, in silence, to each one of you, respecting the conscience of each one of you, but knowing that each one of you is a child of God, may God bless you."