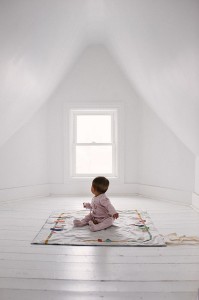 For the past nine months, I feel like I've been at a standstill. A place in which I have no words, nothing to describe what is happening to me, and in me.
In six weeks, I am due to give birth to my first child, a son, and although I have had flashes of deep joy and extreme fear (often occurring in the same day), what has marked my life as an expectant mother the most is this sense of complete, undeniable uncertainty. For the first time in my life, I have no idea what to expect; I have no game plan, no hook of events upon which to hang doubts and anticipations.
All I know is that this little boy, whose feet twist into my ribs even as I write, is coming.
Labels have always been a source of comfort for me. As a child, I collected the flimsy certificates that teachers handed out at the end of the school year, the ones that said Top Achiever, Super Star, Best in the Class. When I moved onto my college campus, I introduced myself to classmates with a vigorous wave and the following words: "Hi, my name is Allison, and I want to be a high school teacher."
There is something about a label, a title and a name, that empowers. It lets you and others know who you are; it promises a certain trajectory, a series of events that you can count on happening.
Growing up, I could count on nothing. My parents kept themselves hidden, their moods quick to change, their cars often absent from the driveway. At any given moment, they could be drunk, or angry, or just gone, none of us knowing where they were on a Tuesday night, all of us listening from our beds for the sound of keys in the door.
I knew that the tenor of our house lacked love, and I knew that, if I were to ever have children, I wanted things to be different. I had listened to my mother's stories of her own motherless childhood for years; I knew that, behind the cigarette smoke and tears, my mother was looking for something else to define her, something that would free her from the rage and loneliness she had carried for so long.
And I also knew that, if I wanted to be a mother myself, I had to learn from others. I volunteered in my church nursery; I babysat my professors' children, hoping to glean some nurturing insight from families that looked so different from my own.
I hoped that, by being in "motherly" situations, I would discover my own capacity for love and motherhood. I hoped that someone would notice and say "Wow, Allison, you are so good with kids. You'll be a great mother someday."
I hoped that someone would label me as a mother, and that would somehow promise me a life that was rich and good. A life that I could count on.
I spent my college and post-college years living with friends who, in many ways, helped me find the correct labels for what I felt and knew. They lived with me through therapy, family court trials, and the long, difficult work of realizing the real impacts of my family history. They bore with me in situations where, looking back, I was remarkably like my mother, self-obsessed and unanchored, my borrowed money gone unreturned, my excuses flimsy.
One of these friends recently got married. At her wedding, I was overcome with joy for her, and also by the realization that I was among people who loved me, and whose love was not shaped by what I had done, or what I had failed to do.
What I'm trying to say is this: I sought labels out of fear, and it took a long time of being loved, regardless of who I was or what I could do, to trust that life was different outside of what I had known as a child. To trust that I could do the same for others, for children who would one day be my own.
And I think that is what lies at the root of my uncertainty about being a mother—I am approaching something that will truly reshape who I am, and although I am terrified of failing my little boy, there is something different here, something that shrinks the anxieties that used to accompany me.
Marriage has also shrunk those anxieties, but in getting married, there was the ability to plan, to predict, to make guesses about our life together. It has reshaped me, but the wordlessness I feel now is not what I felt in the weeks before my wedding. If anything, I could count on my husband to be the man I knew, even if, as Kathleen Norris has said, he would (rightfully) remain so much mystery to me.
There is so much mystery here, too. I cannot count on what my son's life will look like, or what kind of personality he will have, or if he will sleep through the night. I do not know him yet, as hard as I've tried to make predictions based on his movements, the foods I want to eat, and his father's calm, quirky spirit.
But he is coming, and will be here soon, and when he comes, I will kiss his face and make the sign of the cross over him, just as I do now in our morning prayers, or when I wake up early and feel his body tucked against mine.
And he will know, I hope, that I love him, bone of my bone, my little one.