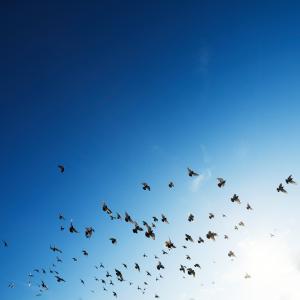 But a plea, that upward to Heaven he flings
—Paul Lawrence Dunbar, "Sympathy"
I first read Maya Angelou's I Know Why the Caged Bird Sings when I was thirteen. I discovered the book through an interview with Fiona Apple, one of the many female singer-songwriters whose mournful lyrics poured through my boom box speakers while I slogged my way through the kickboxing routine that, according to Seventeen, would slim my hips.
Thirteen was a difficult year; I was overweight, dorky, sarcastic, and sensitive. I spent my Friday nights eating Tombstone pizza and writing Tolkien fan fiction. And it was the last year my parents, whose marriage darkened our house, would live together under the same roof.
And what Angelou's work did in my life, in that year, was phenomenal.
I remember faking sick, as I often did, to stay home and read the book (which was a better education than what my failing middle school had to offer, anyway). It was November, and the piercing headache that had followed me for months only subsided when I was alone, listening to music or reading, away from my parents and the girls who bullied me at school.
"You are too damn smart," they would say when I spoke in class, their hair shiny from gel and glittering butterfly clips, their breasts perky beneath the powder blue uniform shirts that my mother had to buy in men's sizes for me. We had the same route walking home, and I often lingered in my teachers' classrooms at the close of day, hoping that by the time I left there would be enough of a distance between us for me to walk home in peace.
At home, the only true peace was absence: my mother at work, my father asleep. I stayed home when I could and sank into my books. And what I saw in Angelou's world, even though it was so different from mine, was a world that also felt like my own: a young woman whose surroundings sought to diminish her, but who remained distinct, alive, and beautiful.
People praise Angelou for giving voice to the personal lives of African Americans during the blight of Jim Crow. And while her work certainly provides a picture of that era, it is more portrait than documentary, the characters of her family and friends—her grandmother, her daddy, the salvific Bertha Flowers—charged with an intensity that resonated with me deeply, intuitively, despite my being white. Angelou's memoir illumined the inner lives of the people around her, demonstrating that racism and prejudice didn't just deny opportunity, but crushed and twisted people from the inside out.
But the book also showed me that people had incredible power to both change and remain constant, to seek beauty, to find something within themselves and the world that was not only worth loving, but worth loving rightly.
And it is through Mrs. Flowers, the elegant woman who invited Angelou over in the months after her rape and gave her cookies, tea, and poetry, that Angelou's words became the lifeline I caught. I saw what it meant to seek beauty, to welcome others. I wished that I had my own Mrs. Flowers, who would like me for just being Allison Backous.
But I also wished for the ache in my heart, which came from my parents' unhappiness, from our town's poverty, and from my own self-rejection, to be heard. I wished that I could give words to what I felt, and filled notebooks with rhyming poems that contained the words "undulating" and "convalescence" (which I learned from Fiona Apple).
After reading Angelou's memoir, I asked for her poetry for Christmas. And although it was a freer form than I was used to reading, I found in it a way to ward off the nasty girls at school, and the nastier thoughts that kept me up at night, my mother's car mysteriously absent from the driveway. Angelou's poetry held the power of self-assertion, affirmed the size of my hips, and told me that there was courage and strength in me that could not be silenced.
It was that courage that helped me through the next round of difficult years, my parents' divorce, my mother's desperate need and abandonment, her boyfriend's secret terrors. And to this day, that courage helps me carry my history and put it on the page.
When I have talked about the abuse that fills my family life, people have asked how I faced it all. What kept me going? Those are profound questions. I don't have full answers. Does anyone fully understand her life while she's living it?
But I keep flinging my plea upwards, my notebooks overflowing, my heart being slowly uncaged.
This post originally appeared at Good Letters on June 20, 2014.

Allison Backous Troy graduated with her MFA from Seattle Pacific University in 2009, and has been published in Image and Crab Orchard Review. A former regular contributor to Good Letters, she lives with her family in Houston, Texas.