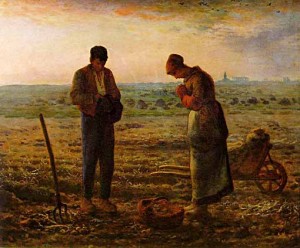 As I wrote yesterday, my spiritual director, Fr. Bill Shannon, had said early in our twenty-five years together, "It's good that you see spiritual direction in terms of a barking dog instead of only as a matter of prayer methods." But before long he was asking me about my prayer life at nearly every one of our monthly sessions.
"There's no need to go to Mass every day," he said (he who, as a priest, presided at daily Mass). "Sunday Mass is different in kind from daily Mass; Sunday is the Lord's day. What's important in one's daily life is prayer, not Mass."
"What kind of prayer?" I naturally asked.
First he recommended the Liturgy of the Hours, a version of the breviary that used to be prayed only by clergy but now is offered to laity as well. My husband George and I had already bought a copy of the book at our nearby Trappist monastery, but we were confused by all the different sections: Ordinary Time, the Proper of Sundays, the Office of Readings, the Proper of Saints….
"Stick to Morning and Evening Prayer," Bill said. "They're the hinges of the day; and when praying them, you're praying with the whole church." He recounted his own daily pattern: After breakfast, an hour for Morning Prayer, the Office of Readings, and contemplative prayer. Then during the hour before dinner, the same with Evening Prayer. ("Well, I'm fixing dinner during the hour before dinner," I wrote later in my journal. "As a celibate living at the Motherhouse of a congregation of nuns, Bill simply goes to their dining room for meals.")
So George and I started praying Morning and Evening Prayer together, after breakfast and after dinner. We loved the rhythm of these prayers: two psalms, a canticle, a reading from Scripture, then some petitions to God—to which we'd add our own.
This pattern worked fine throughout the summer. But George's job then was as a teacher, and once the school year started he had to leave the house by 7:30 a.m. By the time he got home for dinner, he was wiped, with no energy for the creative work that sustained his spirit. His creative time had to be early morning, before breakfast, so I figured we'd do Morning Prayer together right before he left for school.
But when I told Bill about our school-time prayer schedule, his response amazed me: "You're cramming too much into the mornings. Your Evening Prayer together is important. But in the morning, let George's creative work be his prayer, his offering to God. Then you can say the Morning Prayer for both of you. Otherwise you'll feel too rushed with it, or you'll have to get up at monastic hours."
"What an imaginative spiritual director you are!" I said to him, "to think of substituting George's creative project for liturgy. I wouldn't have thought on my own that this was okay."
Now, twenty-five years later, with George retired and Bill gone to eternal life, George and I still do Morning and Evening Prayer together. Truly, these prayer times are—as Bill had said—the hinges of our day. But we're not compulsive about them: if we have a meeting right after breakfast, or a concert to go to right after dinner, we skip the Prayer. No big deal.
We also practice another form of prayer that Bill introduced me to: what he called in his 1991 book, Silence on Fire, "the prayer of awareness." Since he was writing this book in the late 1980s, during my early years of spiritual direction with him, he'd often encourage me to try it: to sit silently, focusing on God's presence.
Once I came to him distressed about spending so much of my day distracted from God, fussing about one thing or another. He nodded understandingly and talked about "awareness" of the Lord's presence—just reminding ourselves occasionally of this during the day's busyness. "The Lord is always present to us; and unconsciously we always know this," he said. "But in prayer we bring his presence to consciousness."
"How, exactly?" I pushed him.
He pointed me to three short prayers that he liked to say from time to time during the day:
"Help me to live in Your Presence" (from Opening Prayer of Mass, Sixth Sunday of Ordinary Time).
"May I experience the Joy of Life in Your Presence" (from Opening Prayer of Mass, Seventeenth Sunday of Ordinary Time).
"I will walk in the Presence of the Lord in the land of the living" (Psalm 116:8).
This was the form of prayer that Bill increasingly nudged me toward as the years went by. He was writing a lot about Thomas Merton, a Trappist monk; and contemplative silence is the core of the Trappists' life.
So, for instance, I'd be talking to Bill about praying the Liturgy of the Hours, and he'd say—tentatively, in his characteristically gentle way—"I don't want to push this on you, it might not be comfortable for you, but what about the prayer of the desert, of silence?"
I try each day to practice the prayer of awareness, or silence, or the desert, or contemplation—whatever you want to call it. But, oh, what a flop I am at it. I spend most of the twenty minutes contemplating my shopping lists.
I'd be very discouraged by this distractedness if I didn't recall Bill's response when I told him once that I'd grade myself a D or even an F in doing contemplation. "Contemplative prayer," he replied, smiling, "isn't really a 'doing.' It's a 'letting go.' And what we move toward in contemplation—emptying of self, of all that isn't God—comes to us fully only in death."
I like to picture Bill now entirely emptied of self, free to contemplate God's eternal presence. Meanwhile, I still put in my twenty minutes a day; and sometimes—just for an instant—I find the shopping lists fade as I sense the presence of God.
Peggy Rosenthal is director of Poetry Retreats and writes widely on poetry as a spiritual resource. Her books include Praying through Poetry: Hope for Violent Times(Franciscan Media), and The Poets' Jesus (Oxford). See Amazon for full list. She also teaches an online course, "Poetry as a Spiritual Practice," through Image's Glen Online program.