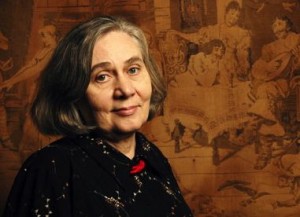 Gregory Wolfe
"I'm sick of Flannery O'Connor." That was the opening sentence of a recent piece by Randy Boyagoda for First Things magazine. It's what journalists call "a strong lede," especially when you consider that First Things readers are likely to revere the memory of Miss O'Connor. (He's also tired of several other major writers from Hopkins and Dostoevsky to Tolkien and Eliot.)
Boyagoda used that jolt to call attention to what he believes is the dearth of contemporary literature that engages religious faith. As he puts it: "serious literary fiction largely occupies its very own naked public square." To support his case, he cited a recent New York Times essay by Paul Elie, which makes a similar claim: "if any patch of our culture can be said to be post-Christian, it is literature."
While I'm tempted to engage the broader arguments these gentlemen make (my reply to Elie was published here), my goal today is more modest.
We believe the best refutation of Elie and Boyagoda is to put out a list of writers working at the pinnacle of artistic achievement—writers who not only grapple with faith but do so as honored members of the mainstream literary community.
Over the years we had received a great deal of positive feedback for our list of twentieth century writers of faith, so now that we're over a decade into the twenty-first century, we thought we'd provide this list of twenty-five authors at work today.
We solicited nominations from the public and received around 250. The list below is taken from those nominations. The selection is not based on the number of nominations but on our collective editorial judgment.
Lists like this are enormously popular, but they are also deeply flawed and to some extent even arbitrary. For one thing, it is very difficult to make such a short list fully representative of every group and genre that deserve representation. We apologize in advance for these shortcomings.
Still, we believe the twenty-five writers on this list demonstrate that the rumors of the death of literature addressing faith are without substance—the result of people with ideological blinders on, leaving them oblivious to the rich literary experience going on around them.
Of course, the comment box is for your feedback—and we're sure you'll have plenty of it!
The Image Top 25 Contemporary Writers of Faith List
The permanent link to the list on our website is here.

Wendell Berry, Jayber Crow; Hannah Coulter; That Distant Land
Scott Cairns, Compass of Affection; Philokalia
Robert Clark, My Grandfather's House; Mr. White's Confession
Annie Dillard, For the Time Being
Patricia Hampl, Blue Arabesque; The Florist's Daughter
B.H. Fairchild, Usher; Early Occult Memory Systems of the Lower Midwest
Ron Hansen, Mariette in Ecstasy; Exiles; A Stay Against Confusion
Mark Helprin, In Sunlight and in Shadow; The Pacific and Other Stories
Geoffrey Hill, Selected Poems
Andrew Hudgins, American Rendering; Ecstatic in the Poison
Mary Karr, Lit; Sinners Welcome
Julia Kasdorf, Sleeping Preacher; Poetry in America
Anne Lamott, Traveling Mercies
Bret Lott, Jewel; A Song I Knew by Heart
Paul Mariani, The Great Wheel; Deaths and Transfigurations; Epitaphs for the Journey
Marilyn Nelson, The Fields of Praise, Faster Than Light
Kathleen Norris, Dakota; The Cloister Walk; Acedia and Me
Ann Patchett, Bel Canto; The Patron Saint of Liars; Run; State of Wonder
David Adams Richards, Mercy Among the Children; Friends of Meager Fortune
Marilynne Robinson, Gilead; Home; Absence of Mind
Richard Rodriguez, Brown; Darling: A Spiritual Autobiography
Elizabeth Strout, Abide with Me; Olive Kitteridge; The Burgess Boys
Christian Wiman, Every Riven Thing; My Bright Abyss
Franz Wright, God's Silence; Walking to Martha's Vineyard; The Beforelife
Adam Zagajewski, Mysticism for Beginners; Another Beauty; Without End: New and Selected Poems