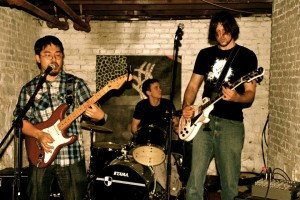 Guest post by Lucas Kwong
"Art, Faith, Mystery." These watchwords have formed the center of Image journal's mission since I joined its staff as a summer intern in 2006 (and, of course, well before that). Seven years later, on the eve of finishing my band's first full length album, I find myself marveling at the mysteries by which Image has shaped my view of art and faith—and, by extension, the mysteries by which it has shaped the way that I approach my craft as a musician.
In light of the "near-death experience" cited earlier this week by Image founder Gregory Wolfe and resource development director Stuart Scadron-Wattles, I offer this post as a humble testimonial as to why Image is worth every dollar of your support.
When I moved into my apartment in Seattle's Fremont neighborhood in June 2006, I had no idea what my summer at Image's offices would entail. I knew, of course, that the Luci Shaw summer fellowship would require me to update the website and help plan Image's Glen Workshop.
What I didn't know was that, after a four-year hiatus, I would find myself inspired to start writing songs again—ten songs in about as many days. Whereas I had been content to play other people's songs since high school, all of a sudden the lyrics and melodies started to flow out of me.
I also remember writing lyrics at the office over lunch break: in one browser window I'd have the website, and in another I'd have an email addressed to myself, in which I jotted down scraps of phrases.
While most of my songs at the time were praise songs, I started to write songs that were definitely not congregation-friendly, songs about hypocrisy and martyrdom and vengeance. I took cues from Sufjan Stevens, Pedro the Lion, and other stars of the indie Christian scene, artists who told stories in the folk idiom. Some of the songs I started writing during that period ended up on this album.
Through the Glen Workshop, I learned I wasn't alone in my desire to craft this kind of honest music. Pierce Pettis and Over the Rhine attended that year, signaling the existence of a community interested in what Billy Corgan calls "the third rail of rock music": God.
Image's influence on my musicianship continued through 2008. When Image started "Good Letters," I signed up as one of the original bloggers. I'd been writing for a few weeks when a close high school friend of mine suddenly died. This not only prompted a new round of songwriting but also a pair of posts on the subject of art and grief. "Good Letters" provided a space where I could sort out how, exactly, to channel my pain into my songwriting.
Today, it's eerily fitting that I'm entering the final weekend of a crowdfunding campaign, asking people to financially support my band Brother K, while Image is simultaneously running an emergency crowdfunding campaign of its own.
Indeed, I need to echo Greg Wolfe's thoughts on the appropriateness of the 2013 Glen Workshop's theme, "Art And Risk," to the present moment. In a very different sense, I too am taking a risk by making the music I want to make.
As I said above, I started writing songs inspired by the Christian indie folk of the mid-2000s. But although I tried playing my songs in the folk idiom for a while, I couldn't shake my first love—rock 'n' roll, the great river of noise from Chuck Berry through Nirvana, a sound on the outskirts of both the hip-hop/electronic dance music dominated mainstream and the folk-dominated indie Christian scene.
It took me years to get over trying to sound respectable or fashionable. In the end, though, ditching the acoustic for my Stratocaster resulted in this album and I'm proud of it.
It's also risky to commit to an album in an era when, as I've been told over and over, the album is dead. Nonetheless, the project seemed to demand more than a four-song EP could deliver. I needed to re-record tracks whose meaning had changed for me. My song "Glitterface," for example, was written in the first waves of grief; today it represents the long road, after that initial shock, back to joy.
At the same time, those tracks meshed well with other songs I had written or rewritten more recently, inspired by struggles I've had as a Millennial living in New York: differentiating between infatuation and love, between relationships and "networking," between the hope of Occupy Wall Street and corporate-sponsored ersatz idealism.
In the end, I had ten songs that collectively circled the larger question of how to hold onto my faith in the midst of personal and social upheaval. What has the Nazarene carpenter to do with me, and I with him, in 2013?
If such questions continue to provoke and inspire me, I have Image to thank. In light of my debt to their example, I'm going to end this post by taking a final risk. Here is a link to my Kickstarter page. Here is a link to Image's plea for help.
I ask you to read our pages and give as your conscience dictates. Whether you choose to support one of us, both of us, or still another cause, I invite you to enter into a partnership with artists fighting to give their gift to the world. Creative work isn't produced by isolated individuals. It's the fruit of relationships—in my case, a relationship with a group of people who helped me find my voice and turn up the volume.
Lucas Kwong is the songwriter, frontman, publicist, and roadie for Brother K, a project best described as " rock 'n' roll with a reading problem" (brotherkmusic.com). When he isn't breaking strings onstage or testing the limits of the house sound system, he's earning his PhD in English Literature at Columbia University, specializing in religion and late Victorian fiction.