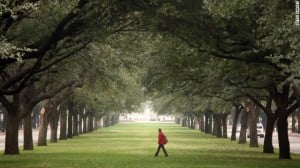 Deborah* sat across the café table, cappuccino growing cold, tears brimming, lower lip trembling.
"Jake's situation isn't improving. He just got a fifty-seven on a pre-calc test despite the daily tutoring I arranged for him. And before I registered him, I checked the instructor on Rate My Professors. He's supposed to be the best. Jake just doesn't put in enough time. He tries to compute in his head to cut corners, and that equals mistakes."
Deborah often talked to me about her twenty-one-year-old son. Jake had attended a noted East Coast university, but flunked out sophomore year. Now, he was taking summer classes at the local community college.
"So, the question is whether I should have him drop the course, take a W and audit what's left, or enroll him in an online college pre-calc course and hire a qualified tutor to get him through."
I shifted in my seat. "Sounds confusing, Deborah."
She leaned toward me across the table. "It seems like I'm always trying to fix a never-ending academic fiasco when there's no progress. I just long for the tiniest forward motion, anything to give me hope."
I tried not to turn away.
"But after four semesters of disasters, optimism comes hard. The other day, I had a long talk with the vocational psychologist and Jake's tutor, and at this point I think Adderall could really help."
At this, I winced reflexively, and she noticed it.
"Oh, I don't like the thought of medications either. But Jake's on the verge of failing everything again. You know, it gets me so upset. The pot, the booze in the backpack, the total disregard for college tuition."
Now her tears were flowing, her voice catching in her throat. I grasped her hand. "Deborah, I know it's hard."
And I did. Because the story I was hearing was one I could have told about my son Sean and myself: Me choosing his college, filling out the application, editing his essay. Sean receiving early acceptance and a scholarship.
Me steering his course selection, packing his belongings, setting up his dorm room. He smoking pot on campus, skipping his classes, being suspended.
Me pleading with advisors, managing to cinch a medical withdrawal and readmission option. He bolting from a counselor's office, moving out of state, becoming a ski bum.
The grief. The desperation. The compulsion to intervene more.
Deborah and I aren't alone. Recent studies show that during the last decade, fierce competition for prestigious college slots and jobs has boosted parent involvement in college students' lives.
One report shows that technology has made intrusion easy: eighty-six percent of college freshmen report having frequent, sometimes daily, electronic contact with their parents, who often initiate the exchange.
Another study shows, though, that despite their best intentions, parents who run their college children's lives do more harm than good. The surveyors asked 297 college students about their parents' roles: Are they involved in selecting classes? Do they contact professors about grades? Do they meddle in roommate disputes?
The study also asked the students to report their own levels of contentment, depression, anxiety, and self-determination pursuant to the theory that all humans need to feel autonomous, competent, and connected in order to be happy.
The conclusion? While parents may think it helpful to phone their children's professors to haggle a B+ to an A–, doing so causes their children to feel depressed and anxious by undermining their ability to develop problem-solving skills and become autonomous, competent, connected, happy adults.
I can't tell you how difficult it was for me to have Sean living in another state, skiing away his early twenties, tying my hands. Or how painful it was for me to hear that he wouldn't be home one Christmas because he had to man the slopes. Or how surprising it was for me to receive his phone call Christmas Day:
"Mom, this job sucks. No skiers showed up today for lessons. It's Christmas, I'm bored and lonely, and I haven't earned a cent. I really need to do something to get the hell out of here."
The hard lesson for me: Hard lessons benefit children.
The hard lesson for Sean: College is worth the hard work.
Shortly after that Christmas, without prompting by me, Sean researched universities and found one that suited him. He completed a transfer application, wrote an honest essay, was admitted to the school. He negotiated transfer credits, changed his college major, found a part-time job.
This September Sean will be a senior.
Hopefully one September Jake will be one too.
Meanwhile, every September, the story of Isaac's binding will be read in synagogues worldwide to celebrate Rosh Hashanah, the Jewish New Year. It's a narrative I now surmise is about an over-zealous parent much like Deborah and me.
In the story, God puts Abraham to a test. He tells him to take his son Isaac to the top of Mount Moriah and offer him as a burnt sacrifice. Abraham saddles his donkey, takes Isaac to the designated spot, builds an altar and stacks it with firewood. Then he binds his son, places him on the woodpile, and whips out a knife.
At this moment God's angel says to Abraham, "Do not lay your hand on the boy…now I know that you fear God, since you did not withhold from me your son…and in your descendants all nations…will find blessing, because you obeyed my command."
The test, most theologians say, was to ascertain Abraham's willingness to lead his son to the precipice, then bind and murder him. Perhaps though, this isn't the case. Perhaps God was teaching Abraham that parents must guide their children to heights where burning is a risk, but that's the easy task. The test is to unbind the children despite impending dangers and to trust they will survive and ultimately be blessed.
Do I claim to know when Deborah should stay her hand and unbind Jake?
No.
But I suspect she'll figure it out, though the lesson will be hard and put the twosome to the test.
*Some names and minor details have been changed and consents obtained to protect the privacy of the people mentioned in this essay.
Jan Vallone is the author of Pieces of Someday, a memoir, which won the 2011 Reader Views Reviewers Choice Award and will be re-released in fall, 2013. Her stories have appeared in The Seattle Times, Catholic Digest, Guideposts Magazine, English Journal, Chicken Soup for the Soul, Writing it Real, and Curriculum in Context. Once a lawyer at a large law firm, and later an English teacher at a tiny yeshiva high school, she now teaches writing and literature at Seattle Pacific University.