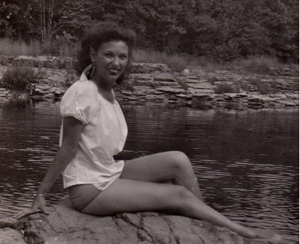 Today's post is an excerpt from Pieces of Someday: One Woman's Search for Meaning in Lawyering, Family, Italy, Church, and a Tiny Jewish High School.
The classroom door blew open as I packed my briefcase to go home. A cold gust of air rushed in, blowing the papers from my desk, chasing red and gold leaves across the threshold so they swirled and settled at my feet.
Kalindah whirled in with the weather. With black-sweatshirted arms, she gave me my daily hug—nubby, slightly dank and fusty—then plopped on the top of a desk, pulling legs akimbo beneath her skirt. "Ms. Vallone, life's so unfair. All my friends have boyfriends but me."
Braces, Janis Joplin hair, Kalindah was a freshman when I first began teaching high school English. Another teacher had warned me about her: "Make sure you watch out for that one—she's a time bomb waiting to explode, bipolar without her medication. You'll see, one day she'll draw a knife."
During my first few weeks, Kalindah sat huddled at the back of the classroom, silent, impassive, gray-eyed. Was she sedated? Not till I scheduled a quiz did I see any sign of life. After class she came up to my desk: "I stink at tests." Then she walked out.
Sure enough, her score was 47. When I lay the quiz on her desk, she glanced at the grade, hands stuffed in sweatshirt pouch. "Told you." I studied the dandruff in her part. "Take it home and do it over. You can use your book and raise your grade."
Metal smile trapping sandwich morsels. "Really? That's awesome!"
Tests weren't Kalindah's only problem. For weeks I pumped and prodded: "I'm still waiting for your narrative. Are you planning to turn one in?"
Her response: a shoulder shrug. But one day she came to class early, dropped some rumpled sheets on my desk. "Ms. Vallone, I know it's really late, but I wrote the story."
In the story, the penguin Galápaga wants to cross a river, but she's an orphan, so no one's shown her how. She tries to use her wings as eagles do, but finds them too stubby for flying. She tries to hop across on river rocks, but her legs are too clumsy for leaping.
Galápaga uses a fallen tree trunk as bridge between the two banks. But the trunk is very narrow, mossy, and high above the water. Though penguins have good gripping toenails, midway across she slips.
Plummeting from her perch, Galápaga is desperate. She impromptu somersault tucks, plunges in the frigid water. Sinking to the bottom, she begins to pray: O God / Fear and trembling come upon me / Oh, that I had wings like a dove! / I would fly away and be at rest.
Then a strange thing happens. Panic-beating her wings, Galápaga rises through the water, discovering she can swim. So she breaststrokes across the river, climbs out, and waddles toward the woods.
I laughed reading Kalindah's story, wrote A at the top, Great job! In Italian calinda means lark. So I hope you understand you can fly even though penguins can't! Next day when she read my comments, Kalindah smiled and leaped at me, gave me the very first hug.
But what could I say about boys to a girl only sixteen? I gathered the papers from the floor, slipped them into my briefcase, sat on a desk facing Kalindah. "I know it stinks not to have a boyfriend, but someday you'll have one, really. Remember when you thought you couldn't write?"
"Yeah, but I'm not pretty. I wish I could be someone else!"
When I was an adolescent, I wished to be my cousin Angela, three years older than me. Angela, the Italian word for angel. Angela, who as a child wore the prettiest pinafores, dark hair thickly braided with ribbons. Angela, favored as beautiful, while I was anything but. Aunt Lina said my eyes were beady. Gramma told me I needed a perm. My father hinted I was chubby.
In high school, it was Debbie Schein I envied, a twin for Zeffirelli's Juliet—chestnut hair tumbling to her waist, blue eyes, and dancer's legs. If I were Debbie, every evening Michael Goldfarb would scale the lamppost on the corner. He'd peek inside my window as I braided my hair for bed, maybe even whisper to himself: But, soft! what light through yonder window breaks? / It is the east, and Jan is the sun.
But as long as Debbie was alive, Mike would never look at me. Nor would Gary, nor Mitchell, nor Jeff.
It's not that I came from bad stock. My mother had curly hair, twinkling eyes, a heart-shaped face. And oh what a figure in the photo, bathing-suited at age eighteen, a Sophia Loren on a rock, sunning at Kaaterskill Falls. So it was for my Aunt Marie and my cousins Marianne and Celeste. Of all the females in my family, only I lacked the magic genes.
I remember when I was sixteen. Angela sat me on the pink counter of our grandmother's tiny bathroom, my back towards the mirror, legs dangling. She pushed my hair behind my ears, perused my face with her kohled golden eyes. Bubbling in her Brooklyn brogue, she broke into a glossy smile, "I've got it!"
She unzipped her floral makeup bag with a flick of her bracelet-trimmed wrist. Out came a bottle of foundation muddying up my face. Out came a tin of eye-shadow blizzarding blue my lids. Out came a mascara spiral coating my lashes black. Out came a sparkling swivel-stick staining my lips cherry red.
When she was finished, Angela stepped back. She lifted my face with a finger, turned it right and left, called, "Gramma, come see!"
Pots clanging in the kitchen, pitter-patters up the hall. Gramma squeezed into the bathroom, squinted at my face. She nodded, "Much bedda."
My heart bloomed a rose.
Then Angela stirred her fingers in her makeup bag, pulled out a rhinestone-trimmed mirror. "Okay—now you can see."
She held the mirror before me. But Juliet wasn't reflected there.
Instead, I saw a clown.
To be continued tomorrow.
Jan Vallone is the author of Pieces of Someday: One Woman's Search for Meaning in Lawyering, Family, Italy, Church, and a Tiny Jewish High School which was released in December, 2013, and won the Reader Views Reviewers' Choice Award. Her stories have appeared in The Seattle Times, Catholic Digest, Guideposts Magazine, English Journal, Chicken Soup for the Soul, Writing it Real, and Curriculum in Context. She teaches writing and literature at Seattle Pacific University.