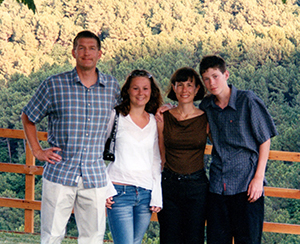 Today's post, an excerpt from Pieces of Someday: One Woman's Search for Meaning in Lawyering, Family, Italy, Church, and a Tiny Jewish High School, is continued from yesterday.
In my twenties, it was Holly Brown I longed to be. We two were medical lab techs then working at UNC. Every morning she'd sashay to her bench, flicking her Farrah Fawcett mane: "Good mornin' y'all."
As jasmine-gardenia perfume gusted from Holly's curly halo, the male techs would look up from their microscopes, dropping jaws to gawk. In my corner, I'd reach for the radio, turn up the volume of Bruce Springsteen: Show a little faith there's magic in the night / You ain't a beauty but hey you're alright.
But I wasn't all right. So I spent a few days' salary to reinvent myself as Holly. As I sat before a salon mirror, Jean Paul pumped the swivel chair, raising the object of his art. He shampooed my hair in awapuhi—wafting ginger scent—parted it into sections, paper-wrapped each around a rod. He squeezed on glycerol monothioglycolate, plastic-capped my head. He helmeted me with a dryer and toggled on the heat.
My scalp prickled and crawled. My ears sizzled like bacon. But the dryer drone fired my fantasies as I flipped through an issue of Vogue: Maybe the lab crew will realize I'm a dove and Holly's a crow.
Jean Paul rinsed my head to stop the process. He cut and blew dry my hair. Then he swiveled my chair towards the mirror—voilà: Christ, I have a fro.
I'm embarrassed to admit that in my thirties, my desire was to look like Princess Di—the ultra-toned body, bright smile.  The lash-brushing bangs and royal rose-petal skin. So I went to aerobics, tried Pearl Drops, scrubbed my face, cut my hair Diana-style.
But somehow I contracted the chickenpox, pox upon pox upon pox. They healed leaving scars on my chin, causing me to turn from every mirror. The marks seemed to shout from my jaw, "See how repulsive she is!"
What would Princess Di do about such horrid imperfections?
I made an appointment with Dr. Fleisch, a well-known dermatologist. He suggested dermabrasion. If I elected the surgery, he'd give me medication to relax. Then he'd cleanse my face with antiseptic, apply a spray to insta-freeze my skin. That done, he'd use a rotary tool to sand off several epidermal layers.
Post-op, the site would be raw, requiring pain relievers. My face would take three months to heal, need sun-shields for six to eight. Luckily, side effects were few—infections, fever blisters, scars, thickened skin, splotchy pigmentation.
I squirmed as Dr. Fleisch disclosed the details, asked if many patients chose the surgery.
"It's a commoner procedure."
So I knew that Di would never do it; I'd have to research something else.
Why should physical beauty be the object of lifelong yearning? Trigger decades of envy and grief? Prompt cosmetics, surgery, false hope? And why, even into my forties, did I still pine to be a dove among the crows?
How I fussed on a trip to Palermo, Sicily, before visiting my step-grandmother. The last time I'd seen Mimma, I was barely into my twenties. Now she was eighty-six and I a wife, the mother of two teens. Still, I slathered my wrinkles with creams, bleached my teeth, tinted my hair. I wore capris to mask my thighs, long sleeves to hide my arms.
And what did Mimma do when we showed her a Polaroid we'd taken after she'd scaled two flights like a jilly-goat to fetch her brother for lunch? After she served us a four-course meal she'd cooked and served herself? After she toured us around the apartment she still dusted, swept, and mopped? She shook her head at the photo and covered her image with her hand. "
O Dio
, I old."
A short walk from Mimma's apartment is the Convento dei Cappuccini. In 1599 the monks noticed something strange: their catacombs released mysterious vapors that mummified the dead. When the monks announced the discovery, they set off a public frenzy. People clamored to be buried there to preserve their beauty after death.
In the catacombs' long dank corridors rest eight thousand corpses. Each is suspended by the neck like a lamb hanging at the butcher's, each wearing Sunday's best clothes. A monk hovers in a cassock, penance rope around his neck. A woman wafts hoop-skirted, wielding a parasol. A soldier sentries in uniform and a wide three-cornered hat.
There's a special section for children. The last catacombed corpse was a girl who died of croup in 1920. Frocked flouncily in pink, ringlets gathered in a bow, she rests in a transparent casket.
The monks call the girl Sleeping Beauty, but there's little beauty in the crypt. Sleeping Beauty's skin is doll-waxy, her hair faded, dull, limp. And the flesh of the corpses around her is either mummified or gone. Many faces grimace, some mouthing Edvard Munch screams, the husks of their decaying bodies coated with decades of dust.
But I couldn't tell Kalindah about the catacombs.
Or that Debbie went skating with her boyfriend on a lake near her college dorm and drowned falling through the ice.
Or that Angela discovered stage three cancer and lost her breasts and hair.
Or that my mother developed a neuroma that twisted and paralyzed her face.
Or that Prince Charles divorced Diana, who died in a car crash shortly after.
Or that when I thought about the women whose beauty I envied all my life, I closed my eyes and thanked God for my wrinkles.
Instead, I pulled a snapshot from my wallet—my family in the Sicilian sun. "Kalindah, you're fine just as you are. Look, let me show you something. These are the people I love most in the world: My husband—we've been married twenty-three years. My daughter—she's your age. My son, who's two years younger. And Kalindah, when I was sixteen, I didn't know a single one of them."
Kalindah took the photo from my hands, studied it a moment, looked up. "Your daughter's really pretty. She looks a lot like you."
Jan Vallone is the author of Pieces of Someday: One Woman's Search for Meaning in Lawyering Family, Italy, Church, and a Tiny Jewish High School which was released in December, 2013, and won the Reader Views Reviewers' Choice Award. Her stories have appeared in The Seattle Times, Catholic Digest, Guideposts Magazine, English Journal, Chicken Soup for the Soul, Writing it Real, and Curriculum in Context. She teaches writing and literature at Seattle Pacific University.