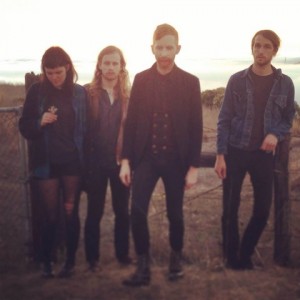 Guest post by Isaac Anderson
Last August, Billy Corgan, of Smashing Pumpkins fame, got some press for declaring God the "great, unexplored territory" of rock music.
I've thought about Corgan's comment of late, while listening to the record that's been on repeat in my apartment the last month. Saintseneca's Dark Arc is a meditation on doom, according to Zac Little, the band's frontman and lyricist. Though that word may mislead, for this record is bleak at times, but luminous too. Nods to death or impermanence are often met with a resistance to the same:
If only the good ones die young
I pray your corruption come
Swift like a thief in the night
Right I pluck my right eye right out
Little is a fighter, of sorts—When I crave a split lip, he sings in "Happy Alone," I'll get it quick—and the doom expressed here wakes the listener to the appetites bucking beneath apathy, the desire to not go down without a fight.
Also, as with the band's earlier work, Dark Arc—I almost typed Dark Ark—is dense with the kinds of philosophical-religious concerns that Corgan seemed to be missing. Little is clearly God-haunted, even as his songs avoid the reflexive piety or devotionalism that tries to make an easy moral out of a mystery.
Indeed, when he sings lines such as Emergent from this sea of wheat / the flesh of God is flayed for you to eat, his voice sliding into and out of a tremulous falsetto, the question of whether or not Little believes in something like the Christian God becomes irrelevant. For he believes, unironically, in God language, has steeped in it, enough to create art that contends with the existence of a spiritual plane, art capable of haunting believers and nonbelievers alike.
I saw the band four years ago at Used Kids, a record shop on High Street in Columbus, Ohio, their hometown. A crowd of twenty-five or thirty gathered upstairs to watch their unplugged acoustic set. Six or seven band members huddled together on a wooden riser smaller than my small kitchen. They were just kids then, college-age, punkish. I wasn't expecting much.
Then the kid with the red hair started strumming the guitar, and another a baritone uke, and someone played banjo, someone violin, someone a smaller uke, and a guy took brushes to a box or snare drum, if I remember correctly, and then Mr. Red Hair started singing with a nasally baritone akin to Neutral Milk Hotel's Jeff Mangum, and halfway through the first song they all began stomping in unison at the top of each measure so that the sound was like a bunch of Appalachian punk troubadours trying to collapse a barricade.
And when the volume dropped and the stomping cut out, the gang vocals kicked in. I hope you're wrong, they all sang in one fulsome voice. I feel connected to something strange and strong.
Folk instrumentation notwithstanding, this was a departure from the familiar folk-pop bent on romance and nostalgia. Saintseneca was more musically inventive, more lyrically strange, somehow both more raw and more refined. These were songs teasing out existential questions, songs with a prophetic pulse.
Three years on, Saintseneca has whittled down to five members, including Maryn Jones, whose voice melds with Little's like a younger sibling's. Their sound has retained that folk-punk propulsion, while maturing into something more complexly adorned. Now seeing the band live, one rightly expects to be taken in by their energy and by the craftsmanship evident in these songs; all but one last less than four minutes, so that the audience is still leaning in at the end, left wanting more, as they are also left puzzling about the background of a songwriter who so deftly nuances the Sermon on the Mount.
Is God really the great, unexplored territory of rock music?
The nature of a sweeping claim such as Corgan's, of course, is that it lacks nuance. As with the recent debates about the presence or absence of faith in contemporary fiction, the argument, on both sides, is one of degrees—or one of "optics," as Greg Wolfe has written. One need not look far to find religious symbolism woven, however obliquely, into the music of artists from Arcade Fire to St. Vincent to—more obviously—David Bazan, Sufjan Stevens, et cetera.
Questions about such artists' relationships to faith will continue to be the stuff of online message boards. But when considering the place of the religious sense in rock music (and its tributaries), we are still dealing not with presence or absence, per se, but with shouts or whispers.
Or with something in between. In Saintseneca's performances and recordings both, lyrical sense often gets obscured by Little's casual illocution. At times one must consult the lyric sheet to uncover the wordplay—no eve ain't naïve no more—and to recognize the religious logic at work. But the logic is there, mediated by an intelligence that refuses to be too conspicuous.
And as Dark Arc plays in the background this afternoon, Little's voice breaks through. He's in a room by himself, it seems, before a single mic, playing a bass with strings that rattle against the fret board. As far as falls from grace are placed / I guess you're graciously effaced, he sings, and that phrase seems the right one for describing how God manifests in a record such as this—as an idea or figure not absent, not unexplored, but there, graciously effaced, at the rim of the spotlight.
Isaac Anderson's work has appeared in Image, Portland, Fourth River, Los Angeles Review of Books, and elsewhere. He received an MFA from Ohio State and has been Writer-in-Residence at Lenoir-Rhyne University. His piece "Lord God Bird" (Image, No. 72) received mention in Best American Essays, 2013. He lives in Kansas City.