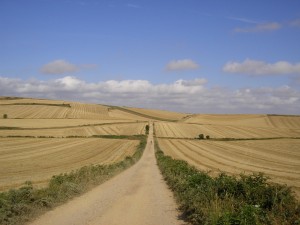 I wrapped the thick terry robe around me, refreshed by the bubble bath I'd taken scented with lavender salt. What a glorious day it had been. Puerta del Sol, The Prado, Madrid Cathedral, the rose garden at Retiro Park. Tapas for lunch, a little shopping, then back to our multi-starred hotel.
And that was just the preamble. In two days we'd begin our Camino. We would walk The Way of Saint James—El Camino de Santiago—a pilgrimage across Spain that began in the middle ages and remains immensely popular today. We would trek 200 miles in twleve stages, beginning in León and ending at the Cathedral of Santiago de Compostela with the Pilgrim's Mass.
My husband Mark was reading emails on the bed as I toweled off my hair. "Bad news," he said. "The firm has let go of the word processors. The whole department. What will I do without Camille?"
I tossed the towel on a chair. "Why would they fire all those people? Camille's a single mom. How will she feed her kids if she doesn't have a job?"
Mark typed something on his iPad. "It's another cost-cutting measure. Camille has emailed me too. I'll write her a recommendation. I hope she finds something soon."
"Still, the layoff is a sin."
Within days, though, the sin had slipped my mind. We were on stage two of our Camino, and all I could think of was my feet. The day before we had left León and trudged ten hours through a desert, sun broiling our skin, backpacks breaking our spines.
By the time we reached our first night's destination, the town of Hospital de Órbigo, my feet had swollen to proportions I'd not imagined possible. Several toes were bruised dark purple and between them painful blisters had emerged. Thank God our B&B was lovely. Our room had a marble shower with a shelf full of soaps and lotions and a wall of pulsing body jets, so I stepped in, turned on cool water, let the jets massage my feet. Maybe with this treatment the swelling would diminish overnight.
No such luck. The next day when Mark and I awoke, my edema was no better. I forced my feet into my boots, left the laces untied, and hobbled out of town with Mark.
Soon we were winding through cornfields green and golden in the early morning sun. These gave way to woodlands of shady, broad, holm oaks. Here, the path began to climb. Wincing with every step, I began to fall behind. Mark turned and waited at a stream. "Are you okay?"
I shook my head. "My feet are absolutely killing me. Please, just go ahead. I don't want to feel pressured by your pace. Just check on me sporadically."
Mark nodded and we began to walk. Within minutes I was far behind him. Then the forest opened to mown farmlands scattered with hay bales and cows.
In a field adjacent to the road, a man was sitting on a bale. As I approached he stood and came towards me leading a dog by a leash. He bore an enormous backpack festooned with a rolled pad, blanket and sleeping bag, a down jacket and canvas hat, a Dopp kit and stuffed plastic bag, and a walking stick dangling a pot. The dog, too, was bearing a burden, a pannier strapped to its back. The twosome and everything they carried was encrusted with dirt.
The man waved. "Buon giorno! Buon Cammino!"
Italian, my grandparents' language, one I thankfully spoke.
I looked into his face. Long-haired, brown-eyed, young, he seemed in his mid-twenties, the same age as my son. I smiled. "Sei italiano?"
"Sì!"
And so I met Matteo, who'd walked all the way from Genoa. He began to plod the path beside me, his dog Greta scouting the way. Matteo talked to me nonstop:
"Signora, I see that you're limping. Are your boots too tight? Feet swell on the Camino from the heat and strain. The trick is to wear shoes a size bigger than your usual size. At home, I wear 42, but today I'm wearing 43.
"You know, I didn't plan to be on this Camino. But the Genoa phone company I worked for cut eight workers from full-time to half. Four of us were young bachelors; the others were family men. We young ones quit completely so our colleagues could keep their full-time schedules. How else could they feed their kids?"
"So here I am on the Camino. Of course, I have to do it cheaply. Since the weather's nice, I sleep outside with Greta. The only problem is bathing. I'm filthy. How I'd love a bath! But the hostels won't let me use their showers if I don't pay to stay the night. Cheapskates, that's what they are!"
Once Jesus told a rich young man, "If you wish to be perfect, go, sell what you have and give to the poor." These words have long caused me consternation. Are we supposed to give away all?
How relieved I was to read that medieval writer Christine de Pizan had prayed about this question and received a clear response: God doesn't ask us to give all. He asks us to give what we can, do good works, and refrain from flaunting wealth.
This much I've always done: charitable donations, volunteer work, buying the homeless lunch.
But is it enough? Matteo gave up his job to save his colleagues. He also sacrificed his roof. He even forfeited his bath.
What had I done for Camille? If all the well-paid people at Mark's firm had agreed to earn a little less, could we have saved her too? What would it have cost me to try? A hotel star? A scented bubble bath? Pulsing shower jets?
I'm not as brave as Matteo. I'm afraid to give everything. But I can give more than I have in the past.
The boots I've been wearing are too tight. It's time to walk in Matteo's shoes.
Jan Vallone is the author of Pieces of Someday: One Woman's Search for Meaning in Lawyering Family, Italy, Church, and a Tiny Jewish High School,which was released in December, 2013, and has won the Reader Views Reviewers' Choice Award. Her stories have appeared in The Seattle Times, Good Letters, Faith & Values in the Public Square, Catholic Digest, Guideposts Magazine, English Journal, Chicken Soup for the Soul, and Writing it Real. She teaches writing and literature at Seattle Pacific University.