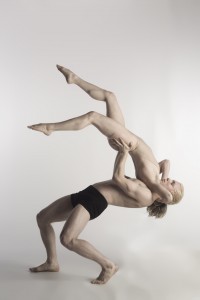 These days, we're besieged by merchants marketing in myriad ways: boulevards blighted with billboards, postboxes bulging with catalogues, televisions blaring commercials, email apps packed with spam, web pages popping ads, telephones pirated by robots.
These strategically planned campaigns are often costly and complex. It seems merchants have forgotten the best business builder in the arsenal, one that costs little or nothing and requires no marketing team: the impromptu generous gesture, the simple human touch.
I recently confronted this reality as my husband and I were completing our eighth season as subscribers to a dance series in Seattle. The series had always been excellent, and we looked forward to it every year.
This season I was especially excited because the spring lineup would include Pilobolus, a particularly imaginative dance troupe of international fame. For decades I'd longed to see them. I couldn't wait to watch the group—named after a barnyard fungus that propels spores with astonishing speed—perform its colorful, lyrical magic on the stage.
A few days before the performance, though, I came down with a fever-bearing flu. Body sweating and shivering, brain delirious, I spent Tuesday through Friday in bed as the rain beat on our roof. On Saturday morning, sunlight seeped though the windowpanes, and I lifted my head from the pillow. Sensing resurging strength and clarity, I climbed out of bed and went to my study for the first time in days.
There, on my desk, my Italian phrase-a-day calendar still displayed the previous Tuesday, so I tore off the daily pages to bring it up to date: Tuesday, Wednesday, Thursday, Friday.
Friday. I stopped before plucking the page.
Friday. The word tickled something in my brain.
Friday. Pilobolus.
Damn. We had missed the show. In my fevered fog, I'd forgotten all about it. There remained just one performance, that evening, Saturday night.
Time was short; I had to think quickly.
Of course I knew the theater's policies regarding ticket exchanges: twenty-four hours' notice by mail or in-person only. Of course I knew I had no right to trade my wasted Friday evening tickets for good ones Saturday night. Of course I knew the theater couldn't make exceptions; it was a business, not a charity.
Still, I hoped someone would help me by granting a ticket swap. After all, I was a loyal subscriber, I'd been violently ill, my lapse was understandable, and I'd pined for Pilobolus for years.
I called the theater. The line rang a few times, then clicked, chimed twice, and segued to a male recorded voice: "This is the welcome center for the dance theater office. Please choose carefully from our menu. You may press star at any time to return to this greeting. For the dance ticket office, press one. For the dance business office, press two."
I pressed one: "Thank-you for calling the dance ticket office. For ticket information, press one. For ticket office information, press two."
I pressed one: "Thank-you for calling the dance ticket office. We are pleased to present Pilobolus. To purchase tickets in advance, visit our website to order online or press one to order by phone during business hours. For business hours press two."
I pressed two: "Greetings. The dance ticket office is open from ten am to six pm, Monday through Friday, and is closed on Saturday and Sunday. The office is currently closed. On show days, the box office at the theater opens one hour prior to show time. For theater directions, press one. To speak to an attendant, press pound."
Desperate for a sentient person, I pressed pound and was promptly disconnected.
My husband and I arrived at the theater box office an hour and a half before show time. Already, a line of Pilobolus fans snaked around the theater lobby. We joined the queue. By the time we reached the ticket window, an hour had gone by. Faint from waning flu and waxing frustration, I smiled at the man behind the glass and told him my story. "Please, can you exchange our tickets?"
The man wouldn't look me. He glanced at the growing crowd. "I'm sorry. That's not possible. It's against policy."
"Please. We've subscribed for years. Any seats at all would be wonderful."
The man shook his head. "It's not my decision." He pointed towards a corner of the lobby. "Wait there. I'll call the manager."
We stood in the corner half an hour. No manager appeared, and the show sold out.
That night, the theater banked money it would have forfeited had it swapped my tickets. Plainly, it did nothing wrong; businesses need profits and employees should honor policy—but maybe not mechanically.
This brings to mind another story.
Long ago, when my children were toddlers, my husband and I took them out to dinner after Christmas Eve Mass. We had no extended family in Seattle and were more than a little sad. When we had finished our entrees, our server smiled while clearing the plates. "You know," she said, "you're such a beautiful family. Dessert is on the house."
We looked around us. No one else had been given free desserts.
That moment inspired a tradition. For sixteen successive Christmas Eves, we returned to that restaurant after Mass.
Please permit me to present the computation:
The restaurant's initial investment: one smile plus four slices of Yule log.
The restaurant's resulting sales: sixty-four four-course Christmas dinners, sixteen bottles of Chianti, thirty-two Shirley Temples, plus many other similar dinners every calendar year.
The bottom line: There's nothing better for business than the simple human touch, the spontaneous kindness.
Having missed Pilobolus, I woke up Sunday morning, disaffected from the world. I went to my desk and turned to my phrase-a-day calendar. It still showed Friday, so I tore off the outdated sheets, practicing the Italian I had missed:
Saturday: Per favore, mi può aiutare? Please, can you help me?
Sunday: Certo, con piacere. Certainly, with pleasure.
Jan Vallone is the author of Pieces of Someday: One Woman's Search for Meaning in Lawyering Family, Italy, Church, and a Tiny Jewish High School, which was released in December, 2013, and has won the Reader Views Reviewers' Choice Award. Her stories have appeared in The Seattle Times, Good Letters, Faith & Values in the Public Square, Catholic Digest, Guideposts Magazine, English Journal, Chicken Soup for the Soul, and Writing it Real. She teaches writing and literature at Seattle Pacific University.