Continued from yesterday.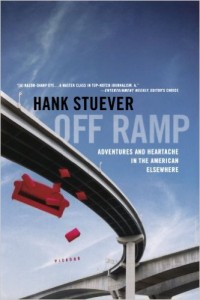 Hank Stuever's 2005 collection of essays Off Ramp: Adventures and Heartache in the American Elsewhere may not be the Good Book—as I said in the first part of this post—but you might be forgiven for thinking that I have treated it as such: My copy of the paperback edition's spine was long ago broken, victim to interrupted bedtime reading, and the text falls open automatically to well-thumbed sections, the equivalents to top Biblical hits Psalm 23, John 3:16, and 1 Corinthians 13.
Part 1 of this post scoped out a number of the reasons why Stuever's work is such a touchstone for me, but didn't actually make reference to any of the essays from Off Ramp. That seemed a suitable way to underscore the way that I encountered his writing in the first place, as it leapt up at me from the Style section pages of The Washington Post.
Off Ramp is a collected, but not exhaustive, anthology of Stuever's newspaper feature work that roughly spans the period 1992-2004, not only at the Post but also at the Austin American-Statesman and before that, The Albuquerque Tribune—years when he was not once, but twice nominated for the Pulitzer Prize in feature writing.
The subjects of the essays are a real mélange: In just one volume, there's a he-said/she-said account of wedding planning in a closely-knit working class Latino family in "Modern Bride;" an examination of the psychological effects of being a participant on a Trading Spaces television show in "Panic Rooms;" and a profile of the artist behind Josie and the Pussycats in "The Josie Problem."
There's also "Evil Queens," about participant Richard Hatch in the original 2000 Survivor series, but really about the kinds of power gay men have sought to exert in eras when more straightforward avenues would not have been available—an essay in which Stuever makes a show of apologizing to "the fine folks at the Gay and Lesbian Alliance Against Defamation": "I know. I know and I'm sorry, but it had to be said."
My personal all-time favorites, the ones I reread at the end of any exhausting day, are the epic "Notes on Kamp," an early essay in which Stuever camped out at an urban Albuquerque KOA campground after some murders had taken place nearby, and "Xanadu Tuesdays," which tracked the diehard crowd reliving the early 80s at an adult skate night at Austin, Texas', Playland Skating Center.
While the subjects of the anthology are wildly disparate—a touring company of Jesus Christ Superstar, The California gubernatorial recall (remember?), and the inexplicable campaign of former Diff'rent Strokes star Gary Coleman!—there is always a common governing spirit to Stuever's approach.
And that governing spirit, I would aver, is charity—the consummate listener, Stuever duly represents what his subjects want to tell him, and appears to be believing the best about them, although you can suss that his own perspectives and opinions are probably different—in other places he refers to himself as the "blue-state gay guy."
In another life, he would be a fine father confessor—indeed, he was raised the youngest child of six with a background of "felt applique, folksy Catholicism" in Oklahoma City. He also represents an interesting middle figure in the evolving role of gay authorial voices—the consummate mediator and conciliator—that is lodged between the transgressive stance that writers were forced to take before the gay rights movement had emerged and the largely mainstream (and in some places, largely invisible) presence that they occupy today.
This means that, however coastal he has ended up being, he's fundamentally comfortable in what other publications might refer to as "flyover country," the very place he limns as the "Elsewhere" of his title: "Elsewhere offers what I consider to be true mystery and has taken me to places and events where I could draw connections, and arrive at certain meanings among the discarded fads and treasures…If I was looking, I could find the Lord, death, porn, destruction, tanning booths, and teriyaki chicken bowls. It was enough to write about."
Not the least of Stuever's charms is his warm ease among audiences who are not of the ideological stripe you'd typically paint him with. He did a great profile of Crunchy Cons author and Orthodox convert Rod Dreher in the Post in 2006, and his second, nonfiction book Tinsel profiled a group of Frisco, Texas, Republican suburbanites decorating for Christmas. If you're comfortable unburdening yourself to him, he's going to be comfortable with you. (Now imagine the tone of distance and contempt that would drip from the pen of just about any other big city newspaper columnist writing about these subjects.)
He's not a Catholic anymore, but he said, "I believe in Believers" in the interviews that surrounded Tinsel when it came out in 2010. All the lonely people, out there in the country—not least of which is me, in my bed with my nightgown and glass of wine—and he is ready to listen. (I feel he is listening to me, in fact—all of us out there in the dark fields of his republic elsewhere.)
That was clear in Off Ramp and Tinsel both—and both are worth running out and buying in the holiday season. (Just saying…) At ten and five years later, I'd love to see what he is saying now.
A native of Yazoo City, Mississippi, Caroline Langston is a convert to the Eastern Orthodox Church. She is a widely published writer and essayist, a winner of the Pushcart Prize, and a commentator for NPR's All Things Considered.