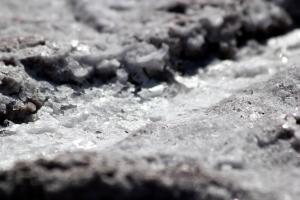 The day of Pepper Smith's funeral, it was a stiff fifteen degrees—ironic weather for a boy from Gulfport, Mississippi. Pepper was my dear old friend for twenty-three years; we had traversed some odd and complicated decades and had ended up living not far from one another in the D.C. area.
We talked all the time, but saw each other only a few times a year. We wanted to get our families together, but that is hard to do in a big city where getting places takes forever and I cannot stop berating myself about it now, that I never made it happen.
The complexity of family life and children's schedules meant that I was going to this funeral by myself: I always take my children to funerals, but they had not known Pepper well and I needed my husband to stay with them. I pulled on a black dress and a black hat I knew Pepper would find amusing, and drove off up toward Baltimore alone in the cold.
The funeral was at the church, a striking example of nineteenth century Anglicanism atop a sunlit hill, where Pepper's wife is associate rector. I was right on time, but the parking lot was full, and the security guards directing traffic told me the church was "at capacity," and I was going to have watch the live link in the overflow room.
My heart swelled with pride—Pepper was a man who loved and was loved, and here was the evidence of all the places that love had gone —but I was not going to the overflow room.
I crept into the narthex of the old stone church, and told an usher I was Orthodox and had no problem standing for the entire service, even if I could not see. I just wanted to be near the funeral itself, as though to a warm and glowing hearth.
After a while, an usher told me that "a space had opened up" in the back pew reserved for the church members serving at the funeral, and I sank into the creaking wood and let the rich tang of church smells—polish, varnish, incense, and dust—envelop me.
The church was packed, and I wondered how many folks in the congregation other than family were originally from Mississippi, and had shared the same unlikely pilgrimage.
Pepper and I met on an autumn night in 1994 at the giant country home of a large, unusual family that was hosting a mixer for "the young people," which we still were. He had just returned from teaching in Honduras and was still to teach in China amid lots of travel and periods of not knowing what his vocation was, before he finally married, settled at the National Endowment for the Arts, became a father, and shared his love around us all.
Pepper and I had both grown up Baptists, from the strange slice of pre-1979 conservative takeover Southern Baptists who were patrician in manners if not in money. We were both raised to be strivers, to go and do things beyond what the people around us were doing—and in his years, Pepper did far more than I, as his obituary in The Washington Post shows:
He was so open about his anxieties and fears—and his deep thinking and praying about family and cultural sorrows from addiction to racial oppression—that he could unnerve the sort of folks who are deeply invested in preserving the social-media image that they've "got it all together."
As a longtime friend, I was sometimes perplexed and annoyed by the transparency of his pain, and his inability to fake composure. And yet there was no one, aside from my husband or brother, whom I called more quickly when I needed prayers, or advice. As was clear at the funeral, hundreds of other people—whether from church, Al-Anon, or the NEA—felt the same way.
In particular, I think of the year or more he was a companion to an older friend suffering from ALS, and how he took care of that friend, sometimes for an entire weekend, as piece by piece the man's mobility, and finally speech, shut down.
Pepper could be really frank, even when you didn't want him to be. Just a couple of weeks before he died, I sent him the overview of the book I am writing, and I asked him if he'd want to read it. He emailed, "To be honest, if Caroline wrote it, yes…otherwise probably not."
All of these parts of his life came together and were thrown into relief in the funeral service, which the bulletin reminded us, was understood as a resurrection service. There was the thundering of a pipe organ, and old Baptist hymns they don't even sing in Baptist churches anymore. And I could sense Pepper's invisible hand linking things, even there—a woman from the parish sat down beside me and before the end of the service we were sharing the bulletin and singing in tandem.
It was so cold at the graveside service I retreated to the parish hall for coffee, and the rooms were filled with hundreds of people, so full I could not find the folks there that I actually knew.
There was a slideshow of pictures with accompanying music, and when Bob Dylan's "You're Gonna Make Me Lonesome When You Go" came on, that was when I broke down in tears, and had to flee, back to the car and the steadiness of driving.
Behind the wheel, the first thing I thought about doing was to call Pepper and tell him how much he would have loved his funeral.
But I couldn't.

A native of Yazoo City, Mississippi, Caroline Langston is a convert to the Eastern Orthodox Church. She is a widely published writer and essayist, a winner of the Pushcart Prize, and a commentator for NPR's All Things Considered.