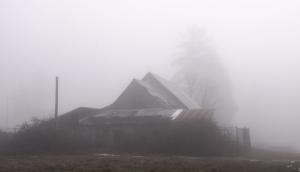 From Chris Stapleton's rootsy repurposing of Nashville pop-country to Sturgill Simpson's "metamodern" new-Outlaw nihilism, the past few years have seen Kentucky-born artists setting the agenda for a different kind of country music—not so much a complete break with the past as a series of unpredictable mash-ups of what's come before.
Simpson protégé Tyler Childers is the latest major voice to emerge out of this scene. Despite the Simpson connection, and despite having gone to high school in Stapleton's own Johnson County, the significantly younger Childers has a voice and a style unmistakably his own: more vulnerable, more insistently place-based, and more entangled with the religious traditions of his native Kentucky than those of his older forebears.
Despite its title, Childers's 2017 breakout album Purgatory wears its religion lightly. The bulk of the album consists in cocaine-addled capers up and down eastern Kentucky backroads, drinking moonshine and leaving the "little feathered indians" on your belt buckle tattooed to the inside of your lover's thigh.
It isn't until the next-to-last track, "Universal Sound," that Purgatory bends toward the spiritual. Anxious thoughts about his lover bring the singer back to memories of childhood, when he "didn't need nothin' around / But a little bitty rattler and the universal sound." The last verse finds him finding his faith, for the first time on the album:
I've been up on the mountain
And I've seen his wondrous grace
I've sat there on a barstool and I've looked him in the face
He seemed a little haggard, but it did not slow him down
He was hummin' to the neon of the universal sound
When he finally finds him, Childers's God is a beautifully backwoods yokel—Tom Bombadil in a work shirt and Wolverine boots—as ageless and resilient as the mountains Childers calls home. As imaginatively strong as it is, in the context of the album, it's a surprising vision.
My own parents were raised in Inez, Kentucky, just south of Childers's native Lawrence County. Though we moved to the putatively more civilized central Kentucky when I was young, I know a thing or two about those mountains still—about the people that inhabit them, and their God.
To much of the nation, this region and others like it have now become "Trump Country," lost in a projected haze of God-and-guns backwardness, assumed racial and sexual insensitivity, and whispers of an "opioid crisis"—places and peoples to be either filed away as "deplorable" or, if one wishes to be generous, anxiously defended as not so deplorable after all.
I am not interested in defending where I am from. The eastern Kentucky I know is, like most places, both deplorable and not. There are sinners on every street corner, and saints in every city.
The none-too-conservative Kentucky farmer-poet Wendell Berry has written recently of "urban liberals and Democrats" at last discovering with a shock something called "Rural America," and just as quickly dismissing it out of hand—seldom paying any attention to the unique charism of its still stubbornly religion-and-place-rooted culture, or stopping to remember that "the people of Rural America became obsolete as small farmers, small merchants, and trades-people in the country towns, and then became obsolete again as 'blue-collar workers.'"
What I am interested in is the way Tyler Childers, perhaps even more so than his new-country colleagues, gives voice to these twice-obsolete people, and to some of what the people and places I know and love best still have to offer this country.
Childers's voice alone tells a tale: half-pleading, half-pissed off, it mirrors perfectly a region which, in my experience, balances an almost childish capacity for reverence with an often overwhelmingly righteous (and frequently self-righteous) anger.
At their best, Childers's songs offer the outsider a chance to taste for themselves the virtues—and vices—peculiar to an otherwise often inscrutable Appalachia. His best lines convey a whole culture in miniature.
The chorus of early EP track "Follow You to Virgie," for instance, tells the tale of a mountain woman's passing away, and of the way the sorrow of her passing is shot through with a sense of immense beauty—with a vision of God's relationship with her soul "called home," and with a sense of her abiding relationship with the landscape that defined her life:
So I will follow you to Virgie
Although it hurts me so
To lay to rest this mountain beauty
The Lord's called home
I can see her up in glory
I can see her through the pines
Another early EP track finds Childers's love—romantic this time—again refracted through his religious experience and his experience of particular places, fashioning a vision of romantic and religious and natural love drawn together in one stubborn knot:
You remind me of a Sunday
Back home in old Kentucky
With the church choirs just beltin' to the pines
And I love you like the mountains
Love the way the mornin' opens
To a soft and bright greeting from the sun
Malcolm Gladwell suggested on his "Revisionist History" podcast that "Country music makes people cry because it's not afraid to be specific." This is the great advantage of Tyler Childers and his ilk even today, and it is still the advantage of a Rural America that has only been discovered in some parts of this country as an unfortunate nuisance, baggage from a past best forgotten.
If we forget places like Childers's Lawrence County, we forget some of the places most committed to place itself, and to the specific traditions handed down in and through those places.
Voices like Childers's, restlessly caught between their reverence and their anger, still have something to say to this country—though they may not tell us exactly what we want to hear. Purgatory seldom does.

A Kentucky native, Adam Horn is a PhD Student studying Medieval English Literature at Columbia University in New York City. He has published writing for the Norton Annotated Peter Pan, and writes songs for his Brooklyn-based folk band, Rookin.