Caring for the poor and hungry has always been an emphasis with Christianity and is a major theme of Christian Scripture. What does the Bible say about the poor? A lot, actually.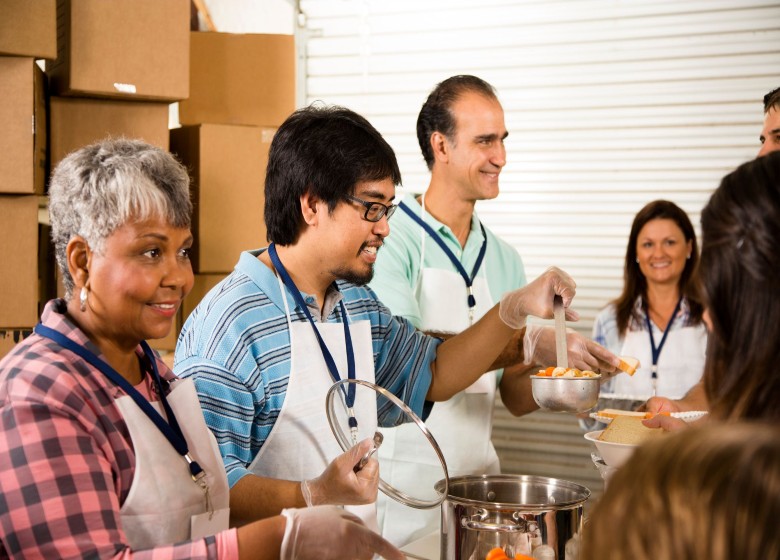 Old Testament Law
Caring for those in need was a major theme of Old Testament Law. Israel, God's people, were expected to look out for those in need and care for them. They were to create a society in which generational poverty would not exist and debts could regularly be cancelled. One practice they were instructed to do was "gleaning."
Gleaning happened after harvest time. In the process of reaping their fields, Israelites would inevitably miss some or some would fall to the ground. Gleaning happened when the poor would gather the leftover crops after harvest. Israelites were obligated to leave fallen crops in the fields so the poor could gather it.
Periodic years were designated for debt cancellation; every seven years debts were forgiven and every 50 years everyone was restored to their family land. This was to prevent permanent slavery (debtors would indenture themselves to their lenders in order to repay them) and to prevent generational poverty by restoring land to its original family, who may have had to sell it in the past to avoid financial ruin.
Deuteronomy 15:11 summarizes God's concern for the poor and the attitude toward the poor he desired his people to have: "For the poor will never cease to be in the land; therefore I command you, saying, 'You shall freely open your hand to your brother, to your needy and poor in your land.'"
Prophetic Concern for the Poor
Both legally and personally, Israelites were commanded to care for the poor. However, this rarely happened in Israel's history. Many prophets would condemn Israel for her neglect and exploitation of the poor. The prophet Amos was perhaps the most direct. In Amos 8, we read,
"Hear this, you who trample the needy
and do away with the poor of the land,
saying,
"When will the New Moon be over
that we may sell grain,
and the Sabbath be ended
that we may market wheat?"—
skimping on the measure,
boosting the price
and cheating with dishonest scales,
buying the poor with silver
and the needy for a pair of sandals,
selling even the sweepings with the wheat.
The Lord has sworn by himself, the Pride of Jacob: "I will never forget anything they have done.
God condemns Israel's greed, noting their desire for profit, their disdain for ceasing business during Sabbath and other festivals that were to be devoted to God. He decries their exploitation of the poor which extended to enslavement. Note how they sold the sweepings—what was supposed to be gleaned by the poor. Israel, for much of her history, failed to abide by God's heart for the poor.
Jesus Identifies with the Poor
For Christians, care for the poor is not just grounded in Old Testament Law but in Jesus' very heart. In Matthew 25, Jesus tells this parable:
"When the Son of Man comes in his glory, and all the angels[g] with him, then he will sit on his glorious throne.  All the nations[h] will be gathered before him, and he will separate them one from another, just as a shepherd separates the sheep from the goats. He will put the sheep on his right and the goats on the left. Then the King will say to those on his right, 'Come, you who are blessed by my Father; inherit the kingdom prepared for you from the foundation of the world. 'For I was hungry and you gave me something to eat; I was thirsty and you gave me something to drink; I was a stranger and you took me in; I was naked and you clothed me; I was sick and you took care of me; I was in prison and you visited me.' Then the righteous will answer him, 'Lord, when did we see you hungry and feed you, or thirsty and give you something to drink? When did we see you a stranger and take you in, or without clothes and clothe you? When did we see you sick, or in prison, and visit you?' And the King will answer them, 'Truly I tell you, whatever you did for one of the least of these brothers and sisters of mine, you did for me.'"
When he praised the sheep for clothing him when he was naked and feeding him when he was hungry, they asked him when they did that. Jesus answered that they did this when they cared for the poor, welcomed the stranger, clothed the naked. How they treated the least of those people around them is how they treated Jesus.
Jesus so closely identifies with the poor that he tells his disciples that whatever they do to the poor, they have done to him. Jesus does not identify with any other group of people in this way. If Christians want to be where Jesus is, they need to go to the poor. Should they want to do something kind for Jesus, they need to do something kind for the poor. If they want to serve Jesus, they must serve the poor.
The epistles make clear that loving the poor is not just about praying for them—though praying for them is essential. Prayer or good wishes must be accompanied by action. James writes, "Pure and undefiled religion before God the Father is this: to look after orphans and widows in their distress and to keep oneself unstained from the world."
God will never complain about us helping the poor or needy, visiting the marginalized orphans and widows of our world in their time of need. It's not just about prayer—it's also about action. Real love for the poor involves prayer and service.
The Christian Responsibility to Care
There are myriad ways Christians and churches can serve the poor. It is important that all efforts to help the poor recognize their dignity as human beings and bearers of the image of God. It is also important that we find ways of serving the poor that don't feed our own egos.
I tell every person our church helps that we know that they are trying their best and sometimes people just need a hand up. Life happens to us all and all of us at some point in our lives will need some sort of help. Our church helps others because we too have been helped.
We should also remember that "poor" is not a static situation; we all go through ebbs and flows in our lives and sometimes we end up not being able to make ends meet for a period of time. Sometimes, people just need a temporary boost to get their lives back on track. A person or family may not be in a situation of permanent poverty but find themselves poor for a moment. It is right and good for God's people to care for their neighbors when they find themselves in such a predicament.
The church at which I currently serve has developed a really great relationship with our school system, particularly the program that helps at-risk students and families. Over the past several years we have helped many families with electric bills, rents, mortgage payments, school supplies, clothing, etc. The pandemic most impacted the already vulnerable and God has blessed us with the means and relationships to connect with these people and make their lives just a bit easier.
Our church has also made blankets for foster children, turned paper bags into "plarn" (plastic yarn) and used them to crochet sleeping mats for homeless people, and helped serve at local ministries devoted to alleviating poverty. I have been blessed to serve a church that is very generous with its money and time.
Those are but a few things that a church could do to help the poor and marginalized. I am always humbled by the way I see so many different churches serving the poor in their communities in so many different ways. The Bible is clear: those who have need to help those who do not have. God cares deeply for the poor and Jesus identifies closely with them. It is a Christian responsibility to bring the love of God to their neighbors in practical and tangible ways.