Jesus flipped every norm of traditional religion to focus on faith and love. We need to do that too.
Remember the other day, when I turned a couple of Jesus' parables upside-down? The parable of the Sheep and the Goats teaches us that the ones who cared for "the least of these" inherited the kingdom.
The parable of the Pharisee and the Tax Collector teaches us that God isn't interested in holier-than-thou-ness, but in true devotion. Christians certainly don't have a corner on the devotion market.
In fact (correct me if I'm wrong here), Christians sometimes get so wrapped up in doing things "right" and understanding Scripture "right," and even worshiping "right," we can lose sight of the love aspect of Christianity (which is literally what Christianity is all about). I talked about this not long ago when we turned another parable upside-down.
Jesus summed up the Law as "love God and love your neighbor." Then to illustrate his point, he told the parable of the Good Samaritan. He taught that eternal life is not about theology – it's about love.
God's love is so big that he causes his sun to rise on the evil and the good, and sends rain on the righteous and the unrighteous (Matthew 5:45). I always figured that I was the good and righteous, and non-Christians were evil and unrighteous – but here's a kooky idea: what if the good and righteous are the ones who love best?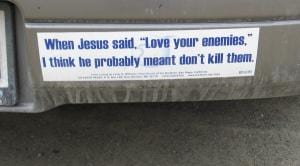 More upside-downing
How about we flip Bible stories a few more times, just for fun? (The following are not parables, but actual stories from the life of Jesus.)
Let's try Jesus and the Canaanite woman (Matt. 15:21-28). She was a non-Jew so, like the Samaritan, she did not have "correct" theology. Jesus didn't seem to care. He gave her a hard time but in the end, he declared that her faith was great.
Next up, Jesus and the centurion (Luke 7:1-10). Jesus made a startling claim about this non-Jew: "I have not found such faith in all of Israel." He was impressed with the man's faith, not turned off by his theology (or lack thereof).
How about the scandalous "sinful woman" with the alabaster jar of perfume (Luke 7:36-50)? In anointing Jesus' feet with perfume, she was way off-script, but she demonstrated that she loved much. Like the tax collector, she was genuinely repentant. Jesus forgave her simply because she had faith – and he scolded the Pharisee who judged her. The person considered unworthy was a hero in Jesus' eyes.
Take a look at this conversation between Jesus and a teacher of the law (Mark 12:28-34):
"…Teacher," the man replied. "You are right in saying that God is one and there is no other but Him. To love Him with all your heart, with all your understanding and with all your strength, and to love your neighbor as yourself is more important than all burnt offerings and sacrifices." When Jesus saw that he had answered wisely, he said to him, "You are not far from the kingdom of God."
Cornelius
To me, the most significant upside-downer is the story of Cornelius, another Roman centurion (Acts 10). He was not a Jew (i.e. he did not worship God "by the Book"), but God took note of Cornelius' faith. ("Your prayers and gifts to the poor have come up as a memorial offering before God.")
This is what God seeks as His eyes run to and fro across the earth (2 Chron. 16:9)! In the words of Peter to Cornelius, "In every nation, he that fears [God] and works righteousness is accepted with Him."
Let's read that again. It's important.
"In every nation, he that fears [God] and works righteousness is accepted with Him." No asterisk. No disclaimer.
Of course, Cornelius went on to learn more from Peter—but the point here is that God rejoiced over him as he was.
When I look with grace-colored glasses at today's stories (and previous stories here and here) this is what I see:
God looks at the heart, and where He finds worship and faith and love, that person is on the right path. God joins with that person and walks him into the Kingdom. He is obviously less interested in religious correctness than we are.
(TBH, we should all breathe a sigh of relief that God doesn't require flawless doctrine.)
For the sake of love, Jesus turned upside-down every norm that traditional religion had put in place. It would appear that we turn everything right-side-up again when we approve of only those who conform to our teachings and practices.
IF YOU FIND A STORY OR PARABLE that sounds more Christlike (i.e. loving) when you read it upside-down, let me know!
"Love is of God, and everyone who loves is born of God and knows God." (1 John 4:7)
(Have you subscribed yet? Please do!)
---
FEATURED IMAGE: "upside down…" by Magdalena Roeseler is licensed under CC BY-NC-SA 2.0