When Jesus began his earthly ministry, he made clear who he came to help and how he intended to help them:
"The Spirit of the Lord is upon me, because he has anointed me to proclaim good news to the poor. He has sent me to proclaim liberty to the captives and recovering of sight to the blind, to set at liberty those who are oppressed, to proclaim the year of the Lord's favor." Luke 4:18-19
If we want to follow in Jesus' footsteps, we too must advocate for the oppressed. As an ally for the people of Palestine, I urge you to consider the possibility that Palestinians are one of the longest-suffering oppressed groups in the world. (If you're not sure that could be true, please keep reading.)
How could we possibly be of service to this people group halfway around the world? Here's a simple action that, cumulatively, can make a big difference:
Don't buy Pillsbury products this Thanksgiving!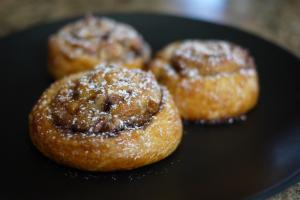 Pillsbury, part of General Mills, is for many of us the brand of choice when it comes to crescent rolls and cake mixes. But even members of the Pillsbury family (see video below) are embarrassed by the fact that their company has a factory in an illegal Israeli settlement, and is bringing profits to General Mills by exploiting Palestinian labor and resources, while occupying land stolen from Palestinian families.
(If you're feeling squeamish about criticizing Israel – worried that it's antisemitic, or that God said he will curse those who speak against God's favorite land and people, please be sure to keep reading.)
"I'm uncomfortable…"
Evangelicals especially, and many Americans in general, assume that modern-day Israel as essentially a continuation of ancient Israel, God's chosen people. Many of us have been trained to believe that means that if we criticize Israel, God will curse us, and if our government criticizes Israel, God will curse our entire country – because God told Abraham, "I will bless those who bless you and curse those who curse you" (Genesis 12:3).
That is a gigantic leap, taking a millenia-old message to Abraham and assigning it to a modern, secular state. Its ramifications are profound. This belief kills people every day.
This "doctrine" of Zionism (the belief in the creation of and support for a Jewish national state in Palestine, to the exclusion of the indigenous Palestinian people) is insupportable for Christians who read the Bible holistically and know the facts.
(Commercial: if you question "business as usual" in Christianity – or want to question it – subscribe to my newsletter, and we can journey together! I write about the Israel-Palestine issue pretty regularly.)
If you, as a Christian, feel discomfort with the idea of supporting justice for Palestinians – if you feel that Jesus would favor their oppression – then it is your Christian duty to get more familiar with the topic. Many Christian theologians, teachers, and writers have addressed the issue – for example, check out these articles:
If you want more background, here are some books I can personally recommend:
Crash course on the occupation of Palestine
Israel's illegal occupation of Palestinian land began in 1967 and has only gotten more brutal with time. Israel denies Palestinians their basic human rights, silences their efforts to protest (often with lethal methods), and robs them of dignity.
Israel has transferred 600,000 of its Jewish citizens to the Palestinian territories in direct violation of international law. These so-called settlers take not only land, but the lion's share of Palestinian natural resources. Israel affords the settlers preferential treatment, even building Jewish-only communities and roads. The Israeli police often assist settlers as they terrorize Palestinians and vandalize their property.
The United Nations has repeatedly demanded that Israel comply with international law by withdrawing from the Palestinian territories and ending the practice of transferring its citizens to Palestinian land – to no avail.
Crash course on the boycott movement
The Boycott, Divest, and Sanction (BDS) movement started small in 2005. Palestinians themselves called for this nonviolent movement, modeling it after the campaign that helped bring apartheid South Africa to its knees.
Recently, the BDS movement has been growing, and today it is influential enough that Congress and state legislatures are trying to make it illegal (it's not).
Just like the South African leaders in the 1990s pushed back, Israel is pushing back today against BDS, calling it "antisemitic." But what's antisemitic about demanding an end to human rights abuses?
The official BDS website thoroughly addresses the antisemitism charge and all of the other common arguments against the BDS movement. I can not overemphasize how important it is, if you have qualms about boycott, to read these explanations.
In 2020, the United Nations called out General Mills and six other American companies (as well as over 100 other companies worldwide) because their very presence in Israeli settlements makes them complicit in the oppression of Palestinians, and in the violation of international law.
Here is a short video from a member of the Pillsbury founding family, Charles Pillsbury, explaining why he favors a boycott of his products (article continues below):
Christians taking action
Not all Christian denominations are big on social justice – but they should be. Jesus' ministry was spent tirelessly helping, and admonishing his followers to help, the poor, the marginalized, and the oppressed.
As Christians, we can take action: we can encourage Pillsbury/General Mills to step back from Israeli settlements, from profiting off of the dispossession of the Palestinian people. Every day that we remain silent, we are an accessory to the crime.
As individuals, we can take tiny, simple steps toward justice just by buying a different (non-Pillsbury) brand of cake mix or dinner rolls. There are other products and producers we can also boycott – here is a partial list.
If you feel moved to do more, see if this story inspires you: one UCC church in Portland went Pillsbury-free for the sake of justice.
Want to think on a grander scale? Many entire church denominations and religious organizations are participating in the boycott movement to pressure Israel. Here's a partial list (full list is here):
The United Methodist Church
The Presbyterian Church (U.S.A.)
The United Church of Christ
The Evangelical Lutheran Church in America
The Episcopal Church
The Alliance of Baptists
These groups signed a letter to Joe Biden when he was elected president, advocating for Palestinians:
Alliance of Baptists
American Friends Service Committee
Christian Church (Disciples of Christ)
Christian Reformed Church in North America, Office of Social Justice
Church of the Brethren, Office of Peacebuilding and Policy
Church World Service
Churches for Middle East Peace
The Episcopal Church
Evangelical Lutheran Church in America
Friends Committee on National Legislation
Maryknoll Office for Global Concerns
Mennonite Central Committee U.S. Washington Office
National Council of Churches of Christ in the USA
Presbyterian Church (USA)
Reformed Church in America
United Church of Christ
The United Methodist Church – General Board of Church and Society
Many other denominations and faith groups have publicly advocated for Palestine as well – check them out on my other blog, here.
Every Christian should do what they can to defend the rights of the oppressed. Millions of Christians support Palestinian rights. Are you one of them?
It's not hard to make a difference. If lots of us do it, it will add up. General Mills will do what Ben & Jerry's ice cream did: bow to the pressure and take the moral high road.
(If you are energized by challenges to the evangelical status quo like this, you'd enjoy my blog. I write about the Israel-Palestine issue regularly. Sign up for my free newsletter here!)
(If you would like to comment on this post, please pop over to my Facebook page. All of my posts are there and open to constructive comment! I welcome your thoughts. And don't forget to subscribe to my newsletter!)
---
MORE POSTS ON THE ISRAEL-PALESTINE ISSUE:
---
FEATURED IMAGE: "Pecan Cinnamon Crescent Rolls" by culinarycara is licensed under CC BY-ND 2.0