Here's a quick story about a recent White Savior Syndrome sighting:
As my Arab-American husband and I enjoyed a scrumptious lunch in a Yemeni restaurant the other day, a small group entered the establishment and sat nearby. The place was not full, and no background music played, so I couldn't help but overhear their conversation.
It was a young married Mennonite couple with a baby and a single man – all (except the baby) in church leadership. They'd gotten together to talk about God and make plans for spreading the Gospel in the city.
The lone waitress in the restaurant, Amani, was young and wore a headscarf. She was friendly and articulate.
My husband and I love to check out Arabic restaurants (and other ethnic cuisines), and he loves to schmooze with waiters by making jokes in Arabic – as he did with Amani. He could tell right away from her accent that she was not Yemeni, but Moroccan. We made small talk and raved to her about the food, and about Morocco, where we vacationed for a week years ago. She was very warm and attentive.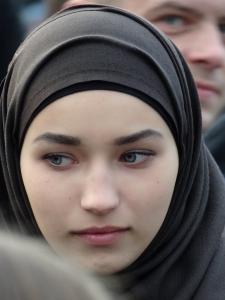 But half of me continued to eavesdrop on the other table. The group members took turns humbly telling stories of how God had used them to intervene in people's lives and "lead them to Christ."
(Commercial: if you question "business as usual" in Christianity – or want to question it – subscribe to my newsletter, and we can journey together!)
When Amani brought them their food, one of the men announced, "We are going to pray over our food right now, and we'd like to pray for you too. Do you have any needs or problems in your life?"
It was clear that Amani was not expecting this, and that she was uncomfortable. But she told them, "My husband is in Morocco and is having trouble getting a visa to come and be with me."
"Ok," the presiding minister said, "we will pray for God's favor on your husband so he can come to America. Would you like to pray with us?"
I couldn't hear her response, but it was short. She turned quickly and walked to the kitchen.
In that short exchange, I understood something that had puzzled me since the moment the group had arrived: why would a Mennonite woman in a prayer cap and two Mennonite men (and a Mennonite baby) darken the doorway of a Yemeni restaurant? Of course – because they were sure to find an "unbeliever" or two inside that they could rescue.
White saviors, praying for benighted souls to make their way to the Promised Land (I refer here to both heaven and the United States).
As a Christian, I was mortified by their arrogance in obliging Amani to talk about her personal life (yes, she could have declined, but that would have been even more awkward). I shared in her discomfort at the condescending invitation to pray with these folks who clearly knew they had a direct line to the Almighty.
My husband shared in my dismay. Do these people think their prayers are somehow superior to anyone else's? Do they think Amani's prayers, which she prayes many times a day, don't reach past the ceiling because she is a Muslim?
A few minutes later, Amani brought us some Yemeni tea to round off our meal. Part of me wanted to apologize for that earlier display, but I didn't want her to know that we had witnessed it. We just chatted some more. My husband asked about the word in the Moroccan dialect for "delicious." He mentioned to her that he is Palestinian.
As we left, Amani said in Arabic, "May God help Palestine and the Palestinian people."
That is a prayer from the heart.
(If you are energized by challenges to the evangelical status quo like this, you'd enjoy my blog. Sign up for my free newsletter here!)
(If you would like to comment, please pop over to my Facebook page. All of my posts are there and open to constructive comment! I welcome your thoughts. And don't forget to subscribe to my newsletter!)
---
OTHER POSTS ABOUT ISLAM:
Ramadan for Christians: then sings my soul, "subhanallah"
Ramadan for Christians: mashallah, inshallah, and more
Interfaith harmony: the kinship of Christians and Muslims
Muslims and Christians: we are family
---
FEATURED IMAGE: "Young Muslim Woman at May 18 Commemoration of Crimean Tatar Deportations-Genocide – Maidan Square – Kiev – Ukraine" by Adam Jones, Ph.D. – Global Photo Archive is licensed under CC BY-SA 2.0