How can we make the best of yet another year of isolation? We've already taught ourselves how to bake sourdough bread, learned a language, gotten a dog, and started yoga. But the pandemic refuses to leave us. There must be some new self-improvement activity we can take up, right?
YES. I have one that is absolutely free, easy as pie, and will make you a better person!
Have I got your attention?
GET A LIBRARY CARD AND – hear me out – LISTEN TO AUDIOBOOKS.
That's right. So simple. Soooooo good for you.
There are thousands upon thousands of great books out there, books you can listen to while walking on the treadmill, shoveling the snow, walking the dog, driving. It's absolutely painless and absolutely edifying.
You may need to show up at your local library in person for a quick visit. Check your library's website to see what ID they need (for me, it was just my driver's license), download their app, and you can start getting smarter and wiser immediately!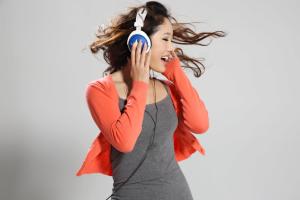 Safe space to try something new
This is critical: don't choose books that tell you what you already know. Choose books on subjects that are new to you, learn about issues that you are unfamiliar with. Challenge yourself.
It's  a safe space to investigate the "other" side of an issue – just let an expert talk to you while you drive or do chores – it's so much easier to do housecleaning while listening to a book (my house is cleaner than it's ever been)!
Let the expert have his/her say, and then decide what you want to do about it. None of your Facebook friends will know that you're looking at the grass on the other side of the fence. Only you will know that you are becoming more open-minded in 2022.
I've been listening to books on antiracism lately, and I've learned a lot about why America still struggles with race. I've also learned a lot about the history of people of color in the US. I've learned about South Africa, the Depression, Buddhism, mental health, homelessness, and many other subjects. I've listened to many great works of literature. I'm smarter, wiser, and more well-rounded than I used to be!
If you have never read a book about racism in the Church, you are not educated yet. If you have never read a book about race by a black author, you are not educated yet.
You now have an easy, free way to get educated.
(Commercial: if you question "business as usual" in Christianity – or want to question it – subscribe to my newsletter, and we can journey together!)
Bonus: audiobooks are entertaining!
I can't stress enough that most audiobooks are read by fabulous voice artists who bring the books to life. I've been floored again and again by these folks' talent for doing accents, creating characters, and making the whole experience so enjoyable.
The possibilities are, of course, endless. Get that library card, and you will have access to the whole world and to all of history.
There are books out there that will tell you what you want to hear, but child of God, you have access to greater wisdom than that, and learning is just plain responsible behavior.
2022 is your year to GROW!
Some recommendations
Below are some titles that I can heartily, personally recommend.
As you'll see, I've been learning a lot about race and racism (and several other subjects) – from a Christian perspective and from a secular perspective.
I've just gotten started reading novels that take on race. It's a whole different experience. I've listed a couple of titles for those as well.
If you're not sure where to begin, titles in bold are favorites of mine, and would be a good place to start.
Christian audiobooks (mostly on race):
That All Shall Be Saved: Heaven, Hell, and Universal Salvation

The Cross and the Lynching Tree

Reading While Black: African American Biblical Interpretation as an Exercise in Hope

Single, Gay, Christian: A Personal Journey of Faith and Sexual Identity

You Are Your Own: A Reckoning with the Religious Trauma of Evangelical Christianity

White Too Long: The Legacy of White Supremacy in American Christianity

Reconstructing the Gospel: Finding Freedom from Slaveholder Religion

Be the Bridge: Pursuing God's Heart for Racial Reconciliation

The Color of Compromise: The Truth About the American Church's Complicity in Racism

Dear Church: A Love Letter from a Black Preacher to the Whitest Denomination in the U.S.

Threading My Prayer Rug: One Woman's Journey from Pakistani Muslim to American Muslim

Gospel of Freedom: Martin Luther King, Jr.'s Letter from Birmingham Jail and the Struggle that Changed a Nation

Fields of Blood: Religion and the History of Violence
Secular titles on race:
The Autobiography of Malcolm X: As Told to Alex Haley

How the South Won the Civil War: Oligarchy, Democracy, and the Continuing Fight for the Soul of America

The Power of Privilege: How White People Can Challenge Racism

Policing the Black Man: Arrest, Prosecution, and Imprisonment

Rising out of Hatred: The Awakening of a Former White Nationalist

How to Be an Antiracist

Stamped from the Beginning: The Definitive History of Racist Ideas in America

What Truth Sounds Like: Robert F. Kennedy, James Baldwin, and Our Unfinished Conversation About Race in America

Racism Without Racists: Color-Blind Racism and the Persistence of Racial Inequality in America

White Fragility: Why It's So Hard for White People to Talk About Racism

Reconstruction: America's Unfinished Revolution, 1863-1877

Buried in the Bitter Waters: The Hidden History of Racial Cleansing in America

When They Call You a Terrorist: A Black Lives Matter Memoir

An Indigenous Peoples' History of the United States: Revisioning American History

The New Jim Crow: Mass Incarceration in the Age of Colorblindness, 10th Anniversary Edition
Secular titles on miscellaneous topics:
Hate Inc.: Why Today's Media Makes Us Despise One Another

Wrapped in the Flag: A Personal History of America's Radical Right

Winners Take All: The Elite Charade of Changing the World

Powerarchy: Understanding the Psychology of Oppression for Social Transformation

Fight Like a Mother: How a Grassroots Movement Took on the Gun Lobby and Why Women Will Change the World

Strangers in Their Own Land: Anger and Mourning on the American Right

Loaded: A Disarming History of the Second Amendment

Evicted: Poverty and Profit in the American City

A People's History of the United States
A few novels on race:
Cry, the Beloved Country
Go Set a Watchman
Small Great Things
The Water Dancer
(If you are energized by challenges to the evangelical status quo like this, you'd enjoy my blog. Sign up for my free newsletter here!)
(If you would like to comment, please pop over to my Facebook page. All of my posts are there and open to constructive comment! I welcome your thoughts. And don't forget to subscribe to my newsletter!)
---
OTHER POSTS YOU MIGHT ENJOY:
Will the "unreached" go to heaven? – Part One, an evangelical answer 
Will the "unreached" go to heaven? – Part Two, a ruthless God  
Lies we tell ourselves about poverty and the poor
Jesus and the great mask debate – worst meme, best advice
My U-turn from evangelical to LGBTQ+ affirming
---
FEATURED IMAGE: "listen to the music" by make65 is licensed under CC BY 2.0