Try to imagine for a second how today's culture would respond to something like Mary's yes to the angel Gabriel when he came to ask if Mary would bear the Son of God. Would Mary update her Facebook status? Would Gabriel be tweeting the play-by-play? Would the tabloids be filled with dramatic photos of Mary and Gabriel? Or, would the blogosphere be silent, the news networks oblivious? Whatever the case, you can be sure the reaction would be disproportional to the event that changed the course of history forever.

Marge Fenelon, Imitating Mary, from Chapter 1
For so many people, she's inaccessible. It's something I find again and again as I write and speak and ponder this woman who changed the course of humanity.
You may call her Blessed Mother or Virgin Mary. You may call her Mama or you might just call her Mary. Whatever you call her and wherever you see her, from your garden to your church, from your daily life to your deeper devotion, there's a new book you should consider a must-read: Imitating Mary: Ten Marian Virtues for the Modern Mom, by Marge Fenelon.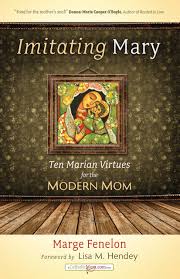 What Fenelon has done isn't so remarkable, really. The market is saturated with books on mothering, books on Mary, and books that are lists of things. What this book has that no other book I've found has is all of that together: Mary, mothering, and lists.
Did I mention that it's written in an accessible and down-to-earth style? Within these pages, you won't be able to help growing closer to Mary…she will breathe from the pages and take shape before you.
Mary had to watch…and wait…and pray, as her Son was falsely accused, given a bogus trial, and then put before a hostile mob for sentencing. What a helpless feeling that must have been! It wasn't as if Mary could hire a lawyer to plead Jesus' case, do a little plea bargaining, and negotiate a lighter sentence. There was no defense of Jesus, save that which he could—but would not—offer himself. Did Mary question why her Son wouldn't speak in his own defense? She knew he was perfectly capable. Not only that, but he could change the entire course of events with the blink of an eye. Can you imagine the suspense, the fretting, the tension that Mary experienced during this time? I can see her standing someplace in the crowd, being jostled back and forth by her Son's foes. Perhaps some of them recognized her as Jesus' mother, and cursed and spat on her. Maybe she was even struck a couple of times. Was she muttering, "Jesus, do something!" under her breath? No doubt, at a deeper level, she knew the answer. She knew that Jesus wouldn't do anything, because there wasn't anything left to do but follow the heavenly Father's will.

Marge Fenelon, Imitating Mary, from Chapter 9
The virtues highlighted throughout the book aren't things that I think I'm naturally good at; they're definitely things I need to improve. I'm glad I read it before I got caught up in thinking about how far I had to go: each chapter inspired me and made me think more deeply about how very much Mary wants to help me personally,
ME
.
Throughout the ten chapters of this book, Marge Fenelon makes the Virgin Mary into a real person without subtracting from any of the Blessed Mother's amazing qualities. Mary becomes a model—not of a distant figure from thousands of years ago, but of a mom like you and me who wants to walk beside us.
This is a book I'll be sharing and rereading and sharing some more. I only hope you will do the same.
~ ~ ~
Nominate an extraordinary mom!
Do you know a mother who exemplifies Mary's love and devotion? As part of the blog tour for Imitating Mary, Ave Maria Press is sponsoring a contest. Nominate an extraordinary mother you know (or yourself!) to win a copy of Imitating Mary.
~ ~ ~
Leave a comment at Snoring Scholar with a special memory of you and your mother by Friday, May 3, 7 AM Eastern.