Lately, the hardest part about reviewing children's books is that my eight-year-old finds the basket I'm saving them in and claims them. That, or my five-year-old sees something pretty and needs the basket (or wherever I'm piling them) for a project.
These three books are books I've barely managed to keep from getting dog-eared and well-loved by my children, and there's a reason for that: they're beautiful. While these books are about very different topics, they represent what's good and alive in Catholic publishing aimed at children. Bright covers, great illustrations, clear text. They're as fun to read as an adult as they are for the kids they're intended for.
A Picture Book of the Mass (Illustrated by the Masters!), by Lacy Rabideau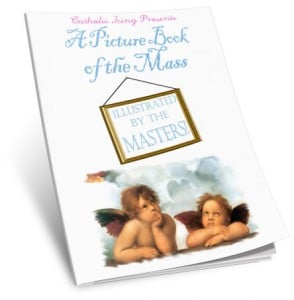 This book is sure to be an example I use if and when I ever write about my thoughts on self-publishing over at the Catholic Writers Guild blog. Honestly, I'm not usually a big fan of self-pubbing. But this book blows all of my usual objections right out of the water.
It's on magazine-quality paper and it's full-color throughout. As the title promises, it has illustrations, and they're classics. The publication quality of this book is top-notch.
The book includes all the parts of Mass, and explanations. At 29 pages, it doesn't skimp and try to squish a bunch of things onto one page, which is good for little hands.
The pictures are engaging too, and did I mention they're full of color? Seriously, it's striking.
From the author:
These booklets are not "dumbed down" for children, yet they are simple, straight-forward, and easy to use. They are based on the most common, ordinary time Mass.

The paintings that illustrate the Mass were carefully chosen to aid meditation during the Mass, and are meant to be used as an evangelization tool for any Protestants you might invite to attend Mass with you.

The beautiful dedication page in the front of this booklet makes them into the perfect gift for your Godchild, First Communion students, or any religious occasion!
Big thumbs-up from the Reinhards on this one!
The Way of the Cross, by Juliette Levivier, Illustrated by Anne Gravier (Ignatius Press (reprint edition), 2013, hardcover)
It has history. It has the devotion. It has simple, astounding illustrations.
I didn't have this book during Holy Week this year, but I'll be using it next year, you can bet on it. And maybe I'll even share it with my kids…
Godparents, catechists, parents, aunts and uncles, take note: this book is a GREAT gift idea. The hard cover makes it sturdy enough to tuck into a purse or diaper bag and it's simply written.
From the publisher:
Help your youngsters meditate on the Stations of the Cross. Beautifully illustrated and simply written, this little guide is a wonderful introduction to an important prayer and ancient devotion of the Church.

The book begins with a description of the events of that first Holy Week, when Jesus suffered, died and rose from the dead. There is also a brief history of the Way of the Cross devotion, which began in Jerusalem. Each station includes a Scripture verse, a brief text to help children imagine the scene, a four-color illustration, and a prayer.
Forever You: A Book about Your Soul and Body, by Nicole Lataif, Illustrated by Mary Rojas (Pauline Books & Media, 2012)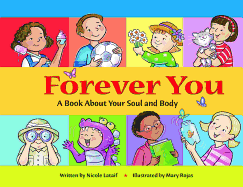 Someone sent me a link to an interview with Nicole Lataif about her inspiration for writing this book, and I promptly wrote Pauline Books requesting a copy. The kind marketing associate wrote me back and mentioned that I had already received a copy.
(My apologies, dear publishers. I run a pretty organized book ship here, but the fact that my kids also like books is KILLIN ME lately when it comes to figuring out where they've put the children's books I'm supposed to be reviewing.)
Well, I found it. And then my eight-year-old found it. As she was walking out of my office with it, I said, "Hey! We have to write a review about that one!"
"OK!" she said, already opening the book. "I'll tell you what to write."
About ten minutes later, she found me in the kitchen. "So?" I said. "What are we writing?"
"Ten out of ten stars," she said. "I really liked it!"
"What was your favorite part?"
"I like how it talks about our soul and the person we are."
I hadn't read the book at that point, and I was intrigued.
The first page of the book, titled "For Grown-ups," states that Forever You is "a resource for Christian faith formation at the most basic level, intended to help you explain to children what being human is all about."
We're both body AND soul.
The book opens with, "Your soul is in all you are and do—soul and body, forever you." It continues, engaging readers with pictures and emphasizing that body and soul aren't separated, even in things like climbing a tree or taking a bath. The refrain's repeated and there's rhyming.
It's an easy read, whether you're the adult or the eight-year-old. This is a message *I* needed to hear, too, one that we could all use a reminder of.
From the publisher:
Starting at an early age, kids are curious about their existence as human beings. At the primary stage, they wonder about where they came from, who they are as individuals, and how they fit into this world. As adults, it is often difficult to find the right words to explain these complex ideas to them in a way that they can relate to. And in this critical period of individual identity formation, finding those 'right words' is all the more essential.

At the most basic level, this resource for Christian faith formation introduces children ages 4-8 to what being human is all about. Whether you are a parent, grandparent, or catechist, you will find this resource to be helpful in explaining the concept of a "soul" to your children. Simply structured sentences, engaging text, relatable analogies grounded in nature and creation, and whimsical illustrations invite children to understand and embrace the whole human person.
In the words of my five-year-old, this book gets 25 gold stars. Good stuff, worth sharing and rereading.