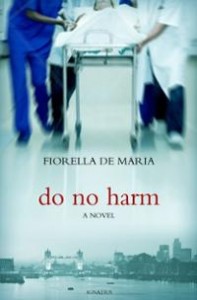 If you have not heard of Fiorella de Maria before, let me introduce you to her: she's an up-and-coming author who has my attention. Her last book, Poor Banished Children, was one I loved last summer.
This summer, she has just released Do No Harm, about a British doctor who finds himself facing assault and battery charges after saving a patient's life. It covers topics I am praying about and pretty sick-to-my-stomach about, topics I don't really know how to handle and things I don't ever want to read about.
And yet I did. Because they are within the context of a story that gripped me from the beginning
The topic: the legal battleground that the emergency room can (and has?) become. The situation: a British doctor saves a patient's life and is faced with criminal charges. The conclusion: oh, wait, I can't tell you that!
The characters are flawless, the writing is beautiful (though not pandering or flowery). There are twists and turns, and I can say with no duplicity that I was shocked at the end. This book is top of its class. It's not only fun and compelling to read, it's a brain-turner that makes you think and consider.
Highly, HIGHLY recommended.
I've posted an excerpt in my Book Notes column today at CatholicMom.com, so if you want to read a sample, be sure to stop over.