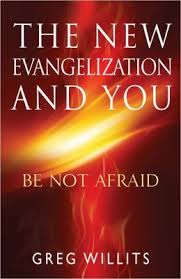 This book not only left me feeling motivated and heartened, it also gave me a lot of ideas. I could actually, in parts, hear Willits's voice, and I'm sure other fans of his work over the years will find the same.
Not only is this a practical handbook, it's an inspirational examination of what those of us who are just normal, ordinary Catholics in the pew can do to be part of whatever this New Evangelization really is. Or isn't.
Willits is methodical, he cites a load of material (which makes for a handy "here's further reading" list at the end), and he peppers it with humor and practical experience. You won't find pie-in-the-sky ideas here: no, this is a guide that can actually help you, in your parish and, more importantly, in your home.
Highly, highly recommended.