I heard about it from a good friend, who rated it as one of the two books that everyone who has anything to do with the Catholic New Evangelization should read.
(In case you were wondering what the other one is, look no farther than this summer's Lawn Chair Catechism at CatholicMom.com to find out.)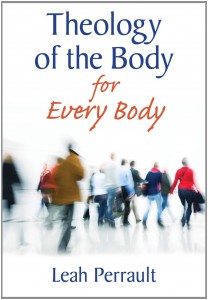 Theology of the Body for Every Body, by Leah Perrault (Novalis, 2012) is a thin book at less than 120 pages. And it's not a hard read.
But oh! It IS a WOW read, indeed!
Leah Perrault gives Theology of the Body a truly global application, because she steps away from all the theories and puts it right into everyday practice.
Somewhere along the way, as we become adults, most of us learn to define the boundaries between reality and imagination so rigidly that we find it hard to let our imaginations affect reality. Forgetting that God is a mystery, we define God so clearly in our minds that we do not recognize him in rainbows. We get settled into thinking about God and ourselves in the same ways we always have. If we want to see the world as God sees it, we need to expand our thinking about God.
In Part 1, Perrault spends nine chapters exploring insight from John Paul II's Theology of the Body. She explains what it is, and even better, she takes us far beyond what we've started thinking about it as.
It's about more than sex: it's about how we are made. As Sister Helena Burns said in a talk I listened to recently, "If our bodies are made in the image of God, and theology is the study of God, then our bodies are theology textbooks!"
Perrault writes in a style that's straightforward and yet somehow still poetic. She brings out the beauty in the world around us even as she points us to more closely examine the beauty that we are made to be.
The body is not just a vehicle to transport our souls from birth to death: our bodies are the expression of our souls, the external manifestation of the Mystery that dwells in each of us. Have you ever had a moment where time seems to stand still and you see the body of someone you love in a new way? The eyes seem like glass, reflecting all the beauty of the person. Instead of hands, you see the weathering of years of service in wrinkles, tendons, calluses and scratched knuckles. In the profile of a child, you see four generations across two families. This is the mystery of the body: that it holds the mystery of God's creation, seen and unseen.
In Part 2, we get six chapters under the heading of "Living the Theology of Our Bodies." This is a study in application that is by far the best I've seen of its kind. TOB just became dinner table talk. It became something I can share with my 5th graders in a way they'll understand. It transformed me into a witness just by how I think.
I realize I sound like maybe I jumped off a diving board into an empty pool there, but I've spent nearly ten years being excited about Theology of the Body. In the season I'm in with small kids and lots of work (domestic and otherwise), I haven't been able to attend any of the institutes or classes that are cropping up like dandelions.
And I've wanted to. But I've settled for reading and stumbling along and praying.
Perrault has accomplished something remarkable with this thin gem of a book: she has taken Theology of the Body and made it into something that the Joe Schmoe can appreciate even as the aspiring scholar type gets a listing of resources and insights to use. She's reached out with wide open arms in a manner that's very like what I envision John Paul II holding.
Mature spirituality takes us beyond the expectation that someone else will take responsibility for the decisions that give shape to our lives and our souls. Practising our faith will help us to develop the habits that make holy decisions easier, but following the rules alone will not sustain us. We have to be changed by the God we worship. In the most challenging moments, we face our solitude and offer ourselves to God in the shades of grey that we might be transformed by his mercy, compassion, and presence.
This is a book I fully intend to reread more deeply chapter by chapter. I hope you'll consider reading it too. It's amazing and well worth sharing and rereading.