Our International Women's Day Pledge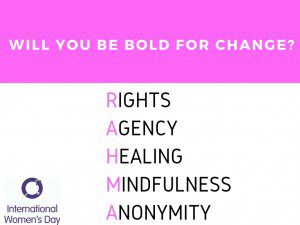 On this International Women's Day, we honor the inspiring legacies of the women who laid the foundation for the world we live in today: from women in prophetic times who persisted and defied gender stereotypes, such as our spiritual mothers Maryam and Khadijah (may God be pleased with them), to the struggles of the many in our American history books who stood up to the injustice of racial and gender inequality.  We honor the daily persistence of our sisters today: from the bold resistance of Qandeel Baloch to the fearlessness of Ameena Matthews and to the unconditional love, paid and unpaid labor, and support of the many women in our lives.
On this #IWD2017, we, at HEART Women & Girls, commit to #BeBoldforChange. We will actively work toward a world where:
Women and girls are valued for their character and personhood, rather than their body type, skin color, or what they choose to wear;
Women are free of guilt, shame, oppression, and violence, so that they are able to make informed and empowered decisions about their sexual health that aligns with their values; and
Gender equity is celebrated, consent and boundaries are honored, and space is made for those in need of support and resources.
For the last seven years, we have been working to #BeBoldforChange. We are diverse Muslim women, who are talking about sex and sexual violence in a way that is honest, nuanced, and empowering. We are working to build a world that is full of
rahma
(compassion), and honors the rights, agency, healing, mindfulness, and anonymity of the women and girls we serve. We are doing this through health education, advocacy, research, and training. We will continue to #BeBoldforChange. Will you join us?
Join us today by supporting our HEART to HEART video series: launchgood.com/HEART