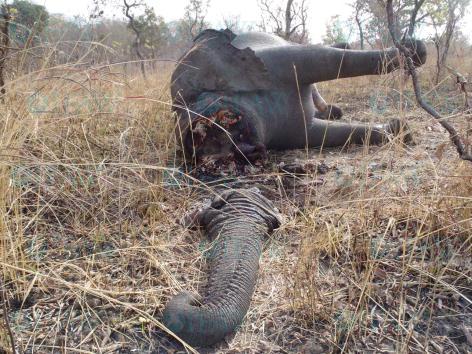 Here's a story that will break your heart (or it should): more than 200 elephants have been slaughtered by poachers in Cameroon. The poachers are killing the elephants for their ivory tusks.
According to International Fund for Animal Welfare (IFAW) and other sources, the killing spree began in mid-January when an armed gang of Sudanese poachers  began to kill free-roaming elephants in the Bouba Ndjida National Park. The park is in northern Cameroon, near the border with Chad.
IFAW's Celine Sissler-Bienvenu said in a story that during the dry season, poachers often cross the border from Sudan to kill elephants for their ivory. This recent massacre is more massive than any in recent history.
"The ivory is smuggled out of West and Central Africa for markets in Asia and Europe, and the money it raises funds arms purchases for use in regional conflicts, particularly ongoing unrest in Sudan and in the Central African Republic," said Sissler-Bienvenu in the story.
It might seem insignificant that a couple hundred elephants are gone, until you realize that there are only a few thousand left in Cameroon.  And not only are elephants slaughtered and their carcesses left behind once the ivory is harvested, orphaned elephant calves are left behind to fend for themselves as well.
It's a brutal slaughtering of God's creatures simply for monetary gain. And I apologize for the graphic image, but unless you see what poachers are actually doing, you can't imagine how horribly cruel and wasteful this poaching is.
Ongoing shooting in the area has made it difficult to assess how many elephant carcasses may be in unexplored areas of Bouba Ndjida National Park or for the orphaned calves to find food or water. You can read more about the recent elephant slaughter on the IFAW's website.