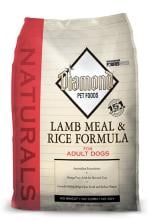 It's been a busy day here at The Funny Farm as I've been trying to keep up with the recalls of dog (and now cat) foods associated with Diamond Pet Foods.
It started last month when the company recalled their dry Lamb Meal and Rice formula after a bag tested positive for Salmonella.
Diamond Puppy Formula dry dog food and Chicken Soup for the Pet Lover's Soul Adult Light Formula dry dog food also tested positive. Other recalls soon followed as a precaution.
Right now, the pet food recall involves the following pet food brands, all with production linked to one Diamond Pet Foods facility in Gaston, South Carolina:
Chicken Soup for the Pet Lover's Soul
Country Value
Diamond
Diamond Naturals
Premium Edge
Professional
4Health
Taste of the Wild
Wellness
Canidae
Natural Balance
Kirkland (Costco store brand)
You can see the entire list and find out how to see if your pet food is included in the recall at www.diamondpetrecall.com. However, because the list is not updated (at this time it does not include Natural Balance or Canidae, although the companies have issued their own recall notices) it's important to stay tuned for updates.
To help pet owners navigate this recall, here is some information that I hope is helpful. (You can also find more locally-specific information on my Rochester Dog Health Examiner page):
How did the recall begin?
This current recall is linked to a strain of Salmonella has been traced back to a single Diamond Pet Foods manufacturing facility in South Carolina. The recall affects only dry dog food; no cat food or canned food is involved.
According to the Centers for Disease Control (CDC), on March 14, 2012, the Michigan Department of Agriculture and Rural Development collected routine dry pet food for testing. On April 2, 2012, the tests detected Salmonella in an unopened bag of Diamond Naturals Lamb Meal & Rice dry dog food
Salmonella has a distinct DNA "fingerprint", so officials were able to link the strain to several cases of human illness. They interviewed people, and of the initial ten people they talked to, seven had reported contact with a dog in the previous week. Of the five who could remember the brand of dog food they had used, four reported Diamond Pet Food.
With that lead, public health and agriculture officials collected and tested dry dog food produced by Diamond Pet Foods; they isolated the outbreak strain of Salmonella Infantis to "an opened bag of Diamond Brand Chicken Soup for the Pet Lover's Soul Adult Light Formula dry dog food collected from the home of an ill person, and an unopened bag of the product collected from a retail store. A sample of Diamond Puppy Formula dry dog food collected by FDA during an inspection at the South Carolina production facility has also yielded Salmonella."
According to the CDC, to date fourteen people from nine states have been infected with the outbreak strain of Salmonella Infantis: Alabama (1), Connecticut (1), Michigan (1), Missouri (3), North Carolina (3), New Jersey (1), Ohio (2), Pennsylvania (1), and Virginia (1).
Of the fourteen reported cases so far, five people have been hospitalized and no deaths have been reported. The recall does affect Canada and has now been updated to include cat foods manufactured at the facility.
What is Salmonella?
Salmonella is a bacterium that causes an infection known as salmonellosis. Every year, approximately 42,000 cases of salmonellosis are reported in the United States. Because many milder cases are not diagnosed or reported, the CDC estimates that the actual number of infections may be twenty-nine or more times greater. It is estimated that approximately 400 persons die each year with acute salmonellosis.
What are the symptoms in humans?
According to the CDC, "Most persons infected with Salmonella bacteria develop diarrhea, fever, and abdominal cramps 12 to 72 hours after infection. The illness usually lasts 4 to 7 days, and most persons recover without treatment." Some people have more severe symptoms, including severe diarrhea which requires hospitalization. Some people don't exhibit any symptoms.
What are the symptoms in pets?
Pets with Salmonella infections may have decreased appetite, fever and abdominal pain. If left untreated, pets may be lethargic and have diarrhea or bloody diarrhea, fever and vomiting. Infected but otherwise healthy pets can be carriers and infect other animals or humans. Some animals may not exhibit any symptoms at all.
 What if either I or my pet have symptoms?
Contact your health care provider and/or your veterinarian right away.
What do I do if I have the recalled product?
First, don't panic. Salmonella is serious but this is not the melamine fiasco of a few years ago (at least not yet). And remember that not all of the foods recalled tested positive; many are being recalled as a precaution.
Contact the pet store where you purchased your food to find out how they are handling the recall. Most likely, you'll be asked to return unopened bags of food to the store for replacement, credit or refund.
If the bag is unopened, dump the dog food into a garbage bag, then cut off the product and date codes. You may need to send them back to Diamond for a refund. The website lists specific instructions. To recieve a refund on eligible foods, you will need to provide a reciept for proof of purchase.
Make sure you wash your hands thoroughly after handling the food and empty bag.
Wash your dog's bowl thoroughly in hot, soapy water, along with anything else that may have been in contact with the dog food – storage containers, scoops, etc.
If you have questions, contact Diamond Pet Foods via a toll free call at 1-866-918-8756, Monday through Sunday, 8 a.m. – 6 p.m. EST. Consumers may also go to a special website, www.diamondpetrecall.com, for more information.
What are some non-Diamond pet foods that might be good alternatives?
It's understandable that pet owners would be wary of simply replacing their Diamond product with another from a different lot. Our local pet store is suggesting Earthborn or Fromms as comparable alternatives to Chicken Soup for the Soul or Taste of the Wild.
One thing to note: While some dog foods proudly fly American flags on their packaging or tout that they are "made in America", that doesn't mean the ingredients are all sourced in the U.S. It means they are assembled in the U.S.
I was committed some time ago to finding a dog food with no ingredients sourced in China; not an easy task. After a lot of research, I contacted Earthborn. I spoke with Russ, the president of the company (who never identified himself that way; when the operator transferred me to someone who could answer my question, I thought I was talking to a product rep). After asking him a million questions, I felt comfortable that while everything was sourced in the U.S. except two vitamins (which came from Germany and I think Sweden), Earthborn met my requirements for quality, non-Chinese sourced ingredients from a company with superb customer service.
As always, before you make a switch, and especially if your dog has health issues, it's a good idea to talk to your veterinarian to ensure you're meeting your dog's own special dietary needs.
Where can I get more information?
A recall like this can be scary for pet owners, but it's important not to panic. But even if your dog's food isn't included in the recall, you should stay updated on the situation as brands have been added recently.
You can learn more about the recalls, how to read the product codes and get more information on the Diamond Pet Foods website.
You can learn more about the CDC investigation, what Salmonella is and how to recognize symptoms on theCDC website about the recall.
If you have any questions or concerns about your dog's health, contact your veterinarian.
If you're experiencing symptoms, contact your health care provider and be sure to explain that you've handled dog food that's involved in a recall for possible Salmonella.