After a marathon triple overtime loss to the New York Rangers on Wednesday, Washington Capitals defenseman Karl Alzner headed home, and was greeted by his dogs – who had a little surprise for him: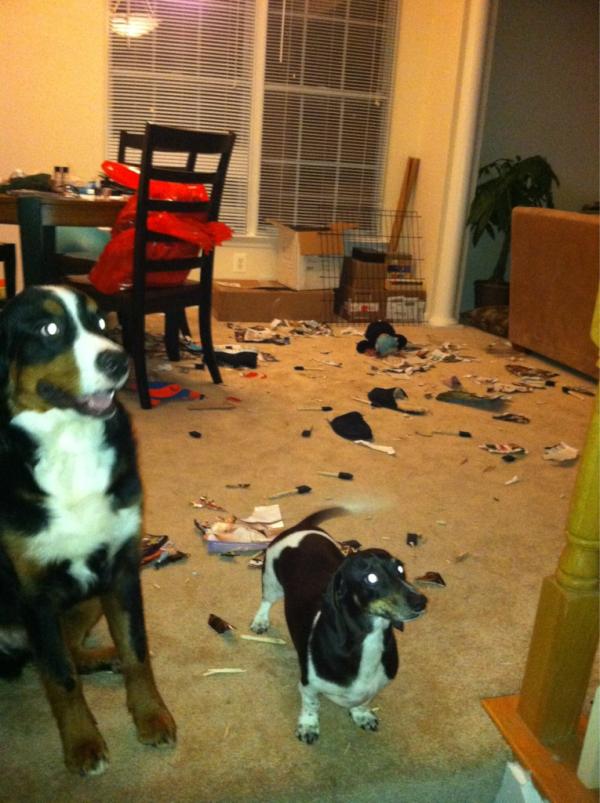 Alzner tweeted the photo early Thursday morning (1:57 a.m, to be exact), with the message, "Dogs not happy about the loss either."
Poor Alzner. I didn't see the game and can't imagine how exhausted he was when he opened his front door. But you know that those dogs were so happy to have him home, they didn't even remember they'd left a path of destruction in plain sight.
I'd bet money that there isn't a dog owner who saw that photo and didn't laugh out loud.
That's what's so great about dogs. No matter what staggering loss we've suffered, what horrible day at work we've endured, how tired we are, our dogs will always welcome us home with wagging tails and happy grins – and sometimes, a pretty, Twitter-worthy mess. Puts life into perspective, doesn't it?
Two paws up for Karl Alzner for having a sense of humor about the whole thing! (I have a feeling these happy, mischievious pups are going to get as much – or more – attention than the hockey game.)