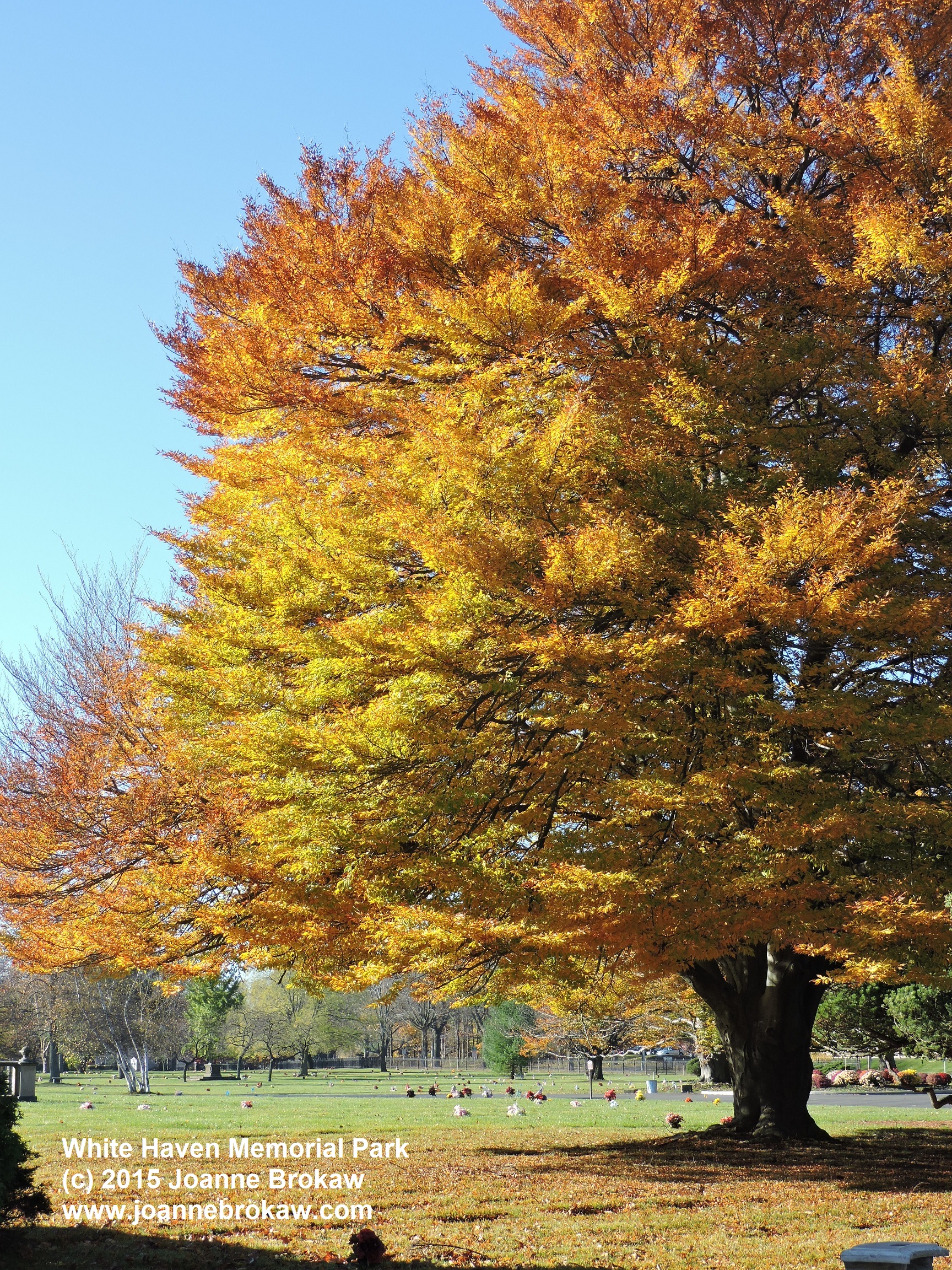 Walking the dogs this morning, I was musing over the life and death of a cemetery.
I walk in several cemeteries, from historic Mt. Hope Cemetery in Rochester, NY, with its hills and dales, forests and lawns, prominent residents, and myriad headstones and monuments, to a small rural cemetery in Pittsford, NY, much smaller but no less interesting.
But the cemetery where I walk most often is White Haven Memorial Park. It's close to my house, and because it's a lawn park layout – open spaces and no headstones, only flat markers in the ground – it's the perfect place to work with my dog Bailey, who has struggled with reactivity issues. We can walk here with few distractions, and the maintenance workers are patient as I've worked to counter-condition the dog to the sound of their work carts and machines.
Plus, the chipmunk and squirrel population is far smaller here than in the more forest-like cemeteries.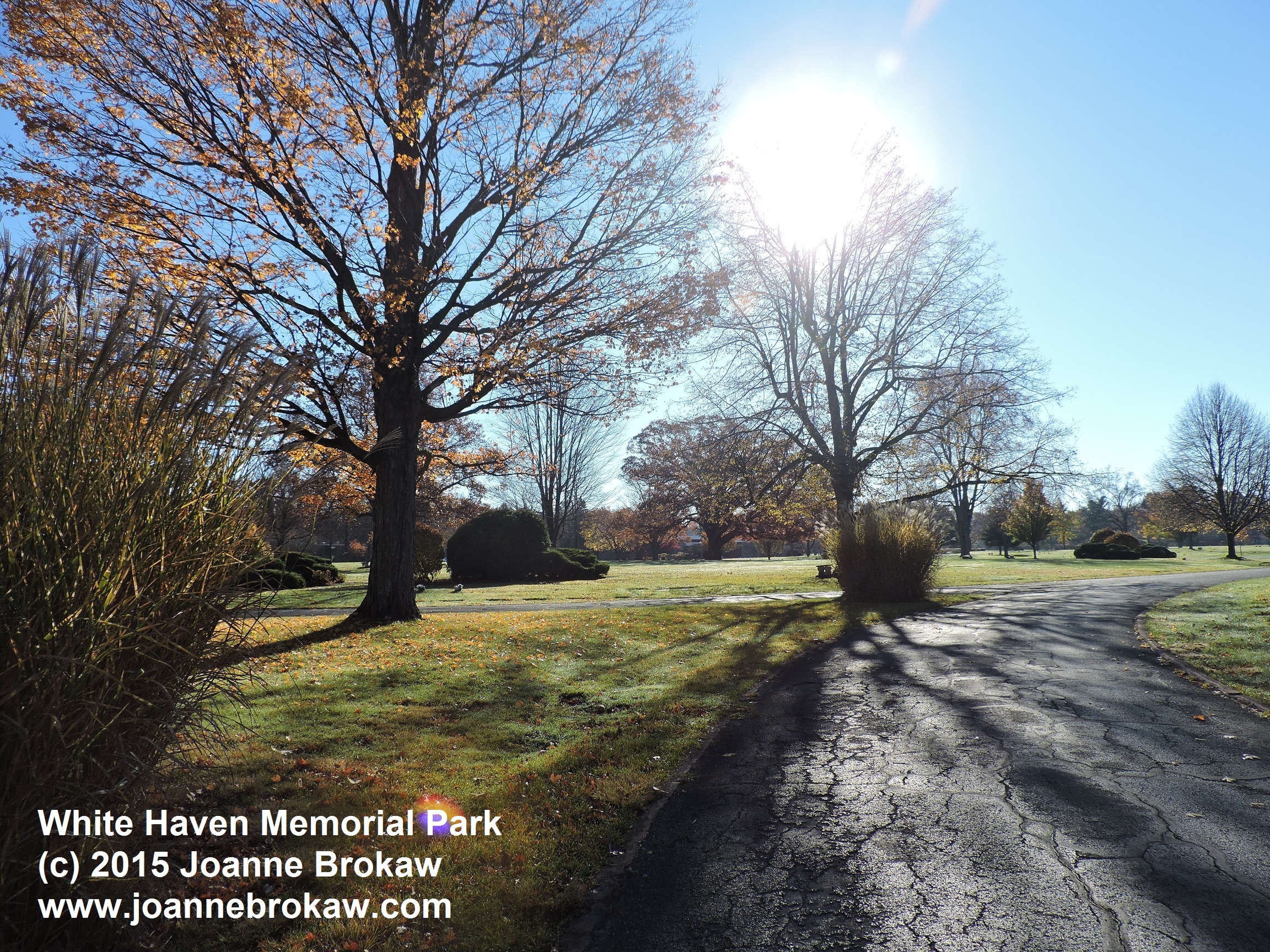 So while I love meandering in the older, more historic or unusual cemeteries, and do so when I have hours to kill, when we just need to stretch our legs, the dogs and I head to White Haven.
And on a walk today, it struck me how the circle of  life is played out in a cemetery.
It's a gorgeous day here in Western NY, early November and temperatures in the 70s. But even with the sun shining bright in the sky, it's clear life itself is winding down for a season.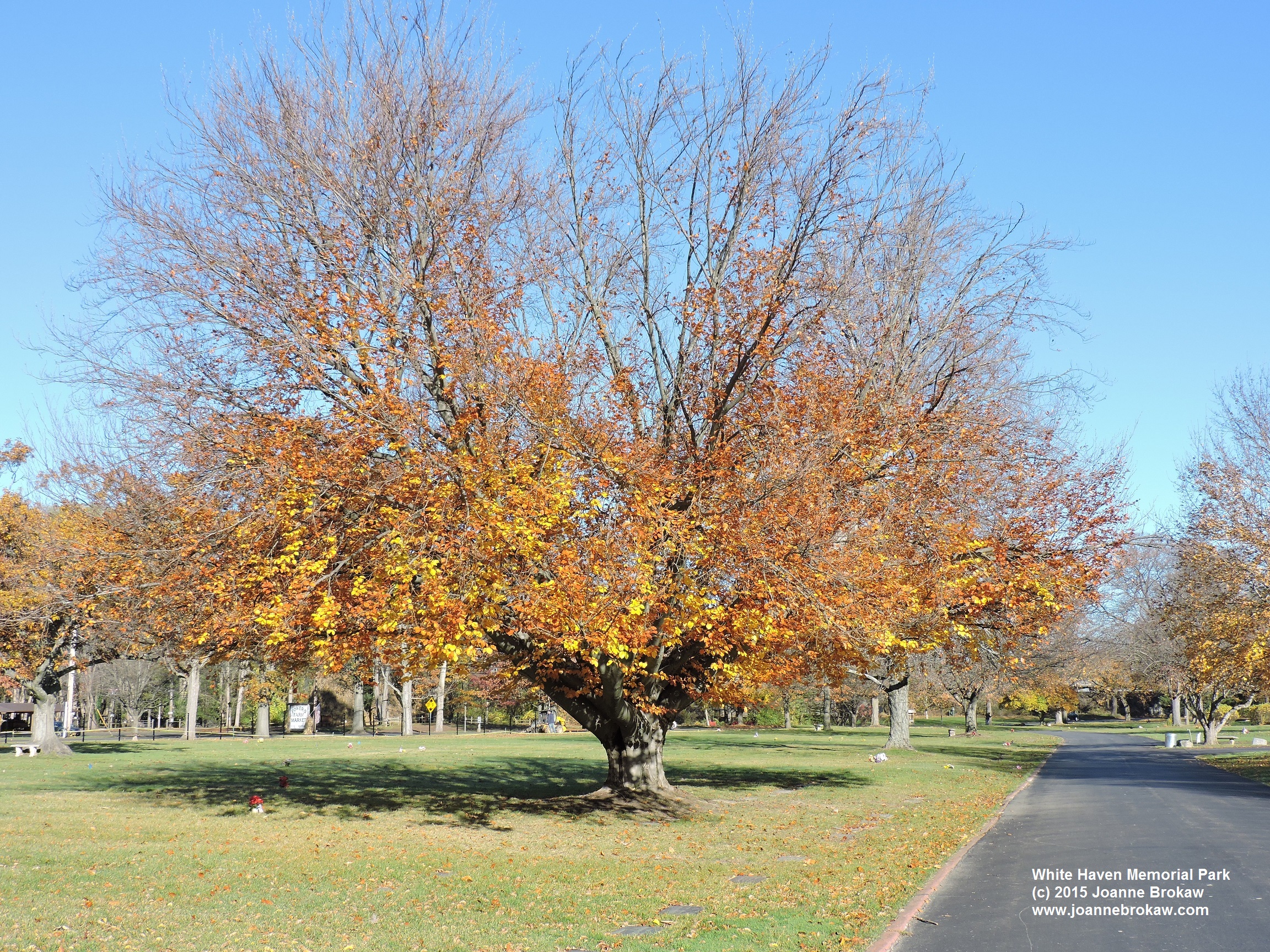 The trees, so green and lush in the summer, began changing colors a few weeks ago, brilliant colors that were almost too beautiful to look at. Now, they're in varying stages of undress, reluctantly shedding their leaves as winter approaches.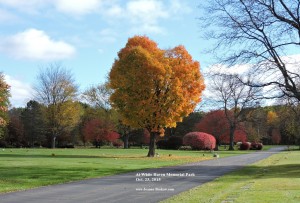 At White Haven, there's a tree I call the Heart Tree. A week or so ago, it was alive with color. Today, it stands naked.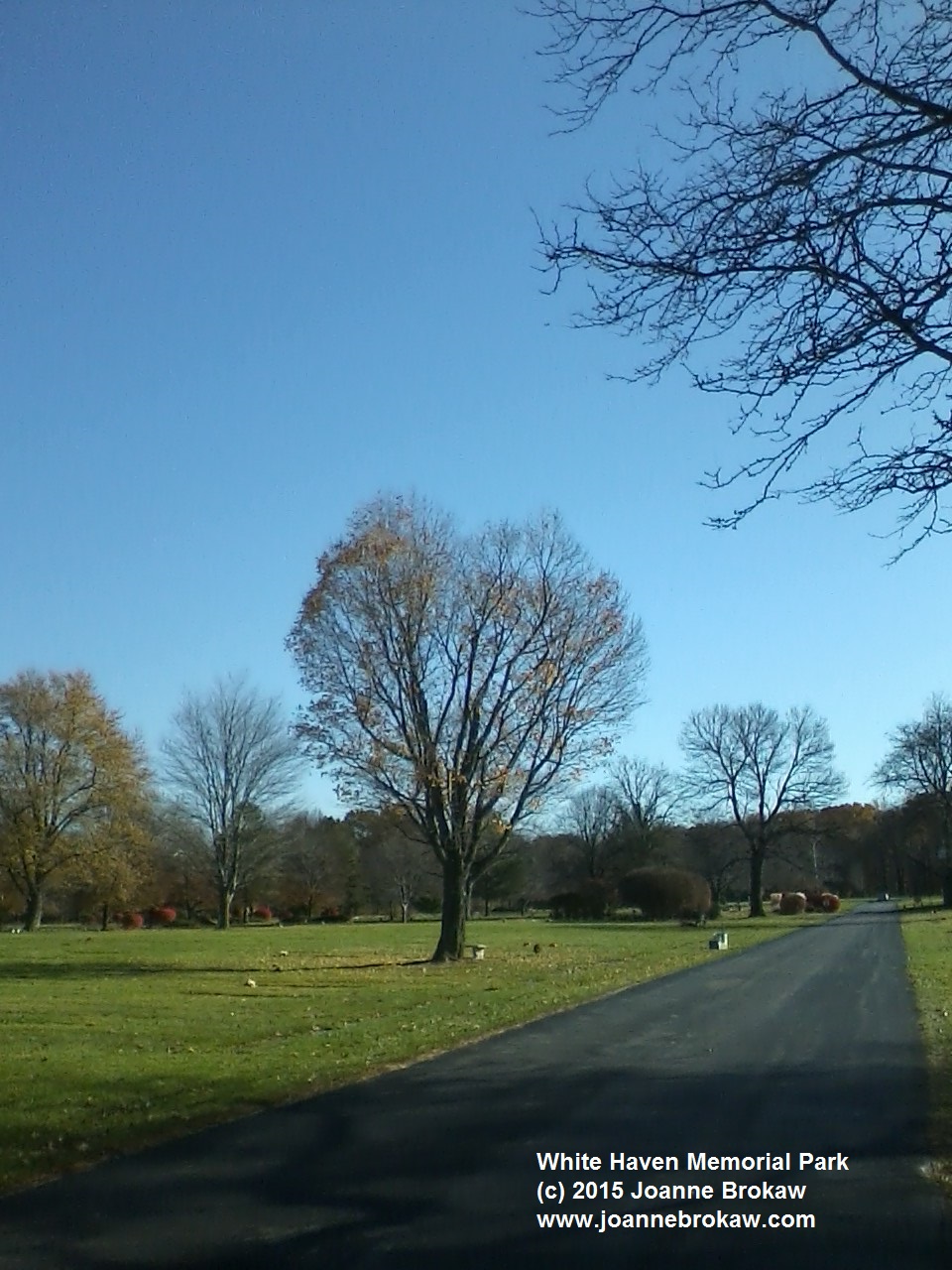 White Haven is also an Audubon Nature Habitat. In the back part of the cemetery area has unmowed fields and a forest with walking trails. There's a natural burial area where cremated remains are buried with wildflower seeds, the dead bringing forth life in every spring.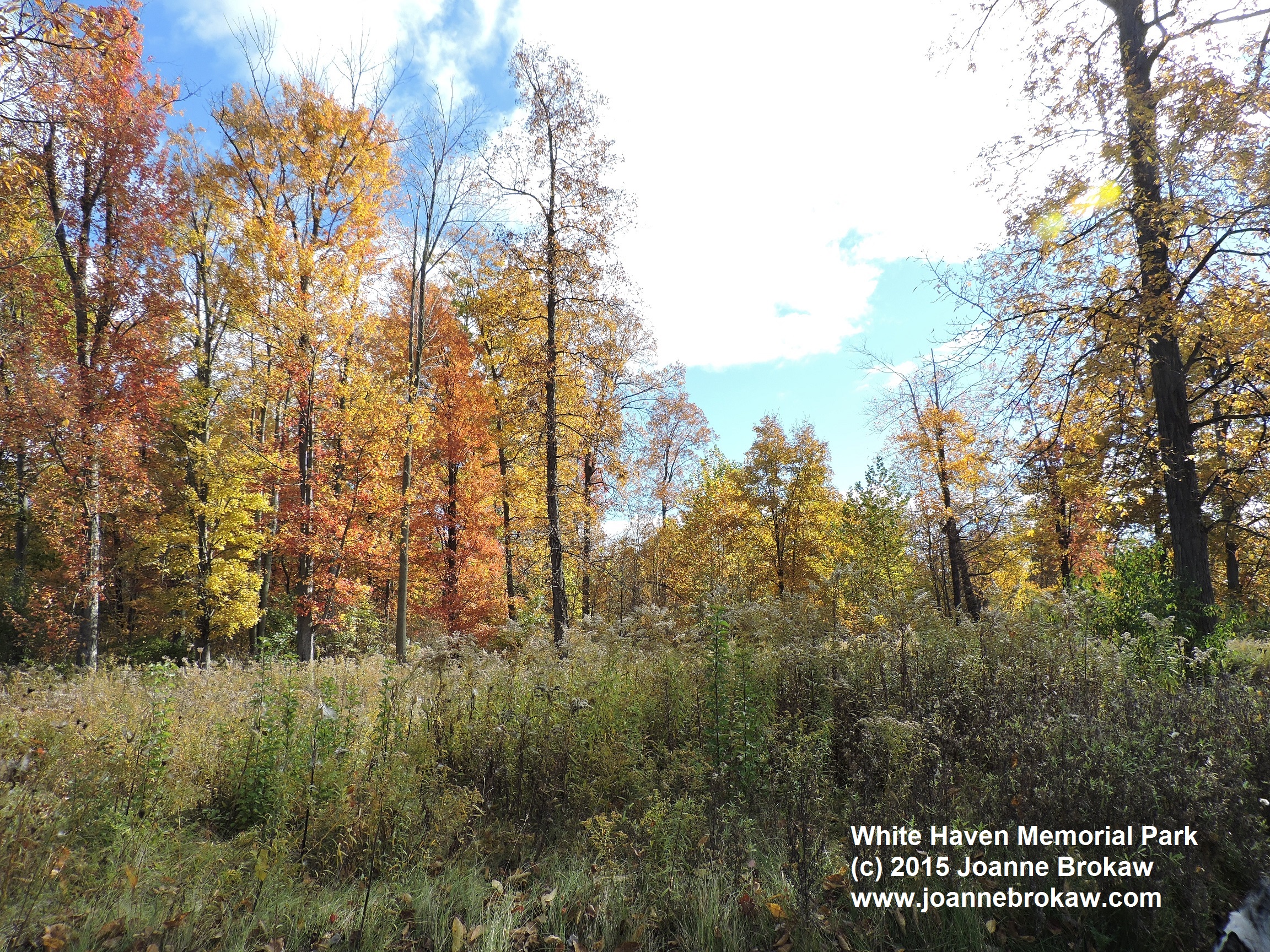 Throughout the main part of the cemetery, deer often roam the manicured acres, likely lured by the fruit trees that have dropped piles of cherries and are now laden with apples. At other cemeteries where we walk, squirrels and chipmunks are also rampant, scurrying around the headstones and up the trees with nuts and other nourishment to carry them through the winter.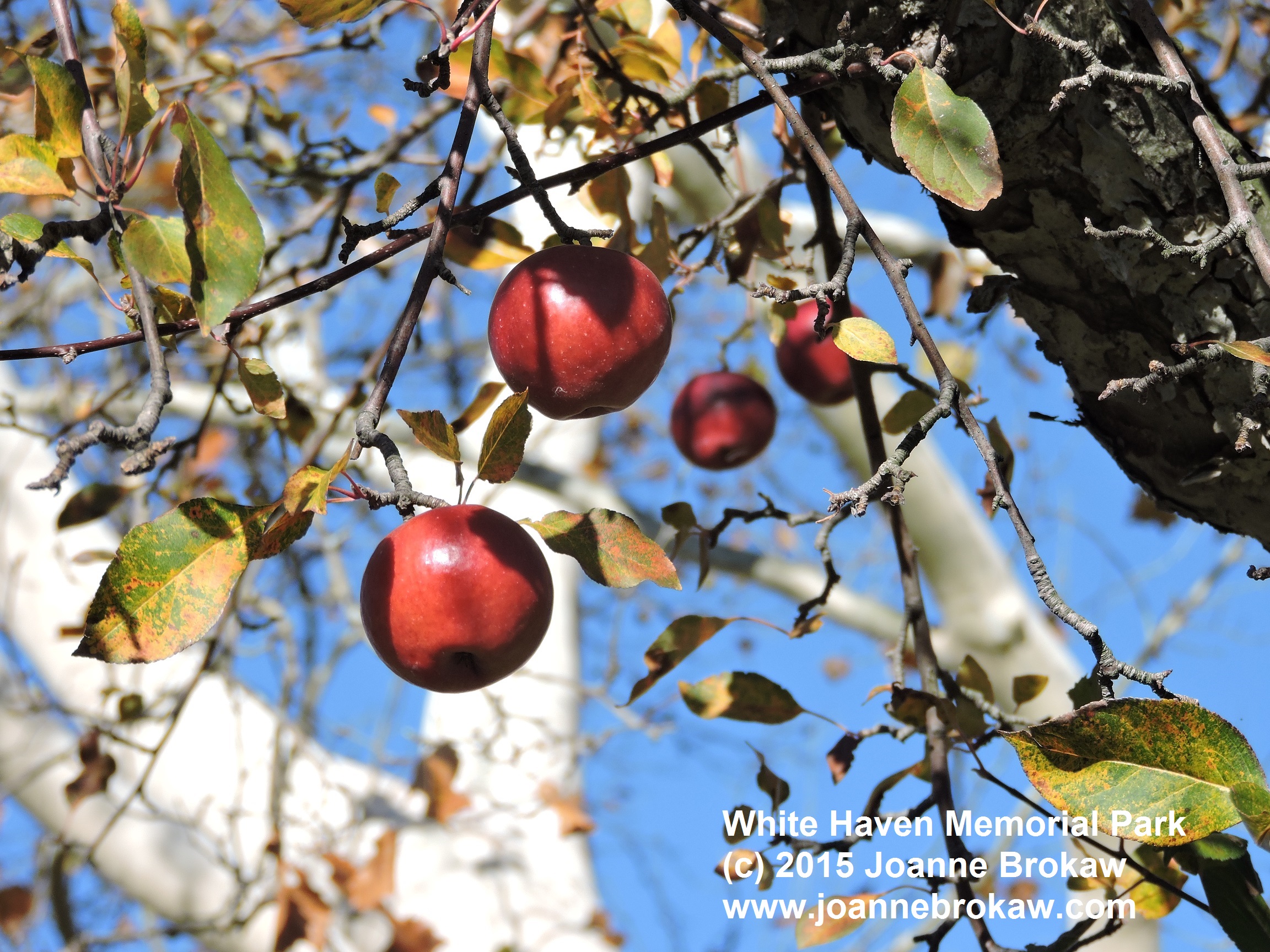 This morning, birds sing the song of fall as we walked, and kept a watchful eye over the mourners who sat in solitary lawn chairs under the bright morning sun, the dew glistening on the graves of those slumbering beneath.
In a few weeks, all will be barren as winter sets in, ushering in a time for rest and reflection. In the spring, the cycle will begin again. Eggs will hatch and birds will fledge, trees will bud and flowers bloom, and new life once again emerge from winter's night, guided by the spirits of those have gone before.
RELATED POSTS:
Life in the cemetery (fall foliage pictures)
Mt. Hope Cemetery – and wildlife habitat
Save
Save