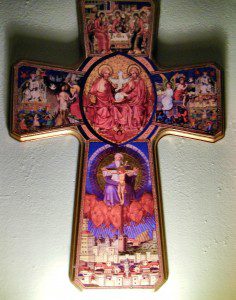 The cross was once a thing of pain and sorrow, an instrument of terror and oppression. Now it is treated as the opposite, a thing of hope and joy, an instrument of peace and freedom. Some say that such glorification of the cross comes at a cost, that its original purpose and function has become forgotten, and treated, at best, in a highly sanitized, if not romantic, fashion by Christians. After all, it was one of the worst tools for torture and death ever devised and used in world history. Now it has become revered, indeed, a thing of boasting, as St Paul said, "But far be it from me to glory except in the cross of our Lord Jesus Christ, by which the world has been crucified to me, and I to the world" (Gal. 6:14 RSV).
But is that not part of the brilliance and wisdom of God? Is it not one of the greatest examples of how he makes all things new, by showing those things once used for evil can be turned around and used for good? He took a thing of great evil and turned it against itself; it was once a weapon used to oppress the people, forcing them into submission, and now it serves as another kind of weapon, a weapon against the very powers of evil once exemplified by it. The terror is transformed by Jesus who took it upon himself, and all it represented, so that he can make it all a sign of his love. "Death on a cross, a most squalid death, a disgraceful death. O devotion of Christ, O token of great love!"[1] The brutality of the cross met the greater power of God, the power of love, and found its foundation broken down, so that in and through love, the cross should now be a tool of healing and love, instead of the exploitation and hate intended by its creators.
In this way, we are not belittling the evil contained in the symbol. That would be what happened if we tried to distance ourselves from the cross, to hide it from view, to eradicate its memory, to demolish and forget it. This is how we usually deal with evil. We want to forget it. We want to ignore it. We want to bury it and never let it be known. We want to let it destroy itself by its power of corruption, taking all the good once contaminated by it with it. But the light of truth exposes the truth, and no evil can remain hidden forever. Christ does not accept evil on its own terms. He does not let evil continue to destroy all the good it touches without end. Rather, he takes the good and frees it, and lifts it up, healed from any harm it suffered from its association with evil. And so Christ does not allow us to remember the cross as an object of fear and dread. Instead, he lifts up the cross, elevates it, transforms it, so it is no longer a symbol of evil, but of good. It is healed from the legacy of evil which was accomplished in and through it, so that now it becomes a sign of Christ's conquest and victory against the powers of hell.
That is, we must now see the cross as a trophy, as a representation of Christ's victory of love over sin, showing that all things, even the brutality of the cross itself, cannot withstand the power of love. Of itself, without Christ, it would be nothing. But with him, it is the weapon which breaks free from the bondage of evil and breaks us free from the spiritual fetters that keep us trapped and away from the kingdom of God, as St. Edith Stein noted: "The cross has no purpose of itself. It rises on high and points above. But it is not merely a sign – it is Christ's powerful weapon; the shepherd's staff with which the Divine moves against the hellish Goliath; with it he strikes mightily against heaven's gate and throws it wide open." [2]
But this required Christ to let the cross be what it was originally meant to be, to follow through with its original function to the end. He let it do its worst to him, letting all the evil contained in it be used against him. The Lord of all first had to be shown in his humility, to be known in and through what he accepted out of love, so as to be known first and foremost through that love. For then we can see the true might and glory contained in him, the beautiful glory which lay hidden in apparent shame, and respond to that beauty with a love of our own. Thus, we read from St. Peter Chrysologus:
It was done so that the Creator of the world would die with the world as his witness; and so that the Lord of the world would be recognized by the world through his pain before he would be though his glory. The Peace of heaven is betrayed by the kiss of deceit; the One who holds all is held fast, the Bond of all is bound, the One who draws all is led forth.[3]
That evil had an end, but Christ's love did not. He was able to take it all, while it was unable to take him and break him down and turn him against himself. That is, it could not make him turn from love to unlove. In his weakness, in his humility, in his acceptance of the cross, there was only the breaking down of the cross itself, not of him, and so in and through his resurrection, the cross was what was reconfigured. It is still a weapon, but of new kind, a weapon of peace, as it serves us in our fight against temptation, against our own personal struggle against sin and its structures, not just in our lives, but in the world at large.
For in and with his work of the cross, the way of the world is overturned, and everything is rearranged. We see that out of death comes life, out of bondage, there is now freedom, out of defeat comes victory, out of weakness comes strength and power, out of sorrow comes joy, our of pain and suffering comes healing – all of this showing that indeed, out of God's apparent foolishness there is wisdom beyond our comprehension.
St. Gregory Palamas explained this well when he preached:
This is the wisdom and power of God: to be victorious through weakness, exalted through humility, rich through poverty. Not only the word and the mystery of the Cross are divine and to be reverenced, but so also is its sign. For it is a holy, saving and venerable seal, able to hallow and perfect all the good, marvellous, and indescribable things which God has done for the human race. It can take away the curse and condemnation, destroy corruption and death, bestow eternal life and blessing. It is the wood of salvation, the regal sceptre, the divine trophy of victory over visible and invisible enemies, even though the heretics' followers are insanely displeased. [4]
The triumph of the cross is the triumph of hope, of healing, of peace, even in the worst of times. In our weakness, cross leads us to the strength and grace of God. We must not despair. The world can be falling apart around us. Our earthly dreams and desires can be denied us. We can be cast aside, turned into outcasts, and treated and considered to be less than human. But the cross is there to pick us up. It tells us that despite our inclinations, we are not called to look for power and glory in the world, for no matter how much we get they only last for a short time, and then they wither away and perish. As long as we are attached to such fantasies, we will create our own undoing, our own suffering, and any attempt to hold onto any earthly power and glory, the more we will find it out reach and never to be had. Instead, we can and should accept our broken nature, our weakness, our sorrow, our failure to have the world meet our selfish desires, and find in it our tie to Christ in his sorrow, pain and defeat. In this way we can then, joined with Christ, transcend the world and be raised up with him in glory, as Hans Urs von Balthasar explained: "When life is hard and apparently hopeless, we can be confident that this darkness of ours can be taken up into the great darkness of redemption though which the light of Easter dawns."[5]
So long as hope and dreams is of the world apart from the glory of God, all the things we possess will be shown to be truly nothing in the end. Once we give up all claim and attachment to them, we find we can have everything we truly hope and desire for in and through the cross, through the glorious sign of victory, where all that is evil is vanquished and the good is released from its dominations, raised up in eternal glory. For that is the glory of the cross in which we must boast, the triumph of love, of the kingdom of heaven, over all that would defile it by all that is unlove.
---
[1] Achard of Saint Victor, "On the Sunday of the Palm Branches" in Works. trans. Hugh Feiss, OSB (Kalamazoo, MI: Cistercian Publications, 2001),143.
[2] St. Edith Stein, The Science of the Cross. trans. Josephine Koeppel, O.C.D. (Washington, DC: ICS Publications, 2002), 22.
[3] St. Peter Chrysologus, Selected Sermons. Volume 3. trans. William B. Palardy (Washington, DC: Catholic University of America Press,2005), 7.
[4] St. Gregory Palamas, "On the Precious and Life-Giving Cross," in The Homilies. trans. and intr. Christopher Veniamin and the Monastery of St. John the Baptist (Waymart, PA: Mount Thabor Publications, 2009), 84-5.
[5] Hans Urs von Balthasar, You Crown the Year with Your Goodness. trans. Graham Harrison (San Francisco: Ignatius Press, 1989), 86.
Stay in touch! Like A Little Bit of Nothing on Facebook: