This reflection comes out of many texts I read around St Valentine's Day, when I read some people calling older single Catholics failures, saying such Catholics should have married young. Since they did not, they were told they were too picky, and it was their fault for being single now. Some even suggested such celibate Catholics ending up failing some sort of duty to be married and have children, and they failed because they were too selfish. There was no consideration of the possibility that it might have be no one's "fault" but God's actual intention that some could remain single. As such, I decided to write the following as a quick response.
We currently live in a society which encourages us to believe that everything revolves around ourselves, so that our personal likes and dislikes, our personal desires and preferences, all should determine who and what we are to do in the world. That is, if we want to be married, we should be married. If we want to be a priest, we should be a priest. If we want to be rich, we are meant to be rich and no one should get in the way of our avarice.
While there is some truth in this argument, because who we are, as a person, certainly should help determine what we do in the world, it often goes too far, and people treat us as being failures at life if we, for reasons outside of our control, do not meet our life goals or desires. Just because we desire something does not mean it is what we should have, that it is proper for us, and we should have free access to it. And even if we do not achieve it, it does not mean it was necessarily a bad desire to have. We can desire good things, for good reasons, and still desire something wrong for ourselves, something which we will never have, and yet feel the desire for it all our lives.[1]
We should neither assume a particular desire is indicative of an end which we should have, nor should we assume if we do not succeed at a particular desire our lives are failures because we have failed to follow God's direction in our lives due to some selfish desire on our part. If we should not speak in such a way about ourselves, we should not say it about others. The Golden Rule still applies, "So whatever you wish that men would do to you, do so to them; for this is the law and the prophets" (Matt. 7:12). We do not know what God's intention or plan is for them. We can't force social conventions upon them and demand they follow some norms which we falsely ascribe to life, and then call them selfish or failures for failing to meet them. When we do so, we are judging them in a way which we are not to judge, in a way which we would hate to be judged and do not judge ourselves. That is, we will be finding ourselves as taking the role of God in the world, trying to impose our will upon others in a way which ignores God's will, because we will demand them to act according to our expectations of how we think life should be instead of how God intended it for them. In this fashion, we construct a false belief about the world, and with it, about God.
This is an important for any discussion of vocations, and whether or not someone is called to be married, a priest, a member of some religious order, or even a celibate living and working in the world. God calls many to be single and in the world, and it is not selfish for them to live in the world, to work in and for it, without marrying and having children. There is no duty or requirement for Christians to marry, and indeed, St. Paul said he wished more were like him and remained celibate, but understood why marriage was also a good which could be and should be pursued by those called to it.[2]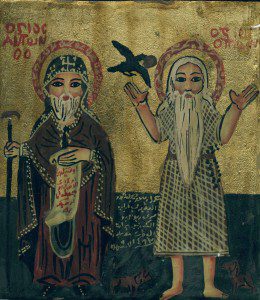 A desire for marriage might be a sign that someone is called to marriage, but it is not necessarily the case, similar to the fact that a mere desire to be a priest is not confirmation that one is called to be a priest. Likewise, and perhaps surprising to some, a lack of desire for being married or a priest does not mean one is not called to marriage or priesthood, either. There have been many who desired not to be married who certainly were called to marriage, like St. Catherine of Genoa,[3] just as they have been many who did not desire to be priests who were made priests, like St. John Chrysostom.[4] What they realized is that a part of the Christian life is to act responsibly and act in accordance to what they think their calling was, accepting, however, that their subjective disposition itself was only a part of the equation and what happened to them in life itself revealed the other half of the equation. If they desired one thing, but another happened, they accepted what happened as God's will, as a demonstration of God's true calling to their life, not as an indication that they failed their vocation. Their desire, it could be said, served not as a calling, but a temptation, a kind of struggle they had to fight with, and their willingness to follow God's revealed will over their own desire is proof of their victory against themselves. It was for their own salvation that they had such a struggle and victory, because, as St Anthony the Great said, "Without temptations no-one can be saved." [5]
And so, we return to the question of older Catholic singles. They are not failures. They should not be seen as "bad Catholics" because only the good ones would be taken by the age they find themselves to be. Nor should they be treated as such just because they are single. They could desire to be married, seek for a partner and never find one. They should be given pastoral support to help them accept such a possibility, that their desire was not their vocation, instead of being told the problem was theirs and that they have failed to meet some sort of "duty." They are not called to marry just anyone who comes their way, indeed, many times they are right to deny a potential mate. The case of St. Juliana, for example, demonstrates this.[6] She was betrothed to Eulogius, was the prefect of Nicoedemia, and a non-Christian. She said she would not marry him unless he became a Christian, and he refused because he feared what the emperor would do to him if he did. Her refusal was seen as a failing of her duty, and Eulogius tried to force her to marry him, with torture; when she would not relent, Eulogius had her beheaded. She was, like many other virgin martyrs, encouraged to marry a pagan to fulfill her duty to society, but like them all, she denied the duty and followed with the higher calling (all the while, in this case, willing and even possibly desiring to marry so long as the suitor was Christian).
The plight of many virgin martyrs like St Juliana was actually the first thing which came to mind when I heard the arguments that older, unmarried single Catholics living in the world had failed their duty to the world. It reminded me of many Reformation debates against celibate clergy and religious. I wondered what duty exactly did they fail? Again, there is no duty to marriage, there is no demand we are to have children. It is a vocation, a calling for some, but as it is a vocation, it is not to be forced upon those who do not have such a calling. Instead of treating those who find themselves single as second class Catholics who failed at life, or acting like they are some sort of leftovers who now do not have what it takes to be good candidates for marriage, it is time to recognize the struggle and virtues of their life, and the good they bring to the church. Instead of being treated almost like lepers, they need to be raised up, respected, given fair treatment in the church. For, if they are good and faithful Catholics, they truly have followed their calling, as well, the higher calling, the calling of a chaste life, no matter what state they find themselves to be in.
[7]
After all, there are many of us out there, and we are good, faithful Catholics too.
---
[1] This is one of the many lessons which we can get from St. Paul, when he talks about his thorn in the flesh:
"And to keep me from being too elated by the abundance of revelations, a thorn was given me in the flesh, a messenger of Satan, to harass me, to keep me from being too elated. Three times I besought the Lord about this, that it should leave me; but he said to me, "My grace is sufficient for you, for my power is made perfect in weakness." I will all the more gladly boast of my weaknesses, that the power of Christ may rest upon me. For the sake of Christ, then, I am content with weaknesses, insults, hardships, persecutions, and calamities; for when I am weak, then I am strong" (2Cor. 12:7-10 RSV). There is much debate as to what that thorn was, but it does not matter. Paul desired one thing, and while it was not necessarily a bad thing to desire, and many did not suffer the thorn which he did, God did not get rid of it, instead, Paul faced it throughout his life. It encouraged him to be humble and to transcend himself by accepting the grace given to him by God.
[2] "To the unmarried and the widows I say that it is well for them to remain single as I do. But if they cannot exercise self-control, they should marry. For it is better to marry than to be aflame with passion" (1Cor. 7:8-9).
[3] St. Catherine was not too happy with her marriage, but yet, lived in and with it, trying to find a way to follow God's will for her life which differed from her exact and desired way of life. Her husband caused her much heartache, and yet, in and through it all, she persevered, as her sainthood should help indicate.
[4] St. John Chrysostom, like many others in the early church, found the church took an active interest in his priestly vocation. He didn't desire it, indeed, he feared it. He, as with many others, had to have the priesthood forced upon him – but once he was ordained, he followed with his vocation and wondrously lived it out.
[5] The Sayings of the Desert Fathers. trans. Benedicta Ward, SLG (Kalamazoo, MI: Cistercian Publications, 1984), 2.
[6] See Bl. Jacobus de Voragine, The Golden Legend. Volume I. trans. William Granger Ryan (Princeton, NJ: Princeton University Press, 1993), 160-1.
[7] Secondarily, to this, there needs to be more recognition and appreciation of the single Catholics in parishes. We often find ourselves constantly treated to all kinds of blessings for married couples throughout the year, but rarely, if ever, do we find our presence recognized and given the blessings we need to help us in our present state, whether or not it will prove to be our final vocation or not.
Stay in touch! Like A Little Bit of Nothing on Facebook: