Baptism cleanses us of all our sins, both original and actual, up to the point of baptism. But since most of us continue to sin after baptism it is clear that we need more grace, more mercy, more help from God. We need forgiveness not just for our pre-baptismal sins, but especially those we commit afterwards. And because God is patient and kind, full of love and grace for all of us, this is what he gives: time and time and time and time again, God is willing to welcome us back with his grace. "If we confess our sins, he is faithful and just, and will forgive our sins and cleanse us from all unrighteousness" (1 John 1:9 RSV). It is not just pre-baptismal sin, but all sin which we render over to God, that can be forgiven.  Truly understanding where and how we have gone astray, we will cry out to God for help, and he will give it. "The sacrifice acceptable to God is a broken spirit; a broken and contrite heart, O God, thou wilt not despise "(Ps. 51:17 RSV).
God not only grants his grace to those who truly come to him out of love, he has given the Church the means by which she can dispense such healing grace to those who seek it, so that through the Church, we can find our sins loosened in heaven. "Truly, I say to you, whatever you bind on earth shall be bound in heaven, and whatever you loose on earth shall be loosed in heaven" (Matt. 18:18 RSV). The means by which this grace is normally dispensed is through confession; we confess through the agent of a priest who acts as the representative of the Church. "This ministry of reconciliation was committed to the Church through the apostles by our Lord (2 Cor. 5:18) and the Church has executed the commission by bearing the glad tidings of salvation to men and by baptizing them in water and the Holy Spirit (see Matt. 28:19)."[1]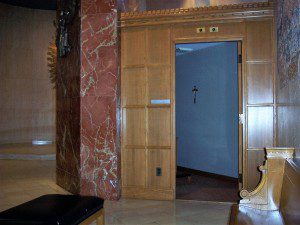 We need to be contrite and so confess our sins so that we can receive spiritual healing. "Therefore confess your sins to one another, and pray for one another, that you may be healed" (James 5:16a RSV). Priests represent the unity of the Church, so that in and through them, we can be said to be confessing our sins to one and all, opening ourselves up to the grace of God which is then mediated to us by the priest authorized to dispense such grace. To be sure, the practice of confession has changed through the centuries, and with it, we know there are many ways the Church can render to us her graces. The norm which the Church developed is not the only way she can present the sacrament. She can and does have other ways to give it to us, but she has found that it tends to be the best way to call sinners in and welcome them back to the grace of God, where they feel the most comfortable to receive the grace they need.
Yet, for many different reasons, not everyone finds confession so easy to receive. Sometimes, and this was often the norm in previous centuries, the availability of a priest for confession was rare, so that during the medieval era, it was not uncommon to have confession only once a year when the travelling confessor reached your town or village. Today, usually for reasons, many find themselves once again with  parishes that have limited availability for confession, sometimes happening only after daily mass (which they can't attend) or by specially arranged appointment (which they find difficult to make). Others have social anxiety and difficulties which also hinder their ability to go to confession, and so they like others, go rarely. And, as is the fear of many pious Catholics, when people are dying, they often find themselves without a priest to hear their confession; are they, then, doomed to perish in and with their sins?
Sadly, because of the way people have confused the discipline of confession, and the norms in which the sacrament is received, with the only way the forgiveness offered by the sacrament can received, they do believe that if they do not confess to a priest before they die, there is no means for their salvation. Many forms of so-called pious literature has often focused on this as a reason why it is best to go to frequent confession, so that this will not happen, reinforcing the idea that we can be so easily damned by the accidents of life. Such a view undermines the hope Christians should have, the hope that rests upon the love of God for us is what leads him to work for our salvation. It limits God with legality instead of focusing on the spirit of the Gospel.
We must not think that God is limited to the discipline which has been set up by the Church as the only means by which he will manifest his grace. The fear given by popular piety is not justified, indeed, it is wrong. "For the Son of man came to seek and to save the lost" (Lk. 19:19 RSV).  Jesus is the Good Shepherd and he has done all he can for us, giving his very life in order to save us. "I am the good shepherd. The good shepherd lays down his life for the sheep" (John 10:11 RSV).  He is, therefore, God come to the world to seek out all that have abandoned him, seeking to take them back into his loving care, never abandoning or any of his flock. This was typified by the prophet Ezekiel as God explained his relationship with Israel:
For thus says the Lord GOD: Behold, I, I myself will search for my sheep, and will seek them out.  As a shepherd seeks out his flock when some of his sheep have been scattered abroad, so will I seek out my sheep; and I will rescue them from all places where they have been scattered on a day of clouds and thick darkness.  And I will bring them out from the peoples, and gather them from the countries, and will bring them into their own land; and I will feed them on the mountains of Israel, by the fountains, and in all the inhabited places of the country.  I will feed them with good pasture, and upon the mountain heights of Israel shall be their pasture; there they shall lie down in good grazing land, and on fat pasture they shall feed on the mountains of Israel.  I myself will be the shepherd of my sheep, and I will make them lie down, says the Lord GOD.  I will seek the lost, and I will bring back the strayed, and I will bind up the crippled, and I will strengthen the weak, and the fat and the strong I will watch over; I will feed them in justice (Ezek. 34:11-16 RSV).
Jesus seeks the lost. He is willing to give them his saving grace, coming to them where they are at. When necessary, he is able to help in ways which transcends the typical, normative means of confession, so that no one needs to be fear perdition because they are unable to receive confessions for reasons outside of their control. Those who realize the folly of their ways, cry up to God asking forgiveness, will find Jesus is willing to give them saving grace, healing them from their sins:
And you, son of man, say to your people, The righteousness of the righteous shall not deliver him when he transgresses; and as for the wickedness of the wicked, he shall not fall by it when he turns from his wickedness; and the righteous shall not be able to live by his righteousness when he sins. Though I say to the righteous that he shall surely live, yet if he trusts in his righteousness and commits iniquity, none of his righteous deeds shall be remembered; but in the iniquity that he has committed he shall die.  Again, though I say to the wicked, `You shall surely die,' yet if he turns from his sin and does what is lawful and right,  if the wicked restores the pledge, gives back what he has taken by robbery, and walks in the statutes of life, committing no iniquity; he shall surely live, he shall not die (Ezek. 33:12 – 15 RSV).
God is willing to hear the cry of true remorse, and he will sanctify it with his healing grace, forgiving sins rendered to him in this fashion. Those who call to God without access to a priest will find God's extraordinary grace will be sufficient – although, if their contrition is true, and later they have access to a priest for confession, they should go to confession, less they show their remorse to be untrue and so reveal that they did not receive forgiveness. They need to normalize the extraordinary grace when they are able to, but if in and through no fault of their own, they die before they receive such a chance, the Lord's grace will be sufficient.  We can see it as a kind of confession by desire, which acts like baptism of desire, with the same conditions which apply. Thus, we can read St. Thomas Aquinas explaining how such grace is received:
Nonetheless, there is this consideration. Baptism has some effectiveness for the remission of sins even before it is actually received, while one has the purpose of receiving it. We grant that afterwards—when it is actually received—it bestows a fuller effect both in the achievement of grace and in the remission of fault. Sometimes, too, grace is bestowed in the very reception of baptism and a fault is remitted for which previously there was no remission. And thus the keys of the Church have effectiveness in one before he actually submits himself to them, provided that he has the purpose of submitting himself to them; nevertheless, he achieves fuller grace and forgiveness when he actually submits himself to the keys by confessing and receiving absolution; and nothing prevents our thinking that sometimes a grace is conferred by the power of the keys on one who has confessed, in the course of the absolution itself, and that by this grace his fault is dismissed.[2]
In this fashion we find that sins are forgiven even before sacramental confession is achieved, because that forgiveness comes to us with a right desire in our heart. Peter Lombard in his celebrated Sentences demonstrated this by saying:
What, then, is it to be felt concerning this? What to be held? Surely, that sins are blotted out by contrition and humility of heart, even without confession by the mouth and payment of outward punishment. For from the moment when one proposes, with compunction of mind, that one will confess, God remits; because there is present confession of the heart, although not of the mouth, by which the soul is cleansed inwardly from the spot and contagion of the sin committed, and the debt of eternal death is released.[3]
Lombard had recourse to many patristic authors which he used to prove his position, such as when St. Augustine wrote in his commentary on the Psalms:
"I acknowledged my sin, and my unrighteousness have I not hid:" that is, my unrighteousness have I not concealed. "I said, I will confess against myself my unrighteousness to the Lord:" I said, I will confess, not against God (as in my ungodly crying, when I kept silence), but against myself, my unrighteousness to the Lord. "And Thou forgavest the iniquity of my heart"; hearing the word of confession in the heart, before it was uttered with the voice.[4]
Thus, as Peter Lombard informed us, the proper and true desire for confession, with the intention to confess, actually brings out the forgiveness of sins associated with confession, so long as we first open up to God and confesses interiorly to God our sorrow for our sin. The key is that with such remorse will be the willingness and intention for following the discipline of the Church and to engage sacramental confession if and when available: "For just as inward penance is enjoined upon us, so also are outward satisfaction and confession by the mouth, if they are possible; and so he is not truly penitent, who does not have the intention to confess."
[5]
As to why, if we have already received forgiveness, we would then have to go to confession, Lombard said that the discipline is for our own good, helping to shape and transform us with the extra graces which come out of it:
And so, if it is asked for what is confession necessary, since the sin is already blotted out in contrition, we say: because it is a kind of punishment for the sin, as is satisfaction in deed. Also, through confession the priest understands what judgment he is to give as to the crime. Through it, too, the sinner is made humbler and more careful.[6]
St. Thomas Aquinas concurred:
Therefore, since even in the very confession and absolution a fuller effect of grace and remission is bestowed on him who—by reason of his good purpose—had previously obtained both, manifestly the minister of the Church, absolving by the power of the keys, dismisses something of the temporal punishment for which the penitent remains in debt after contrition.[7]
And we can read Hugh of St. Victor saying similarly:
However, after contrition of heart, confession of mouth is also necessary, because , if anyone, even after obtaining pardon for sins, shall neglect to confess these same sins of his, as if a contemner of a divine institution, although he may not be held as a defendant for the sins which are already forgiven, he will nevertheless be a defendant for contempt, or perhaps because the sins themselves presently return to the stubborn, which before were forgiven him who was humbled by a sting of conscience. [8]
Forgiveness of sins is obtained in and through a contrite heart with the proper intention to receive sacramental confession when available; but we have to remember, there is a temporal consequence to our sins which sacramental confession helps us work out. That is, while our sins divide us from God, and if we remain so divided in eternity, we will suffer perdition, contrition opens us up to be able to reenter proper communion with God. Yet, this does not mean there is nothing more involved. Rather, we shall still be tried by the fire of grace, and the temporal consequences of our actions will have to be worked out before we find eternal rest in God. Sacramental confession not only works to restore us into communion with God, but its graces help us in repairing the damage we have done to ourselves and others through our sin.
This means that we can receive forgiveness of sins up to the point of our death, if we so open ourselves up to God in remorse, for we receive the forgiveness in and through our contrition and the rightful intention to confess our sins if and when possible. This provides us hope that anyone can be saved, that no one shall be lost due to accidents of time and place which lie outside of their control. This hope, this grace, is wonderfully expressed by Hugh of St. Victor when he said:
Some ask what must be thought of those who preserve in their sins even to the end of their lives, and who nevertheless, at the very end terrified at the threat of death, are stung by conscience and repent, and with all their heart seek mercy and indulgence, even if prevented at the moment of death they cannot render satisfaction. Briefly, because it seems to me best, I absolve. I think that man, as long as he lives in this life, just as he can do evil, so too he can emend if he should do so, and never at any time, even at the very end and at the moment of death, is the repentance of man fruitless, if it be true. I hear Scripture saying: "At whatever hour the sinner shall grieve, he shall be saved" (Cf. Ezech. 18 and 33). It does not say, if he shall grieve to days or years before death but at whatever hour he shall grieve, he shall be saved.[9]
And to further indicate how and why this is possible, Hugh explained that such grace comes from the work of Christ. Since it is Jesus who works in and through the priest when confession is normally performed, Jesus is able to act as high priest to those who are unable to go to a normal priest to confess:
But if by chance a sinner truly repents, but when the moment of death intervenes he cannot go to confession, I declare confidently that in him the highest priest completes what the mortal could not, and before God indeed the deed stands which the man truly wished but was not able to fulfill, since contempt did not exclude confession but necessity prevented it. [10]
Thus, as St John Chrysostom indicated, it is best for us, who love God, to consider our sins and make a habit of giving them over to God, not just in the confessional, but in our daily life:
Let us persuade ourselves that we have sinned. Let us say it not with the tongue only, but also with the mind. Let us not call ourselves sinners, but also count over our sins, going over them each specifically. I do not say to you, Make a parade of yourself, nor accuse yourself before others: but be persuaded by the prophet when he says, "Reveal your way unto the Lord." (Ps. xxxvii. 5.)  Confess these things before God. Confess before the Judge your sins with prayer; if not with tongue, yet in memory, and be worthy of mercy.[11]
We must make ourselves open and ready for following the discipline God has set up before us. We must not reject it, but use it for its proper purpose and end, where we understand it is for our own aid and not as a legal measure which binds God's grace. God is willing and able to help save anyone who comes to him with a contrite heart; sacramental confession helps keep us humble and open to God, so not to let our sins get the best of us and turn us away from him. But even before then, our daily turn to God with our love and remorse will help transform our will to act in accordance to God's love, and in doing so, find that we receive the fulfillment of that love so that we do not have to worry about perishing so long as we see it as grace and not a debt owed to us by God.[12]  If we can't find a priest, in order to help us in our will, we can even go to a friend, a neighbor, for spiritual direction, confessing to them, not as sacramental confession but as a way to keep us humble and make sure we truly and properly turn ourselves over to God; and in return, because of what we have said before, we will still receive forgiveness of sins (so long as we intend to go to proper confession if and when able).[13]  For with God all things are possible so long as we truly seek his will. He will work with us and our humility to make sure we get what we need for our salvation. We do not need to fear him and think he is going to play some game with us. He is not going to make us suffer for eternity for things outside of our control. That is not how he works, for God is love, and love will have nothing to with such unjust cruelty.
---
[1] Pope Paul VI, "Decree Promulgating the New Order of Penance" in Vatican Council II: Volume 2. More Post Conciliar Documents. Revised Edition. ed. Austin Flannery, O.P. (Northport, NY: Costello Publishing Company, 1998). 20.
[2] St. Thomas Aquinas, Summa Contra Gentiles Book Four: Salvation. trans. Charles J. O'Neil (Notre Dame: University of Notre Dame Press, 1975), 281-2 [c.72.13].
[3] Peter Lombard, The Sentences. Book 4: On the Doctrine of Signs. trans. Giulio Silano (Toronto: Pontifical Institute of Medieval Studies, 2010), 96 [dist. xvii c.1].
[4] St. Augustine, On the Psalms in NPNF1(8): 71.
[5] Peter Lombard, The Sentences. Book 4, 97 [dist. xvii c.1]
[6] Peter Lombard, The Sentences. Book 4, 105 [dist. xvii c.5]
[7] St. Thomas Aquinas, Summa Contra Gentiles Book Four, 282 [c.72.14]
[8] Hugh of St. Victor, On the Sacraments of the Christian Faith. trans. Roy J. Deferrari (Cambridge: Medieval Academy of America, 1951), 417.
[9] Hugh of St. Victor, On the Sacraments of the Christian Faith, 411.
[10] Hugh of St. Victor, On the Sacraments of the Christian Faith, 419.
[11] St. John Chrysostom, Homilies on Hebrews in NPNF1(14): 508.
[12] This also means that if we go to confession with someone who we assume is a priest, and he is not, we are not doomed to hell. God's forgiveness is still given to us because of our repentance, though of course, if we find out we did not go to a real priest, it is best to go to confession again and explain and receive all the graces we can from confession.
[13] "To this, it may truly be answered that a priest's examination is to be diligently sought out, because God granted to priests the power of binding and loosening; and so, when they remit someone's sins, God remits them. But if a priest is not available, confession is to be made to a neighbour or a friend" Peter Lombard, The Sentences. Book 4: On the Doctrine of Signs. trans. Giulio Silano (Toronto: Pontifical Institute of Medieval Studies, 2010), 101-2 [dist. xvii c.4].
This was clearly the practices of many monks and nuns who would go to some elder who, despite not being a priest, would hear their confession; the monks and nuns would benefit from the direction and receive forgiveness, not through sacramental absolution, but through their contrition, which is made more manifest in the humility they showed by telling their sins to someone else.
Stay in touch! Like A Little Bit of Nothing on Facebook: