"Do you see a man who is wise in his own eyes? There is more hope for a fool than for him" (Prov. 26:12 RSV).  Wisdom is found within those who appear foolish to the world. The world thinks those who have acquired many thoughts, hold them in and speak of them to others, represent wisdom, but all they do is reveal the limits of their knowledge. They accept the praise of the people for such little feats, demonstrating through their acceptance of vainglory how far from true wisdom they are. On the other hand, those who have properly humbled themselves before the Lord, emptied themselves of all pretense, having explored their thoughts and dismissed them, so that they can come to the Lord as children awaiting true his holy and unspeakable mysteries are on the path to true wisdom. Either we become the children of God, truly empty of all self-assertion, or else our claim to wisdom will be shown for the foolishness it is, as St. Hilary of Poitiers proclaimed in his Commentary on Matthew:
The mysteries and power of heavenly words are hidden from the wise and revealed to little children; not to little children of wicked intent, who are without understanding, but to the wise aware of their foolishness, rather than for their wisdom. The Lord confirms the equity of this matter according to the judgment of the Father's will. Those who refuse to become like a little child before God, will become foolish in their own wisdom.[1]
When true wisdom is attained, we no longer are bound by the fallen mode of intellection with is words and thoughts, rather, we acquire a higher way of knowing which not only brings us to the truth of God, but also to the truth of the things of the world and ourselves. St. Antony the Great explained this well to his disciples when he wrote:
But if the mind has attained true perception, it needs no more the falsehood of paltry words. But I rejoice in you all, beloved in the Lord, holy Israelite children in your intellectual substance. For first the rational man needs to know himself, and then to know the things of God, and all the bounties which His grace is ever showing towards him; and then to know that all sin and guilt is foreign to the nature of his intellectual substance. [2]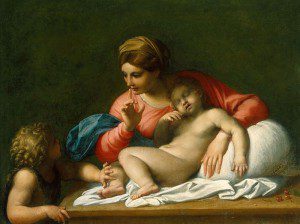 By coming to be children of God, by humbling ourselves and emptying ourselves of all thoughts and activity which we followed as a result of our fallen mode of being, we truly come to know ourselves, even as we come to know the world as it truly is, without any interference or confusion which normally comes from our mental projections. We truly become children of God, awaking ourselves in Jesus Christ, the Son of God, as we put on Christ and find ourselves becoming a part of his body. He who humbled himself and willingly silenced himself in the crib and in the grave shows to us that we too must be born again in his silence and continue to follow him in that silence all the way to the death of the self. In and through our union with him, who is Wisdom incarnate, we find ourselves reformed in the image of wisdom and become wise, not in and through the wisdom of the world, but in and of the wisdom of God. We transcend the ordinary, worldly engagement of the world, and instead, find ourselves able to appreciate and act within it in perfect harmony with all things, the harmony which comes about when we have overturned the unnatural defect of sin so that we can act in the purity of our original nature (our original face which is made in the image and likeness of God). Thus, the words of Nikitas Stithatos point to the kind of wisdom we are to have in our union with God:
When the intellect is established in the realm of what is beyond nature, the senses, assuming their natural role, commune dispassionately with the springs of the passions; they seek out only their underlying essences and natures, unerringly distinguishing their activities and qualities while not being addicted to them or adventitiously attracted to them in a manner that is contrary to nature.[3]
Care, nonetheless, must be had as we empty ourselves to God. As we slowly our explore base thoughts and toss them out, handing them over to the Lord so that he can come to us in the space we have made ready for him, we must be careful and not assume any and all revelation which appears to our mind is of God. Especially when we are not yet empty, when we have yet to truly become as nothing next to God, we will find new thoughts, new ideas, fantasies of grandeur and deceiving spirits trying to pretend they come from God, trying to take us in and halt our spiritual progression and turn us away from God once again. "Beloved, do not believe every spirit, but test the spirits to see whether they are of God; for many false prophets have gone out into the world" (1 Jn. 4:1 RSV).  We must not trust in ourselves – so long as we do, we have yet to die to the self and so have not emptied ourselves of our very selves, and in such a state we cannot yet be wise. The great spiritual leader, Bishop Ignatius Brianchaninov therefore told us that when we, in our pursuit for holiness, begin to have thoughts enter our head, even if they appear to be holy and suggest we do something good, we must dismiss them as we do any and all thoughts, so that we truly can acquire the quietness of the heart needed:
[4]
Has some good thought come to you? Stop! Whatever you do, do not rush to implement it or carry it out over-hastily, without thinking. Have you felt some good impulse on inclination in your heart? Stop! Do not dare to be drawn by it. Check it with the Gospel. See whether the good thought and your heart's good impulse tally with the Lord's holy teaching.
We are to test the truth of our thoughts by having them judged by the Gospel. It is better if this is done not by ourselves, but by a trusted spiritual director. If we have not found one yet, we must at least judge our thoughts by the words of the Gospel, and the Gospel suggests we worry not about the vanity of the world and all its pursuits but rather to be like St. Mary Magdalene and choose the better part by engaging simple silence before the presence of God (cf. Lk. 10:42). Thus, when our thoughts suggest some good as a means of overturning our silent meditation, we are to put those thoughts to the word of the Lord and choose silence – whatever good we might achieve will only become greater when we have perfectly united ourselves to our Lord, while if we seek the good of actions apart from such unity, we will find that our works turn out to be rubble worthy of condemnation. Indeed, when we find ourselves engaging such thoughts, distracted by the lesser good found in them, and begin to act upon it, we will find that we are slowly being turned away from the true source and foundation of every good, God himself, and slowly back to attachment to ourselves, until at last, we fall into great distress through the acceptance of all kinds of inordinate passions. This, again, is what Ignatius Brianchaninov warned us would happen if we vainly accept the illusion of the good encouraged by deceiving spirits:
The evil spirit organizes his hordes with peculiar skill. Before him in the advance guard stands thoughts, clothed in all forms of truth and righteousness, and fantasies or mental images which an inexperienced ascetic can take for harmless and even inspired apparitions, for holy and heavenly visions. When the mind accepts them and by subjecting itself to their influence loses its freedom, then the commander-in-chief of the foreign para-troops throws into the front line flagrantly sinful thoughts and fantasies.[5]
This is why we must always humble ourselves, especially when we pursue the wisdom of God in our prayer and meditation:
 Humble yourselves therefore under the mighty hand of God, that in due time he may exalt you. Cast all your anxieties on him, for he cares about you. Be sober, be watchful. Your adversary the devil prowls around like a roaring lion, seeking some one to devour (1Ptr. 5:6 -8 RSV).
When follow that solid path, ever keeping in mind our selves and how insignificant they are in relation to God, then when the devil comes in pretending to be of God, pretending even to be Christ himself, saying "Here I am, you have found me," we will not be taken in. Yes, the path to knowing God is found in such silence, but we must remember, the path is long and hard, and in and through it, until we come through it to the end, we will have to constantly be diligent, always casting aside every new thought, every new fantasy so that we truly have put to the fire all the dead works and can truly rest in the peace of God.
---
[1] St. Hilary of Poitiers, Commentary on Matthew. trans. D. H. Williams (Washington, DC: Catholic University of America Press, 2012), 136.
[2] St. Antony the Great, Letters of St. Antony. trans. Derwas J. Chitty (Fairacres, Oxford: SLG Press, 1991), 27 [Letter VII].
[3] Nikitas Stithatos, "On the Practice of the Virtues" in The Philokalia: The Complete Text. Volume Four. trans. G.E.H. Palmer, Philip Sherrard, Kallistos Ware et. al. (London: Faber and Faber, 1995), 84.
[4] Ignatius Brianchaninov, The Arena. trans. Archimandrite Lazarus (Jordanville, NY: Holy Trinity Monastery, 1997), 16.
[5] Ignatius Brianchaninov, The Arena, 218-19.
Stay in touch! Like A Little Bit of Nothing on Facebook: