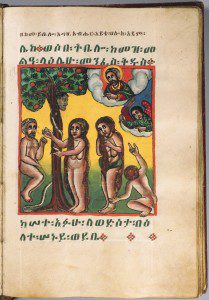 In Genesis we find that Adam blamed his wife for his sin, and Eve pointed the blame upon the serpent. Both tried to excuse themselves, hiding their sin by putting its culpability on others. Genesis shows how God rejected such scapegoating of sin, and showed us that this is exactly what we must not do; if we want to be healed from the effects of our sins, we must learn to detest sin, to see it for the spiritual rot it is, and then cry up to God for help to be healed from its unseemly influence on our lives. Yes, we can be fighting against all kinds of sin and find ourselves falling, again and again, into temptation and failing to overcome such temptation. As long as we do so, we must both continue to fight against the sin, realizing that even if we lose the battle through grace we can win the war, but for such grace to be effective, we must be willing to accept our share of the culpability for the sin we do. We must accept our guilt, acknowledging our weakness which is shown in the guilt, and cry up to God to forgive us and help us overcome sin in the future. This is not to say it will be easy, that we will always be victorious when we face temptation, but if we are willing to accept the blame instead of shrug it off, we have hope in the mercy of God. He will forgive us if we truly come to him asking him for that mercy. This is why St. John Climacus was able to write, "Repentance is the daughter of hope and the refusal of despair. (The penitent stands guilty – but undisgraced.)"[3] The willingness to stand guilty before God allows God to take away our sin from us, because we are not trying to hold on to it and defend it, but if we deny our culpability, then we have yet to admit we need grace and so will block God's otherwise merciful love from coming into our lives and bringing us to spiritual perfection.
After every fall and humble acceptance of grace, we must press on. We can receive mercy whenever we fall into sin, but we must then press on and try not to fall into sin, but to overcome temptation when confronted by it. And tempted we shall be until the day we die. Why? Because of how we are made. We have bodies with its own natural impulses and desires, desires which lead to the body's good, but without direction from the spirit, lead us astray. Each impulse, though founded upon a rational basis, is irrational by itself; they are good, making sure our physical body works properly, but they have no foundation in and of themselves by which they should be our guide as to how we should act. Without proper self-discipline, we can find one or another impulse taking over our lives, and so finding ourselves living unholistically and irrationally serving the impulses which should rather be used by us as indications to consider as we reason out how we should act.  St. Maximus the Confessor explained this by talking about the body and how it can be used for the sake of virtue when properly addressed by the rational element of our soul, but when the soul allows our irrational passions to take charge, the soul is weakened and the person who acts in such a way becomes trapped by sin:
When the intelligence dominates the passions it makes senses instruments of virtue. Conversely, when the passions dominate the intelligence they conform the senses to sin. One must watchfully study and reflect how the soul can best reverse the situation and use those things through which it had formerly sinned to generate and sustain the virtues. [4]
Temptation, therefore, is able to come to us in and through the impulses of the body, and if we are not spiritually prepared, then one of those temptations or desires will likely get to us, and encourage us to act in a way which hinders our holistic good.  Thus, we can find ourselves to be eating too much, sleeping too much, lusting too much, or the like. Each of those impulses can come from some good intention by which they were implanted in the body, but each by itself, taken in extreme, overriding the holistic approach we should have for them, will make us act unwisely when given a choice between virtue which requires self-discipline, or a vice which promises a temporary pleasure in accord with such impulses. To be sure, it is not just physical passions, but also spiritual passions, such as pride, envy and wrath, which we face and must overcome if we are to be find peace in God.
There, it can be shown how much of our temptation comes from the natural instincts which lie within us, instincts which can be for the good, but which when become unbalanced and without proper direction, lead us away from spiritual perfection but to sin. Jesus' temptations shows his own fight against those passions implanted in him thanks to his humanity, making sure he controlled them instead of letting them control him.
[5]
If there are any demonic powers involved with our fight against the passions, they only serve to enhance our awareness of the passions, and the kinds of pleasures, the kinds of goods they can provide us if we but let them control us. Often, such demonic assaults are able to come to us when we are in a weakened state, such as fatigued due to a long, hard day of work, which is why St. John Climacus was able to say such was a common battle to expect after a long, hard day of work, or even after a long and spiritually pleasing liturgical celebration.[6] Such demonic assaults add to the conflict, but they cannot dominate our will. They will work with what powers they have to influence us, but it can all be for naught for the one who struggles against them with the grace of God, because all they will do is make the person that much stronger against temptation and that much  more virtuous in the end.
The path to heaven requires us to encounter temptation because it is the means by which we learn self-discipline, and overturn the defects in us due to our sinful condition. Sin, which is irrational, is to be countered by the rational guidance of the noetic elements of our spirit combined with the grace which strengthens us and makes it possible to achieve perfection. It is often slow, difficult work, but as with all such exercise and discipline, if we do not  engage the fight, if we do not face the temptation and overcome it, we will never be able to be the people God intends us to be. Temptation shows we already are on the path, knowing what is right and wrong, trying and struggling to do what is right; it is why it is necessary for us and will be with us until we have reached our goal of heaven, because until we are in heaven and have become perfect, those aspects of us which are imperfect will tempt us and goad us to do that which would lead us away from such perfection and into the imbalanced, irrational end of sin.
---
[1] The Sayings of the Desert Fathers. trans. Benedicta Ward (Kalamazoo, MI: Cistercian Publications, 1984),2.
[2] Benedicta Ward, in her translation, suggested his sayings amounted to one seventh of the whole collection.
[3] St. John Climacus, The Ladder of Divine Ascent. trans. Colm Luibheid and Norman Russell (New York: Paulist Press, 1982), 121.
[4] St. Maximos the Confessor, "First Century of Various Texts" in The Philokalia: The Complete Text. Volume Two trans. G.E.H. Palmer, Philip Sherrard and Kallistos Ware (London: Faber and Faber, 1984), 176.
[5] For example, he hungered, but he did not let the hunger direct him into action, turning stones into bread, to fulfill that hunger, but rather, how showed himself superior to it, knowing how to control it instead of being controlled by it.
[6] "When prayer is over, wait quietly and you will observe how mobs of demons, as though challenged by us, will try to attack us after prayer by means of wild fantasies," St. John Climacus, Ladder of Divine Ascent, 197.
Stay in touch! Like A Little Bit of Nothing on Facebook: